We're back with another 10 random things I am loving post! While I've a ton of other style posts to cover in October, I purposely prioritized this write over others. In truth, my family and I have been dealt a heavy hand this past month. Finding the joy amongst the storm has been on my mind a lot lately – and what better way to do so than focusing on the positive things? I've several items I've purchased lately that I love, some newfound beauty favorites, an app I am obsessed with, a page turner of a book, and more!
All said, here are 10 things I am currently loving this month.

1. Pinterest | I know I topic'd this back in August, but Pinterest still tops my 10 things fave lists. While I know being on our phones a ton isn't ideal, I feel the choice to scroll this app over others has more of a benefit. Pinterest sparks creativity and it's a great source to pull from in terms of style. I've loved this source of inspo so much that I've a recreated pin series on socials. I've enjoyed recreating outfits I've pinned with items in my own closet. It's been such a fun creative outlet that I hope to continue this season and next!
2. skincare upgrade | I've felt my skincare needed an upgrade for a while. Not to say that the products I've been using in my current routine weren't 'working', I just know my skin isn't getting any younger, and choosing more targeted anti-aging products is likely best. I've implemented a few medical grade products recommended by my aesthetician into my regimen that I am loving. I've also targeted my fine lines, hyperpigmentation and thirsty skin with Colleen Rothschild's Glycolic Acid peel pads and Facial Oil No. 9. I love all of it – the results are visible and I am so happy I've given my skin the treat it deserves. I plan on sharing a more detailed account of my upgraded regimen soon!

3. Dime beauty lip balm | If you're like me and your last step before bed is a swipe of moisture on your lips, you'll love this. It's clean, non-sticky, hydrates and long lasting! If your lip care is running on empty, I cannot recommend this enough! You can save 20% with 'sarahstories20'.

4. 'It Ends with Us' by Colleen Hoover + book light | So in truth, this book was a poolside read turned bedside coaster this Summer. I absolutely love the story, characters, etc. but lacking reason, I just haven't chosen – or given myself time – to pick it back up and read it. Due to hurricane Ian, our internet and power went out this past week and I thought it a good opportunity to pick up where I left off. Y'all, this is such a good read and while I may not read as much as I'd like, this truly tops my best reads list. By off chance our power goes out again, I picked up this book light to use when reading and love it! Plus, getting to use my fancy light somehow incentivizes reading in general. It's a win, win. But really, add 'It ends with us' to your next read list. I promise you'll love it.
5. AB fishbone blazer | In truth, this blazer has been on my wishlist for over a year. I finally invested in this gem early October and it's all I hoped for and more. It's chic, versatile, extremely well made and I cannot wait to style it this season.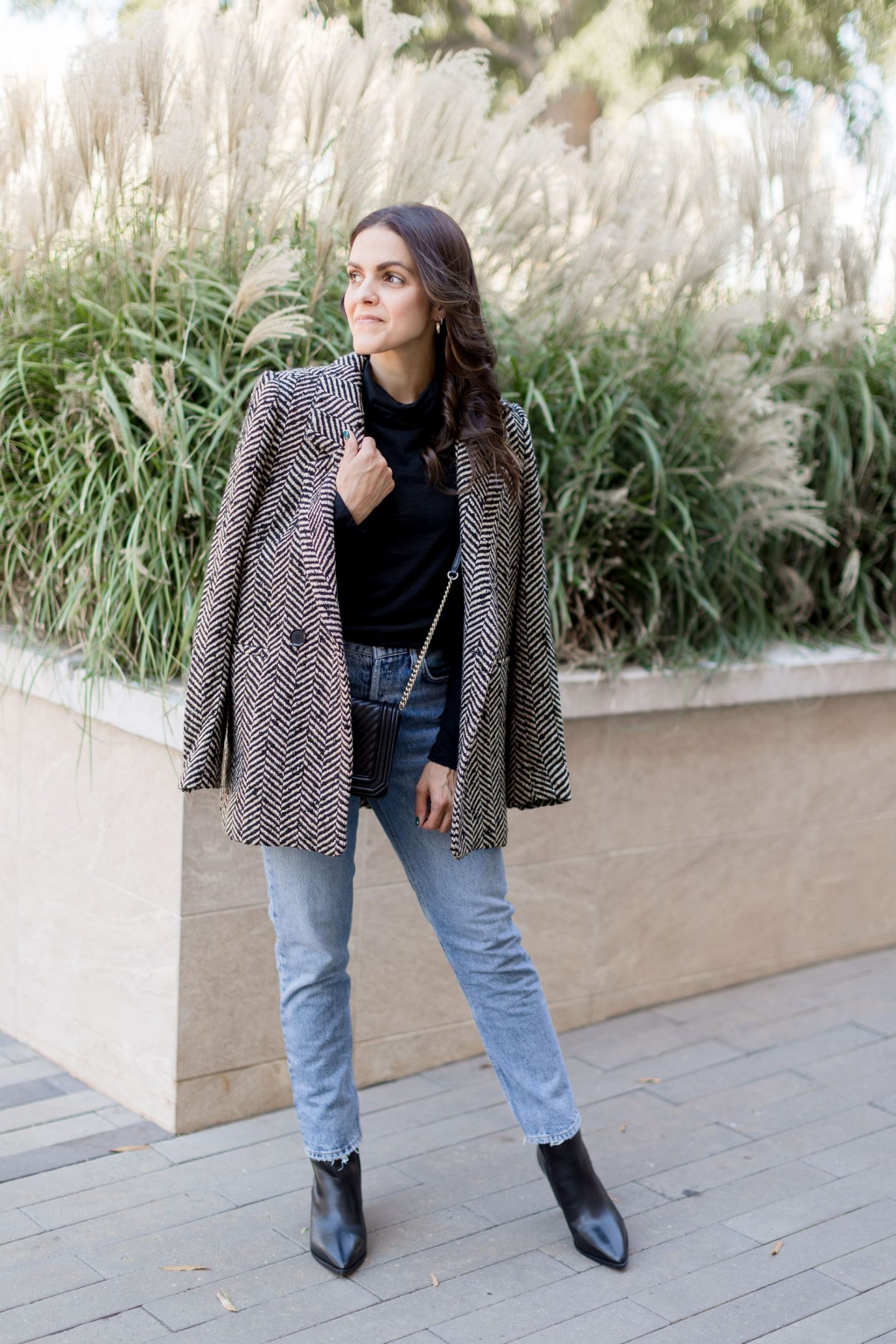 6. Align reversible bra | It's no secret I love lululemon. The Align reversible bra was one of my very first purchases and still ranks #1 on my faves list. So much that I've it in three colors – well six, if you count the reversible colors! When I am not doing a high intensity sweaty workout, this is the bra I opt for most. It's designed with the same signature Nulu™ fabric used in the Align leggings many know of. It's buttery soft, weightless and extremely comfortable!

7. House plants | Yep, I am officially a plant Mom. I may be a naive one at best, but my green thumb is coming along. One would think I would have taken an interest earlier in life, having a father who managed several plant nurseries, but none the less – I am enjoying the new green additions to my window sills and the care research that goes along with! We've ZiZi (zamioculcas zamiifolia), Chantella (maranta lemon), Dottie (polka dot), Rob (Madagascar palm), Aloquesha (aloe vera), and our newest (philodendron brasil), Joy.

8. Avara | My love for this boutique and their pieces has grown ten-fold over the past month. As ya'll know (at least I hope you do), I never share anything here that I am not 100% an advocate for. I pride myself in the process of selection when it comes to partnering with brands. More so, I'd never topic (or list a brand or product) without giving it a try and developing a genuine brand connection. I truly love every single Avara piece I've received (either gifted or purchased on my own). Their attention to quality, detail, and on-trend availability is so impressive. Definitely check Avara out if you're looking to fill any voids in closet this season! You can save 15% on your first Avara purchase with 'sarahstories'.
9. Tula radiant serum skin tint | This new release won me over from day one. I love the level of light coverage this gives. It provides you more coverage than a filter primer, less than a tinted moisturizer. It's been great on days I want a no-makeup, makeup look and cannot believe how spot on the color match is. I wear shade 11 and it's perfect. As always, you can save 15% with 'sarahstories'.

10. sweaters | Okay, I know this is a broad category, but the narrow down is difficult. I am 100% sure this re-kindled love is because of the season we are in. October brings sweater weather, can you blame me? Pullovers, ponchos, crewnecks, cardigans .. you name it, my love for cozy knits is at an all time high. I do believe every gal benefits from having a kit of knits in your wardrobe. I am hoping to breakdown that list later this month, so stay tuned!
There you have it, 10 things I am loving this month! Hopefully something on this list brought a smile to your day and reminds you to seek joy, however your season is going. As always, thanks for stopping by! xoxo