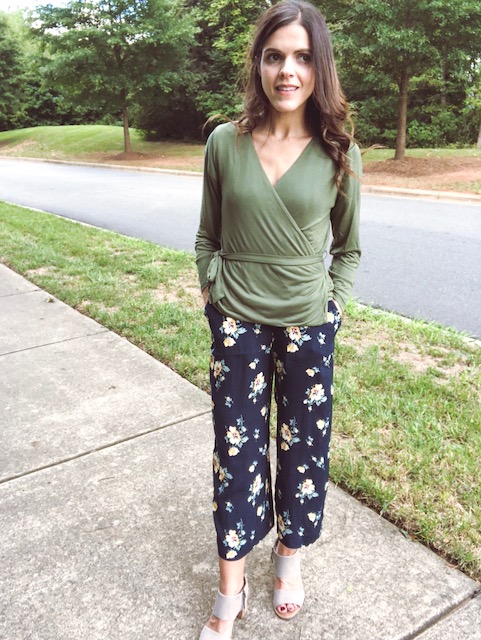 Happy Wednesday, friends!! Now that we've established ways to transition the romper into Fall, I'll share ways to style it's bigger sister, the jumpsuit! Similar to my last post, I'll share a printed option and solid color option to cover closet ground. So, let's get started!
Categorized as a transitional pice, you'll find that jumpsuits are still accessible in stores during this time of year. The material of the jumpsuit tends to stay thin to accommodate Summer's heat, while offering optional wear when the cooler temperatures hit with leg coverage. It's the best of both worlds (or seasons!).
FOR THOSE LAST DAYS OF SUMMER: 
Jersey long pant jumpsuit
I grabbed this Loft jersey one piece this past Summer and got much use out of it. Such an easy go-to to pop on over your swimsuit, or wear on a casual date night out. It also proved the only acceptable piece to wear when suffering a harsh sunburn. Regardless, this lightweight piece is so fun and very easy to style. Grab some printed sandals and your favorite bag and you'll be set.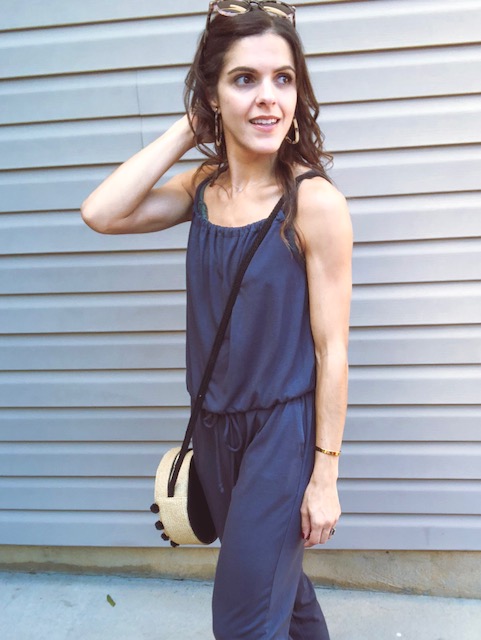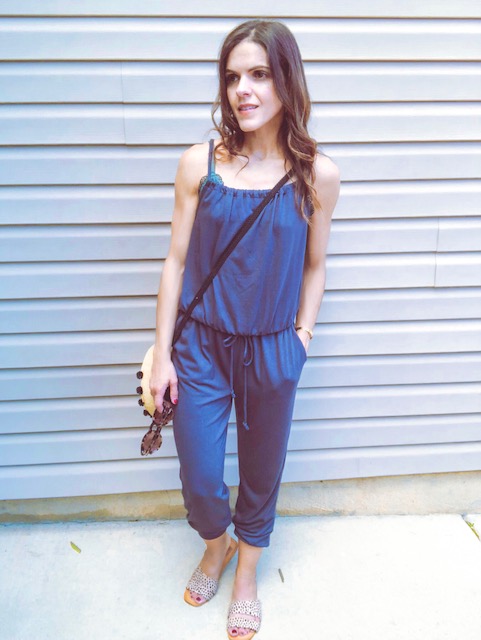 Jumpsuit (similar) | Straw circle bag (similar) | Sunglasses | Sandal |Earrings
Printed floral jumpsuit
This Abercrombie piece was purchased online recently on a whim (on sale of course) and I fell in love with it the moment I put it on. I paired it here with the cutest espadrilles and personal necklace. Again, the one piece stands alone, with little to no style effort on your part. A classic staple you are sure to get much use out of.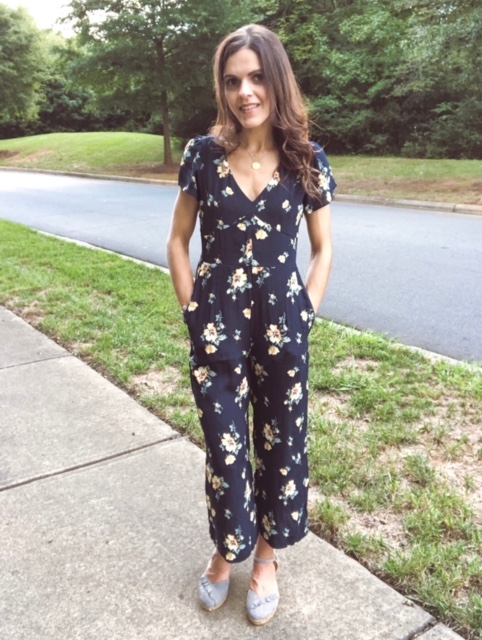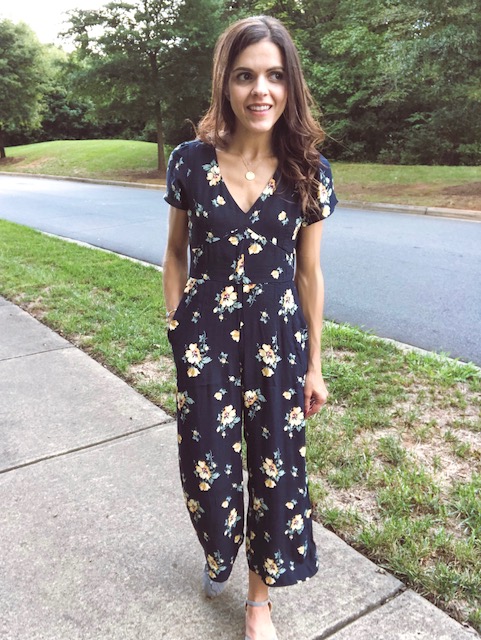 Floral Jumpsuit | Disc necklace | Espadrille Sandal
FOR WHEN COOLER TEMPS HIT:
Jersey long pant jumpsuit
Have temps dropped? Que the layering! Since this piece is a solid, I decided to add a lightweight striped cardigan to add a bit of textured color to the mix. To complete the look, dressing up this piece with a peep toe bootie or sandal takes this day wear right into night.
Printed floral jumpsuit
As the cooler weather makes way, you naturally want to start covering for warmth. A tie waist sweater right over this one piece did the trick. With the forecast still a bit warm, I opted for peep toe sandals, but you can definitely close up shop and wear a close toed bootie with a temperature drop.
FOR FALL:

Jersey long pant jumpsuit
The weather is brisk, but don't cut out this gem of a piece just yet. Just keep layering! I opted for a casual everyday look that will uphold any temp.  For added warmth, I layered underneath a solid black bodysuit. Even a simple striped long sleeve tee would be fun to pop underneath for visual texture. Alternatively, you could add a lightweight pullover! Whichever you decide, stick to the #layerlayerlayer mindset! To complete the look I added a camo utility jacket and perforated sneaks. Cooler temps are your closet que for head to toe looks. I'll happily follow suit! (pun intended)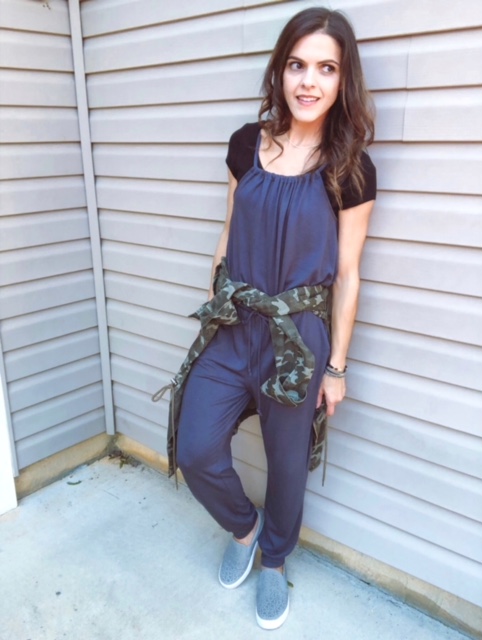 Camo Jacket | Black Body Suit | Sneakers
Printed floral jumpsuit
With this piece being cropped, I made sure to cover my toes with these adorable heel mules. You can most definitely be the judge and if weather permits, wear peep toe booties instead. I opted for a jean jacket for arm coverage. Change out the jacket with a faux suede or leather moto option and you've taken this look from day to night, effortlessly.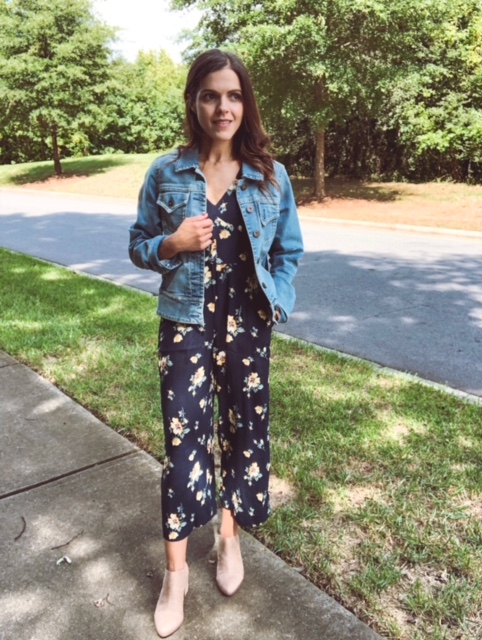 Denim Jacket (similar) | Mules
There you have it! Another Summer favorite carried right into Fall! How will you be styling your jumpsuit this season? I'd love to know! Comment below or DM me on the gram! As always, thanks for stopping by!