Happy Tuesday, friends! I am here to share the final post of my Amazon Fall Fashion finds round up! We've covered a lot here and here, but still have a few closet essentials to cover. Part 3 will consist of shoes, accessories, and a few year round favs. So, let's get started!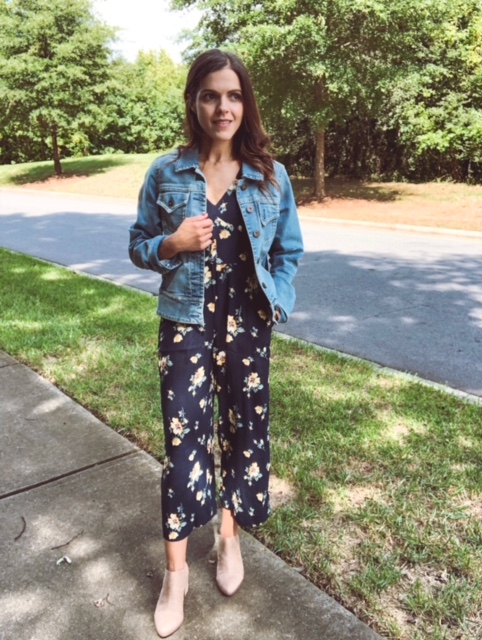 Denim jacket | Jumpsuit | Mules | Sweater | Skinny jean
SHOES:
With shoes being such a wide category, I've listed several I believe are on trend and will fit well with the attire featured in part 1 and 2 of our Fall Fashion series. With an ever growing list, I had to narrow it down somehow! Oh Amazon, you are a shoe lovers dream come true!
Booties:
The bootie is a classic staple for Fall. It pairs well with most pants, dresses, and even one pieces! It returns year after year, and is quite possibly my favorite in my shoe line up. To say I am obsessed with booties is a slight understatement. I've found several within our price point that are sure to pair nicely with any of our seasonal pieces found. Textured, block or thin heeled, various toe styles, and available in a vast amount of colors. Which is your fav?
Mules, flats & loafers:
Being short, flats haven't always been on radar. I tend to lean towards heeled options. Getting older, comfort has proven a number 1 factor when looking for a shoe. On Fall fashion trend and hitting the comfort mark, flats and slide ons do the trick! There are several styles I am in love with that fit well with this season's wear. I've found this neutral ankle strap pair, embellished studded mules, or this fun cut out loafer to name a few.
Heeled options are my strong suit, and I've found several to accommodate the rising mule trend. These block heeled mules are my newest favorite. The neutral taupe color goes with so many Fall looks. I've recently paired it with jeans and even a cropped jumpsuit! A few other heeled finds on list are these open toed gems or this cross leathered mule.
ACCESSORIES:
To say Amazon is a top retailer for affordable accessories is an understatement! A few handbags that made my list for the season are this Chloe dupe crossbody, this faux leather drawstring, and this reversible tote bag!  And don't forget a stylish backpack for those Saturday errand runs!
I rarely cheat on Stella, but Amazon has very affordable and fashionable earrings just too good to pass up on! These mottled hoops and boho neutral pair made my list at less than $10 each! Snagged this GG dupe belt right up to assume a fashionable style on budget! And this blanket plaid scarf will fit nicely with all other finds this season! With finds like these Amazon is all we need, right?!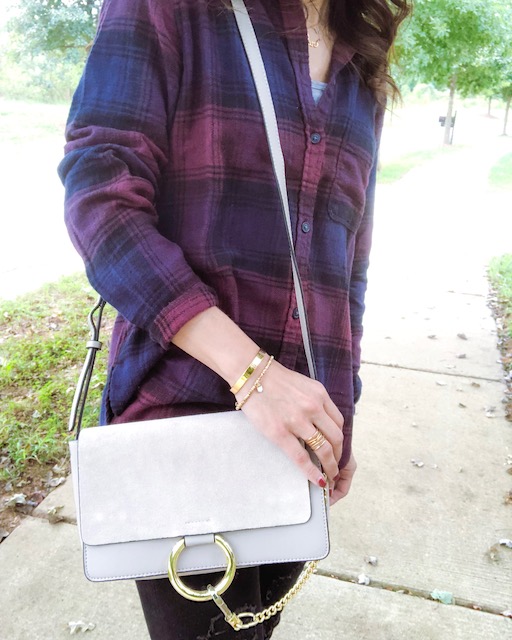 Plaid button up top | Chloe designer dupe crossbody | Black Skinny jean | Booties
YEAR ROUND ESSENTIALS:
I know this series is focused primarily on Fall wear, but I cannot exclude finds suitable year round! I don't know about you, but I am in dire need to update my athletic attire. Amazon proves, once again, to be a valuable source! These high waist leggings and this sports bra are a hit on affordability and quality. And a three pack of yoga tanks for less than $22? Yes, please!
Don't forget comfort and casual is my middle name… I've found a few loungewear items to mention. These fleece lined leggings and joggers are in cart, and I am always a sucker for cozy pajamas and slippers!
There you have it! A complete compilation of ALL my Fall Fashion Finds under $50!! Amazon has proven a reliable source for affordable fashion! I cannot wait to scour the site next season! You can always shop my Amazon favs here, too! Thanks for stopping by!