Last week I shared the first post of my Amazon Fall Fashion finds. Now that I've covered Fall pieces from waist up, I figure it only natural to showcase my bottom basic findings. Part two of our series will also cover a few dress and skirt options as well. Let's get started!
Plaid shirt | Skinny Jean | Booties
PANTS:
Classic skinny jean: The skinny pant style is my jean style of choice, especially for Fall. Pair them with your oversized sweater and booties for a weekday casual look, or dress them up for the office holiday party with a blouse and heels. Whichever the case, a skinny jean should be top on your list of Fashion Fall staples. I'll be honest and state that I primarily shop my jeans from alternate retailers. Still new at shopping Amazon fashion, I was pleasantly surprised when I found highly rated, exceptional quality, and affordable jean options on site. Who knew that I could find the pair of skinny jeans I've been eyeing elsewhere, on Amazon for less?! These Levi Highrise Skinny jeans are one of thirty four, yes 34 options in this style to choose from. Distressed knee, dark washed, embellished, white, and black to name a few. Best part? They are less than $40. Other jean styles to consider include a good boyfriend cut, or classic straight leg.
Moto Jegging:
I love a good legging, and one with pleated moto detail is an instant add cart for me. With 4 star reviews, this cute moto jegging is currently in cart! It's offered in 4 colors, and is affordable at best. Show off the cute ankle detail with low cut booties. Add a bit of edge with heels and a leather jacket. Or make this pant casual with an easy pullover and sneakers. A seasonal trend #musthave.
Faux Leather Legging:
Y'all – this trend is on the rise, and I was excited to try it out. I've seen these dressed up with heels, or dressed down to ath-liesure wear. Hearing the hype, I'd been on the hunt for an affordable option and found that Amazon offers several at different price points. To stay within the 'under $50' limitation, I ordered this pair. They most definitely suck you in, and give you that fun faux leather look. My husband marked them a keeper from first site. But in honesty, the lower price point coincides with quality. I know that leather never breathes, but found these extremely hot. The fabric itself doesn't seem too thick, but when worn they feel heavy. I can only imagine if you wore these to a club…need to shed some water weight? These would most definitely do the trick. All funnies aside, I plan on ordering the more expensive Spanx pair and receive the quality hoped for. Such a fun and fashionable piece to style this season!
Pullover | Faux Leather Leggings | Sneaker | Backpack
Trouser:
It's understood that not everyday can be casual. Having a few dressier options in closet this season is a must. This paper bag waist pant is the perfect transitional bottom for Fall. It can easily be purchased now when warmer days are still present. Worn with sandals or booties, they'll carry you right into the cooler temps. Pick up one (or two) of these classic slim pants. With 17 color options, at only $30 a pair, you'll double your seasonal looks without breaking the bank.
SKIRTS & DRESSES:
Skirt:
Skirts in general can hold much versatility. No matter the style : mini, maxi, midi – the skirts worn in Fall naturally consist of a thicker fabric. Faux leather, corduroy, and faux suede are trending textures to consider in this season's category. Pair this faux suede mini or pocketed high waist corduroy skirt with a sweater and OTK boots! Or add this A-line midi skirt to your closet for a go-to date night, or office party staple.
Cami | Corduroy Skirt | Sandal
Maxi dress:
Ask for a transitional dress and the first that comes to mind is a maxi. Amazon has several floral maxi dresses that pair well with those Autumn hues we love this time of year. I love the look of this boho style piece. The prairie colored palette sits so well in the season and you can easily dress it up or down depending on the occasion. Others to swoon over are this white floral empire waist button up dress, or this long sleeve red floral. Or stick with the maxi style opt for this chiffon skirt. If you aren't into print, this short sleeve solid maxi transitions well into the cooler months and is available in 16 color options. Or this solid 3/4 sleeve pocket dress is a very versatile option to consider as well.
Shirt dress:
This Tunic dress is the cutest dress to layer with and a great transitional piece. Wear it now with a pair of open toed booties, or layer with a blazer and scarf once cooler temps hit. You can also opt for the longer pocketed shirt dress here. Both styles are offered in 5 Autum colors. This casual styled dress has Fall written all over it.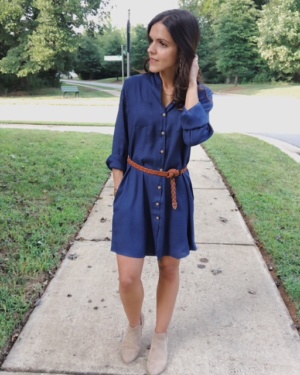 Tunic Dress | Belt (similar) | Booties
Sweater Wrap dress:
This dress is a faux wrapped dress and it's absolutely darling. Offered in several different colors, the versatility and flattering silhouette are two reasons this style made the list. Wear it as a tunic or as a dress, depending on the sizing you order. This V-neck belted dress with back detail is also one to consider. Both options provide you a staple closet piece for upcoming holiday parties.
Midi dress:
Tho you may see these next finds categorized as Summer pieces, I believe they can be worn well into the Fall season. Offered in both long and short sleeve versions, I am in love with this button up dress and it's casual vibe. Layer with a cardigan & scarf, and pair it with with your fav booties or a leather riding boot – You've now carried this Summer staple right into Fall. And this gorgeous midi dress with modal top and chiffon skirt is one to favor. The khaki and navy blue are my favorite amongst the 10 colors offered. This dress would be perfect for a Fall wedding or seasonal family dinner.
That's a wrap for part 2 in our Amazon series! We've covered most bases, but still have a few closet essentials to cover. You can always shop my Amazon favs here, too! Stay tuned for the final post consisting of shoes, accessories, everyday athleisure & intimates! As always, thanks for stopping by!