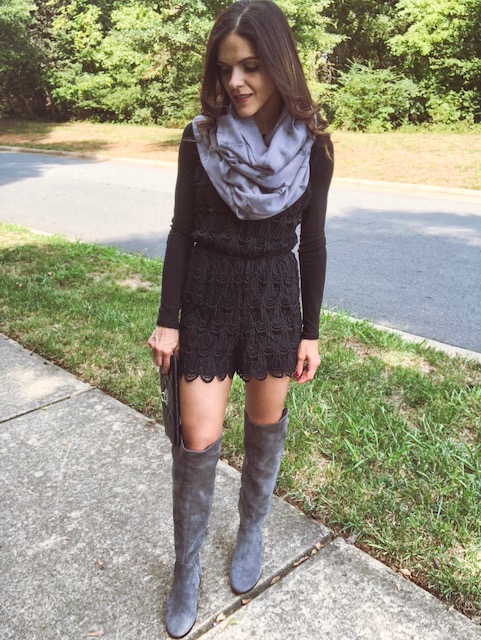 Last week I wrote a post on how to take one piece of clothing and transition it from Summer to Fall. Today I am sharing another Summer essential, one you may not categorize in seasonal transitional wear – the one piece Romper!
The one piece is one of my most favorite pieces to wear in Summer. It's lightweight, offered in many styles, and is an easy vacay go-to. The one piece's versatility is in the name. It's an entire look all in one! It can be worn solely alone, or paired together with other closet staples as the seasons change. You'll find it in solids, prints, different fabrics and designs across the board. I'll be sharing ways to style both long and short versions of the one piece, with a solid and printed version of each. Today I'll feature the romper, and later this week I'll share how to transition the jumpsuit. My hope is that it will cover a good amount of closet ground when you're stuck wondering how to reuse this Summer favorite.
Styling your printed pieces are just as easy to style with your solids. If your one piece has a print to it, pull those colors from other staples to complete your look. If your piece is solid, you have the color wheel at your fingertips to bring in any print or combo you'd like. Have fun mixing and matching when the need to layer arrives.
So, without further ado, let's style the romper you are wearing now straight through to cooler weather.
FOR THOSE LAST DAYS OF SUMMER:
Printed Polka dot Romper
In honesty, I cannot remember when I purchased this piece. I've had it for years..and I want to say it was less than $25. I have gotten so much use from this polka dot number. It's almost always in my Summer vacay bag, and has proven useful in these warmer days. For those last days of Summer, you can pair it with sandals and your favorite straw tote and you are set.
Printed romper (similar) | Straw Tote | Sandal
Solid Black Romper
I picked up this crocheted black piece from Forever21 a few years back for a Vegas trip. Pair it with a peep toe bootie and a fringe statement earring and this gem serves it's purpose in style. The beauty of the one-piece outshines all other options in Summer, it's a one and done deal!
Solid romper (similar) | Clutch (similar) | Peep toe sandal | Fringe earring (similar)
FOR WHEN COOLER TEMPS HIT:
Now that School has started, there's a bit of Fall feel in the air. A few leaves have fallen and it's evident the season is changing. You may have noticed a drop in AM temps, but the afternoons still at a muggy 80 degrees.  Que the layering.
Printed Polka dot romper

Pop on a jean jacket and some booties and you'll be set! Since my polka dots are the main show, I pulled solid staples to pair with the print. I added a basic denim and solid boot to the complete the layered look! I'll add and remind to work with what you have in closet – if you don't have a denim jacket, you could substitute it for a chambray button up, or even a khaki blazer.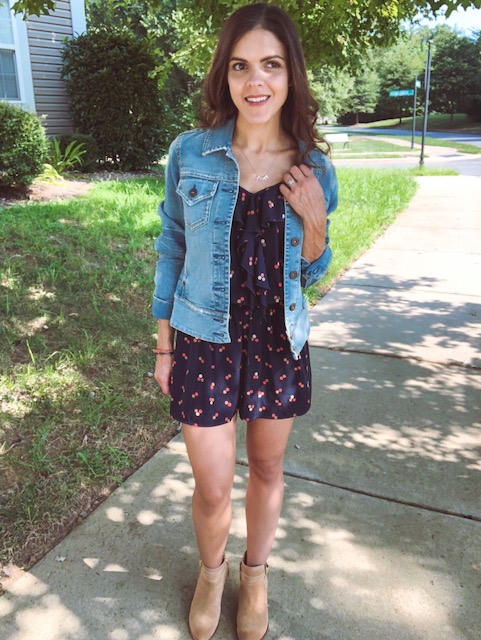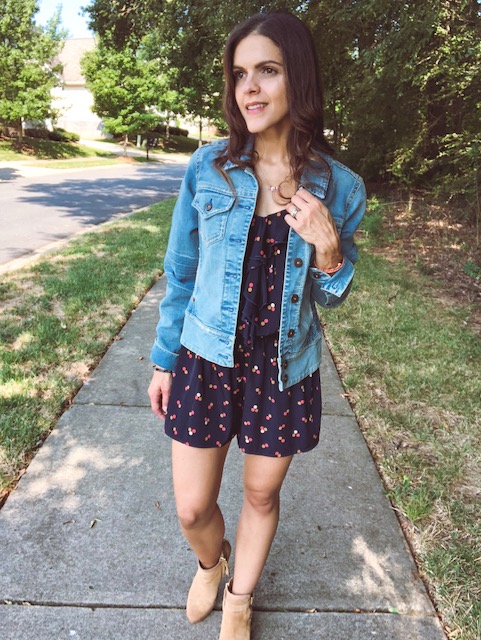 Denim jacket (similar) | Booties (similar)
Solid Black Romper

I recently grabbed these adorable snakeskin mules and had to incorporate the print into my look. With the romper a solid black, it was an easy pairing. I added a tied cardigan for layering and wall-a!
Waist tie cardigan | Snakeskin Mules
FOR FALL AND INTO WINTER:
Printed Polka dot Romper

Cooler temps have hit, but it doesn't mean you'll have to store away your sleeveless one piece. You've layered, and you'll now layer some more!! Fall means sweater weather and I took full advantage of it here styling it over the printed romper. Added some leggings for warmth and stuck with the same booties to complete the look!
Solid Black Romper
With a cooler front, I pulled a few staples to add warmth. These ONK boots cover those bare legs and I popped on a basic long sleeve bodysuit under the one piece. Layer with a printed scarf or cardigan and you've carried this Summer favorite right into Fall, flawlessly.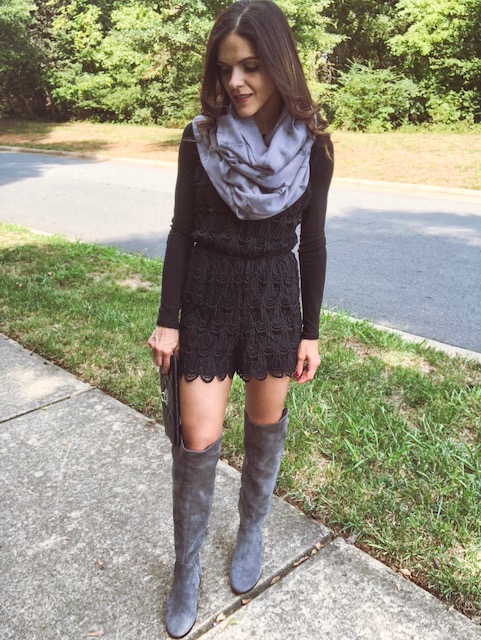 Scarf | Long sleeve bodysuit | OTK boots
Of the six different ways to style this hot heat essential, which is your favorite? These short one piece gems used to collect dust balls in the cooler months. Now that I've styled them into next season, they've each proven the perfect transitional piece! Stay tuned for the romper's bigger sister's debut – the jumpsuit!
SHOP THE POST