Welcome back to our 2023 Summer Style guide, where I share ways to improve our Summer style with simple tips to follow when getting dressed. This week's topic is a trend we are all too familiar with – the wide-leg pant. Now I understand wearing pants in the Summer isn't always our first choice, but it's a category to nonetheless cover. How to style them is a concern for many, so today's post covers ways to improve our wide-leg pant outfits now and later.

I'll forever love the skinny pant, so one can imagine my hesitancy when wide-leg pants came back into style. Despite my reluctance, I've grown to love (and actually prefer) this style. Here are a few tips to consider when creating your wide-leg pant outfits.
trouser pant | sweater vest (similar) | toe heeled sandals
Why our before wide-leg pant outfits need improvement:
To pull off wide-leg pants, the length must be right. If the inseam hits too short you're in capris territory. If the inseam is too long, wearing heels becomes the only option. More so, unless retailers offer different lengths, the search for these pants can be difficult for us petites. These particular pants need altering. Even wearing heeled sandals, the length is hitting too long.
With our series focus on Summer style, a breathable and soft fabric like linen or organic cotton is ideal for warm weather. These 100% viscose pants would be more suitable for Fall.
Wide-leg pants are often high-waisted to offset the bulk of the leg. The waistline becomes undefined when your top covers it. Although I have front tucked my blouse, the latter half of my waist still appears boxy.
When choosing your top, it's best to steer clear of oversized styles. Even when tucking them in, the bulk of the top creates an unbalanced look. Shorter or smaller tops enhance visual shape.
A few ways to improve our wide-leg pant outfits:
The length of your pants should either be floor length or cropped to just above your ankle bone. Tailoring the inseam to fit your height and body shape is always best. These Reformation Mason pants are offered in petite, so the length is perfect!
Fully tucked tops work best to define your waist. If you wish to leave your top untucked, choose one that is slimmer and sits closer to your midline.
While heeled sandals are a good choice for floor-length styles, shoe choice is also important when styling wide-leg pants. The bulk of the shoe and where it hits are important. Pointed flats, slim sneakers, and flat loafers all elongate your legs and ensure an overall sleek fit.
Adding accessories brings You into the equation. They also polish and complete the fit!
To visualize further, here are a few other skirt outfit ideas you might like.
Why this outfit works:
The heeled sandals are clearly visible, indicating that these pants have a perfect length.
The hem of the cropped tank sits at the narrowest part of the body and compliments my natural waist.
Summer accessories add interest!
Why this outfit works:
The bodysuit helps to maintain an accentuated waist.
The narrow pointed pump elongates my frame.
Again, adding a simple clutch brings interest!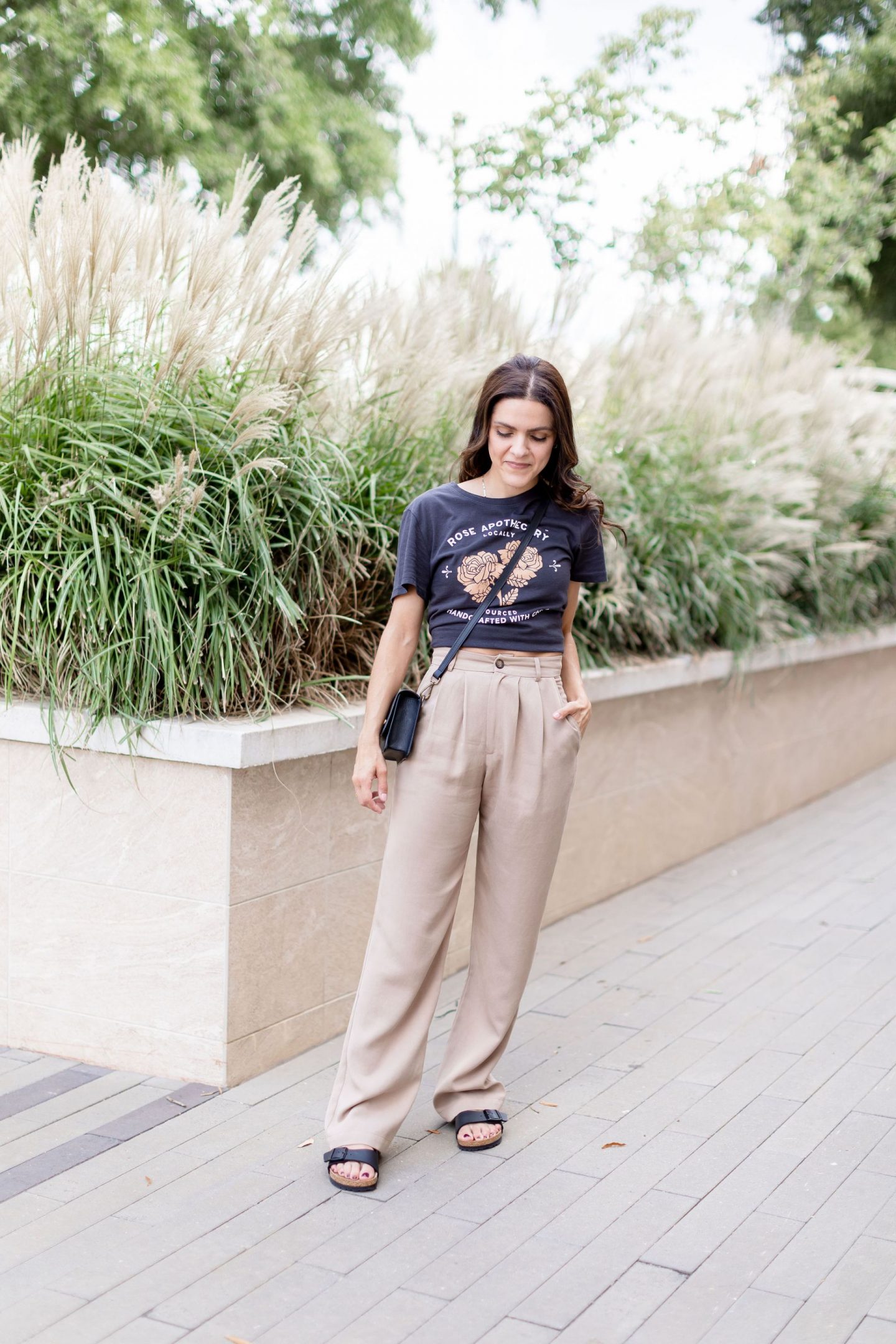 Why this outfit works:
Cinching the graphic tee so that the hem sits a few inches above the waistline brings shape.
While these sandals are far from narrow, the pants lay nicely against the shoe and give me an elongated look.
Why this outfit works:
The fully tucked and fitted top accentuates my waist.
These sailor jeans are cropped leaving a little ankle to show. The narrow sandal works best to elongate the legs.
These tips and minor changes should help you put together some stylish wide leg pant outfits this Summer! Happy styling! xo