Welcome back to our 2023 Summer Style guide, where I share ways to improve our Summer style with simple tips to follow when getting dressed. Considering my love for feminine style, it's only natural for me to discuss Summer dresses. They are a foundational part of Summer's uniform and are available in many styles. With a category so broad, I wanted to narrow down this week's topic and focus on the shirt dress.
shirt dresses
Why our before shirt dress outfit needs improvement:
These straight-fit shirt dresses have been around for as long as I can remember. They're convenient, lightweight, and an easy pull on hot Summer days. They lack shape, however, and leave us appearing boxy. With these dresses, the waistline is less defined, emphasizing our hips and bottom more. Fortunately, there are better options out there that offer the same convenience and flatter our body types.
Let it be said that there's nothing wrong with this style of dress! And don't let the boxy fit deter you from wearing a piece you love. Knowing it's a dress that lacks shape, you can choose other components in your outfit to balance it out.
I am all for the combination of dress and casual. And truthfully, I've worn this exact combo before. When you pair sneakers with a dress that lacks shape, the outfit appears heavier. Switching out the sneakers for a sandal or more narrow shoe feels less heavy and more balanced.
Where are the accessories? With a dress as simple as this, the outfit needs a boost of something. Let's fix that!
A few ways to improve our shirt dress outfits:
Try a dress with a little more waist definition, like this capsule favorite. Bonus if it has style details (buttons, belts, pockets) that add character and shape.
If you'd prefer to stick with the straight-fit shirt dress, adding a belt will help define your waist. A jacket or sweater tied around your waist will also draw the eye to your midline.
Sneakers cannot elongate your leg in the same way that slim sandals do. They can often feel heavy and get hot in the Summer. That's not to say you cannot wear them. If your dress defines your waist, I think it's completely okay to go casual and get your kicks on. Nonetheless, comfortable, lightweight Summery shoes are best.
Add in a complimentary Summer handbag, gold accessories, or even a hat to finish your outfit. You'll feel stylish and put together.
To visualize further, here are a few other skirt outfit ideas you might like.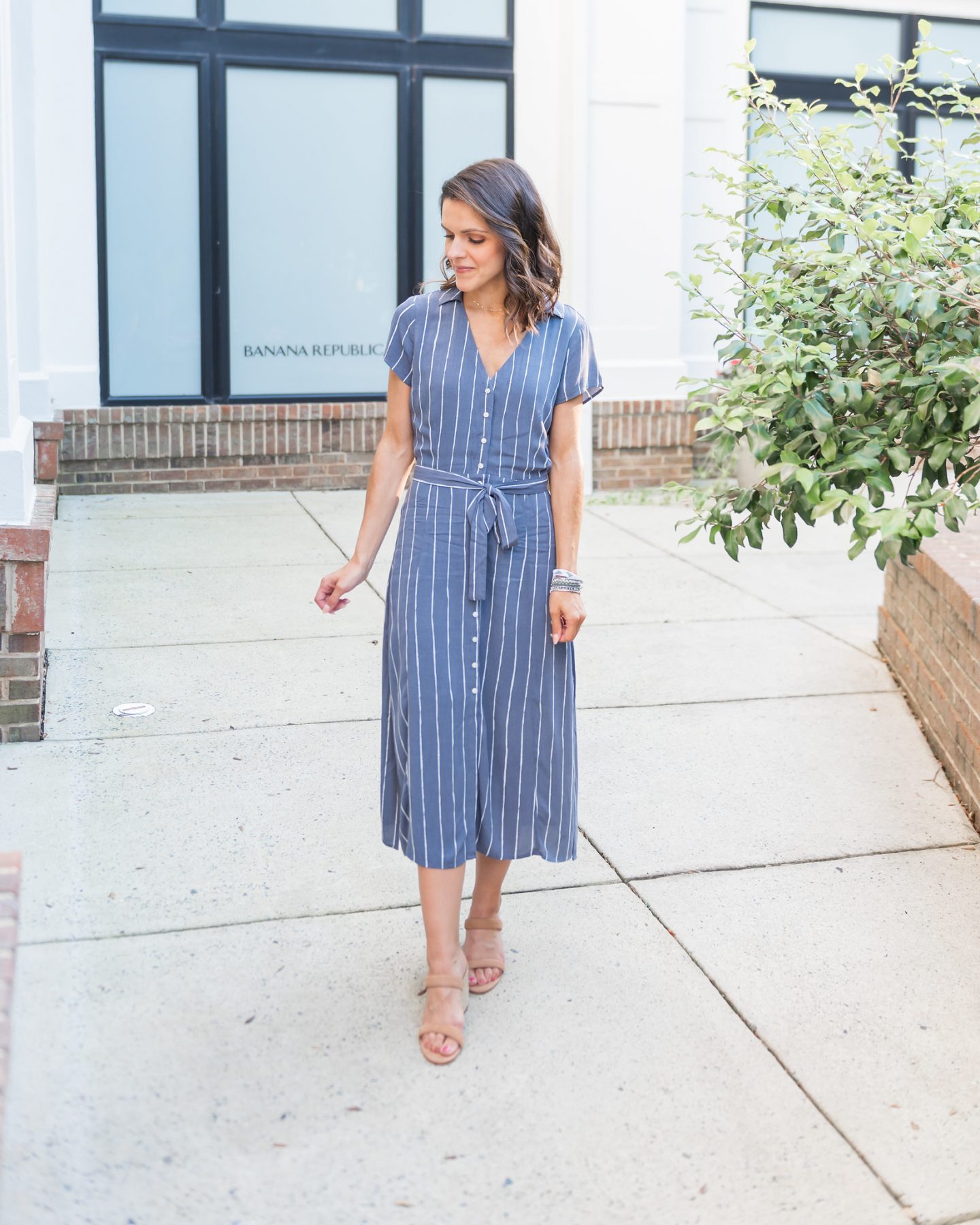 Why these outfits work:
Every single one of these looks show a waistline. Some of the dresses came with belts, others I added. Keep in mind, the tool to accentuate doesn't have to be an actual belt. It can be a tailored blazer or a denim jacket cinched around your waist. Nonetheless, the key is creating shape.
It's important to note that sometimes dresses lack definition. I've found a lot of Summer styles, much like our before outfit, an attractive choice on hot days. You can choose other components in your outfit like slimmer sneaker or drop earrings to bring balance.
Because I've created shape, any shoe choice works. For shorter knee length or mini dress hems, a heavier shoe like an ankle boot or sneaker are fun options. You can dress them casual or opt for boots as you transition into Fall.
These tips and minor changes should help you put together some stylish shirt dress looks this Summer! Happy styling! xo