Welcome back to our 2023 Summer Style guide, where I share ways to improve our Summer style with simple tips to follow when getting dressed. My summer closet is never without skirts, and they're a great alternative to shorts when it's hot. Let's look at a few improvements we can make when outfitting them this season.
bodysuit (similar) | skirt | sandals | rattan tote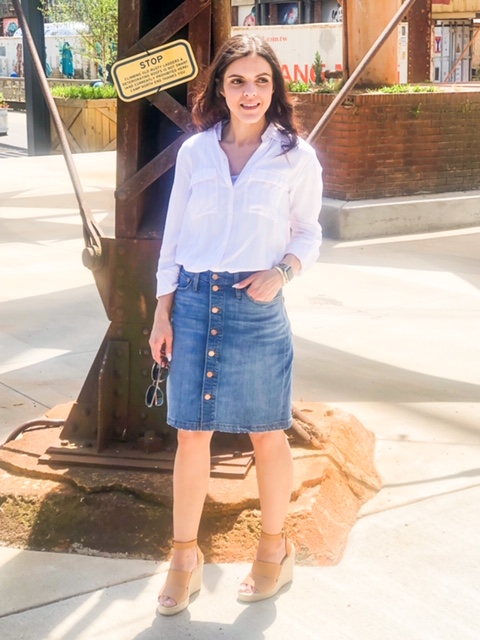 Why our before skirt outfits need improvement:
This skirt is elasticized and naturally defines our waist. When left out, this looser-fitting top eliminates the given definition. It would help to tuck it in, but this will still add bulk at the waistline, which we do not want.
It's always nice to have contrasting colors. Paying attention to where they meet is important. For an instant hourglass figure, you want this line of contrast to be at the narrowest part of your body. In this outfit, the printed skirt and white tee meet at my hips, which are several inches wider than my natural waist.
Legs that are less visible appear shorter. When styling skirts (especially midi and maxi styles) the shoes that show more of your leg line are best. While the flats are narrow and pointed, they still cut the leg line. Slim sandals or even open-toed shoes would extend your visual frame.
In terms of sandals, stick to slim or narrow styles. A chunky or platform shoe feels heavy and often limits your leg length.
A few ways to improve our skirt outfits:
Skirts are naturally loose and flowy, so a slimmer tucked-in top or even a bodysuit would avoid any excess bulk at the waistline and provide balance. This ribbed tank bodysuit is slimming and imo, Abercrombie has the best and most comfortable bodysuits around!
Don't be afraid to experiment with contrast, but make sure that wherever the two colors or prints meet, it's at your narrowest part. Think silhouette when styling your skirts!
Since narrow sandals show more of my legs, they are the ideal choice for our main outfit. I love these neutral-toned slide sandals from Amazon.
Accessories define your style in the best way. Add in an element of Summer with statement hoops or a rattan tote to draw interest.
To visualize further, here are a few other skirt outfit ideas you might like.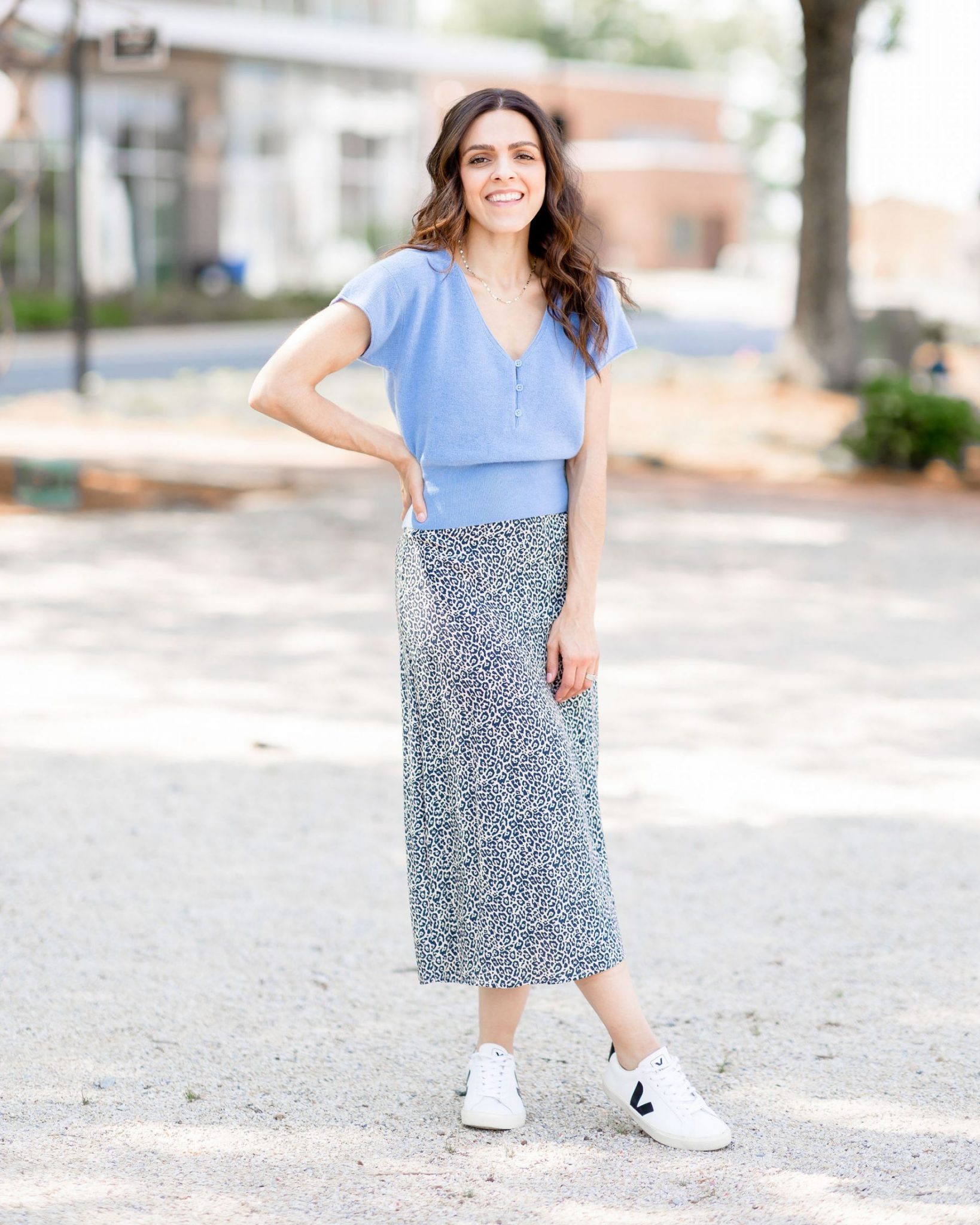 WHY THIS OUTFIT WORKS:
Yes, this colorful top is billowy, but the smocked waist creates an hourglass shape.
With the skirt not being too long, the fit works just as well with a slim low-cut sneaker as it would with flats or sandals.
WHY THIS OUTFIT WORKS:
While I have a light layer over the top, you can still see that the distinct line of contrast hits at the narrowest part and accentuates my natural waist.
Sandals work well to elongate the part of the legs that are visible.
WHY THIS OUTFIT WORKS:
Tying the top slims down the looser button-up and accentuates a natural waist.
Because the skirt is shorter and you've plenty of leg line to show, flats, sneakers and sandals would all work in this outfit.
The addition of the stacked bracelets adds interest!
WHY THIS OUTFIT WORKS:
The belted bow naturally draws the eye to the midline. Choosing a fitted top helps to maintain the accentuated waist.
Added accessories bring interest to the outfit.
The short skirt hem elongates the leg line well, even with a heavier shoe choice.
These tips and minor changes should help you put together some stylish skirt looks this Summer! Happy styling! xo