Welcome to our 2023 Summer Style guide, where I share ways to improve our Summer style with simple tips to follow when getting dressed!
In this series, I'll be pulling outfits I've personally worn (and styled) in the past. I'll share why improvements are necessary and offer tips to consider when styling your own outfits this Summer. As vulnerable as it is to share these looks I thought once worked, transparency is important. It's also fun to take a stroll down memory lane and recognize just how much my style has evolved! I am hopeful this relative format will spark interest in your own style development.

Today's post marks the first in our 4 part Summer Style guide series. While I love a good pair of denim shorts, Summer presents a variety of alternatives. Let's look at a few non-denim shorts outfits many of us have pieced together before and find a few ways to improve them.
non-denim shorts
grey tee | black linen short | slide sandal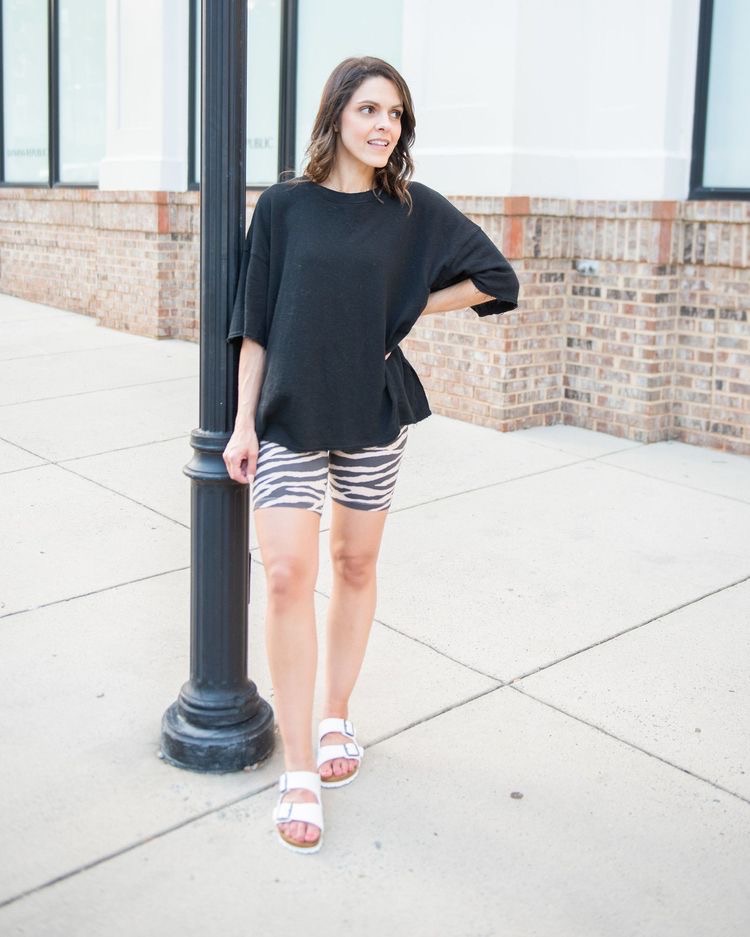 Why our before outfits need improvement:
I touched on bike shorts a while back and while styling these shorts goes beyond their name and intended use, I know there are better alternatives.
Long, fitted shorts make you appear stocky and cut your leg line in half. Although I have no issue with my height, it's best to steer clear of anything that limits your leg length.
Wearing this type of short or opting for a spandex-like material can surface insecurities. Even if they are stretchy, they aren't my first pull on any given Sunday. This material often has a tendency to show every part of you. And while it may not bother some, tight clothing (especially in the Summer) is uncomfortable. I prefer to wear loose and lightweight fabrics.
Bike shorts are often worn with oversized shirts. Pairing fitted bottoms with oversized tops is one way to balance proportions, though in this case, the end result lacks shape.
I love a good fashion sneaker and wearing them with no-show socks is ideal when worn with shorts. But unless you've other components that elongate your legs, opting for a shoe that cuts at the ankle will only make your legs appear shorter.
The oversized tank (even when front tucked) adds bulk to the waistline. When your non-denim shorts are loose, choosing a more fitted top or a full tuck creates balance and a defined waist.
A few ways to improve our non-denim short outfits:
Give your comfort level a boost and opt for loose-fitting styles. I love a good pull-on short that has an elasticated tie-waist or you can opt for shorts with an adjustable drawstring.
Switch out the spandex for more loose and lightweight fabrics. Organic cotton twill or linen shorts keep you cool and confident for Summer.
Balance the outfit with a fitted top. Now that you've reversed proportions, a fitted top accentuates the waist. You can also tuck in your top to achieve the same result.
Instead of the sneaker, go for a pair of nice sandals. It is sandal season, right? Freeing your ankles will elongate your legs. The sneaker switch-out also gives you a chance to show off that pretty Summer pedicure!
To visualize further, here are a few other non-denim short outfit ideas you might like.
WHY THIS OUTFIT WORKS: While the top is less fitted, tucking it into the high-waisted shorts defines the waist. Adding a complimentary handbag ties the neutral tones together.
WHY THIS OUTFIT WORKS: To balance out the loose linen bottoms, I chose a henley tee bodysuit. Complete the look with Summer accessories and you're set for vacay in style!
WHY THIS OUTFIT WORKS: Belted high-waisted shorts naturally draw the eye to the waist. If we were to choose an oversized top, it would eliminate the defined waist altogether. For a more defined figure, tucking the sweater tank in works well. I also love the espadrille sandal, as it gives a little height and suits the Summer vibe!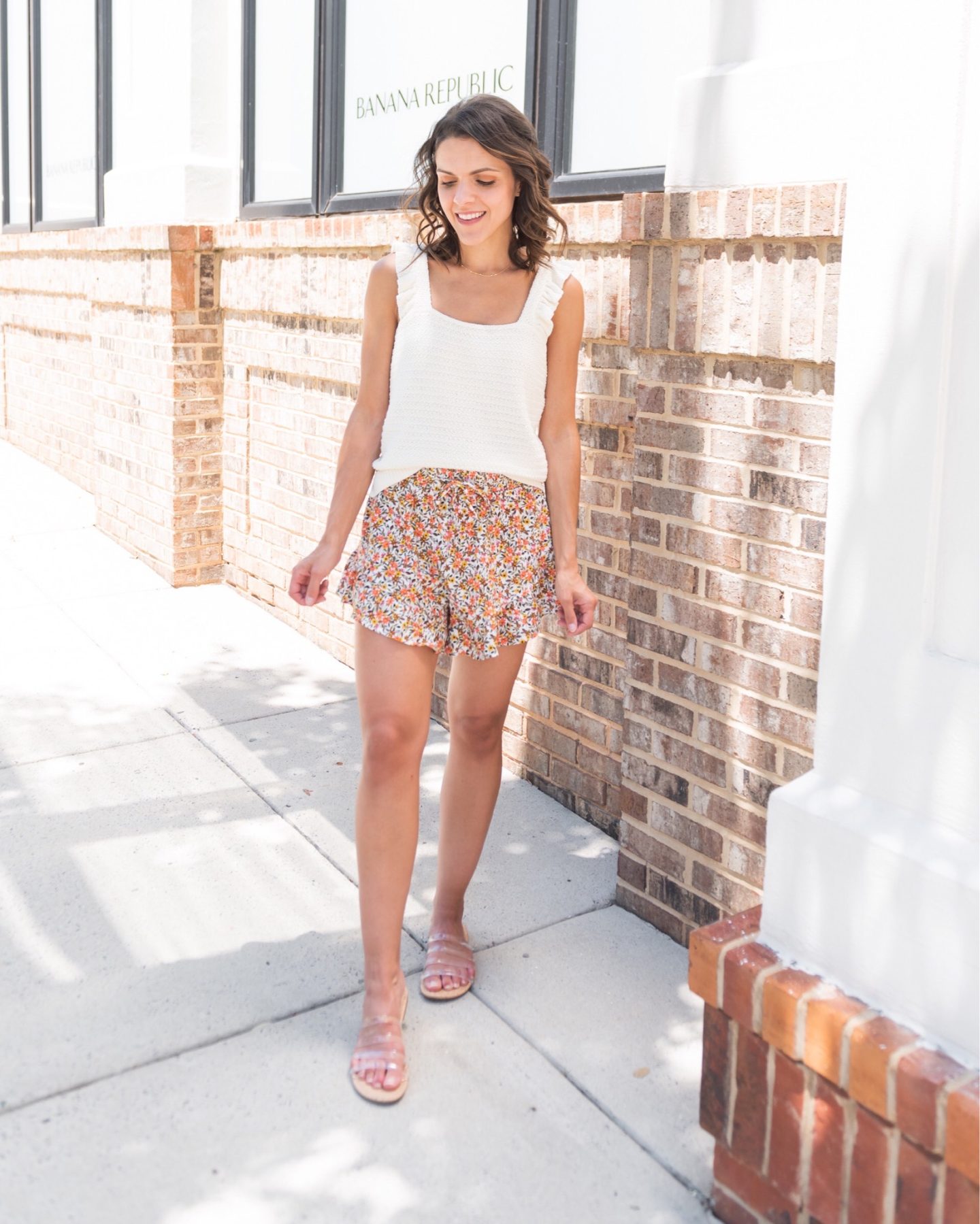 WHY THIS OUTFIT WORKS: Since the top is slightly longer, I front-tucked it into the shorts to accentuate the waist. Contrary to the white tank above, this sweater tank holds little to no bulk at the waistline. It's also fun to see similar ruffle details brought together in this outfit!
These tips and minor changes should help you put together some stylish non-short looks this Summer! Happy styling! xo