Tho the calendar may state mid October, it sure hasn't felt like Fall with these lingering warmer temps!  I've joked lately how I will force Fall in this house, one way or another – even if it means cranking up the AC. In honesty, I pulled out my Fall attire a month or so back and I had to find someway to wear my seasonal attire without the sweat! You can imagine my excitement with the temp drop last week .. it's finally starting to feel like Fall. My family will no longer think I am nuts, and I wont get blank stares wearing sweater leggings in 80 degree heat .. moving on .. With the seasonal weather catch up, I thought it would be fun to build a Fall capsule. I'll highlight twenty basic Fall pieces and style them in several ways. You'll see how each of these closet essentials can create multiple Fall outfits, saving you time and money!
Now you may be thinking – what in the world is a capsule? I, too, had to google the term. But what I found really is it's a set of pieces that are classic and timeless and that you can wear throughout the seasons. Think basics, and pieces that never go out of style. A classic tee or a good pair of denim make the cut. Choosing classic pieces you can mix and match can provide the foundation for your wardrobe.
In my capsule research, it really has brought to light the need to streamline my own closet, and the value of building a capsule each season. Yes, the build will ultimately save time and monies, but my motivation is to gain a simplified process of getting dressed. My closet is in dire need of a purge.  I've found getting dressed each day isn't as fun as it once was because of the overwhelming amount of options I have in front of me. I have many clothes that I've held onto for various reasons. Some hold sentimental value, and memories (positive and negative) attached to them. Some are still waiting for alterations. Many don't fit, and need to be sold or donated. Being type A, I've enjoyed every bit of the purge process these last couple weeks and am excited to share an example of what I am working towards.
I'll add tho, even tho I've minimized this capsule shared today, I personally do not limit myself when building my seasonal wardrobe. Fashion and style is something I love, and the experience of it all is so much fun. Trying out a few new trending prints and colors is part of that, and really – why not? I think a seasonal wardrobe can be a mix of both basics and trending favorites.  After all, it is seasonal – representing your style that season. Featuring who you are and what you love in the now. Budget and time is important, but as long as it's categorized as a piece I'll confidently wear, it can stay. What's most important is to find pieces that make you feel happy and confident when wearing them.
So, without further ado, below is a Fall Capsule Wardrobe! I am highlighting twenty pieces, broken down into five categories, that can be styled countless ways. I've stuck to several of the basics, but have added in a few of the season's trends (plaid, faux leather, leopard) for reasons stated above! For purposes of today's post, I've put together 12 separate outfits from the twenty pieces. Ones shown are just some of the options available – you can easily swap out one item, for another to create an entirely different ensemble. The five categories – Tops, Outerwear, Dresses & Skirts, Pants, Shoes & Accessories – will have you covered and are sure to carry you thru the next few (weather permitting) months!
Tops: If ya'll know me from watching my IG try ons, I always wear a tank underneath the top I am wearing that day. It's just me. Always has been. So naturally, one had to make the grade. Fall is all about layering, so I made sure to include several pieces that hold that ability. Button up tops are great to layer under sweaters and jackets, while equally proving useful over long sleeves, and tanks.
Outerwear: I stuck to the staples with these. I go into detail below on why denim is a top pick. The utility jacket is one to inherit as well. Olive tones seem to dwell in this season's color palette, and this lightweight option is the perfect layering choice.
Dresses & Skirts: As mentioned, this capsule is minimal – but with the two dress options chosen, they really provide a vast amount of outfit choices. Faux suede skirts are very on trend and this dress has been noted as a most versatile piece this season.
Pants: I have a jean fetish, and let me tell you – this selection was hard. As mentioned earlier, I do not limit myself when building my wardrobe, but do know that the need for 20+ pairs of pants is a little obsessive. So I stuck with a basic dark denim and freed up a few pant slots to increase my styling options.
Shoes & Accessories: Covering all the style bases – work, athleisure, and everyday casual attire – I think I have the shoe options covered. A girl can never have too many shoes (at least that's what I tell myself when the shoe sales hit), so I am sure an OTK boot would work well with options shared, or even a black pump for upcoming Fall weddings and Holiday dinners. Same for accessories; Ya'll know I am not a minimalist when it comes to defining your style. The essentials are noted, yet open for add on!
Mixing and matching pieces is the way to extend your wardrobe. Although there are more than 12 outfits you can create from these 20 key pieces, here are some options: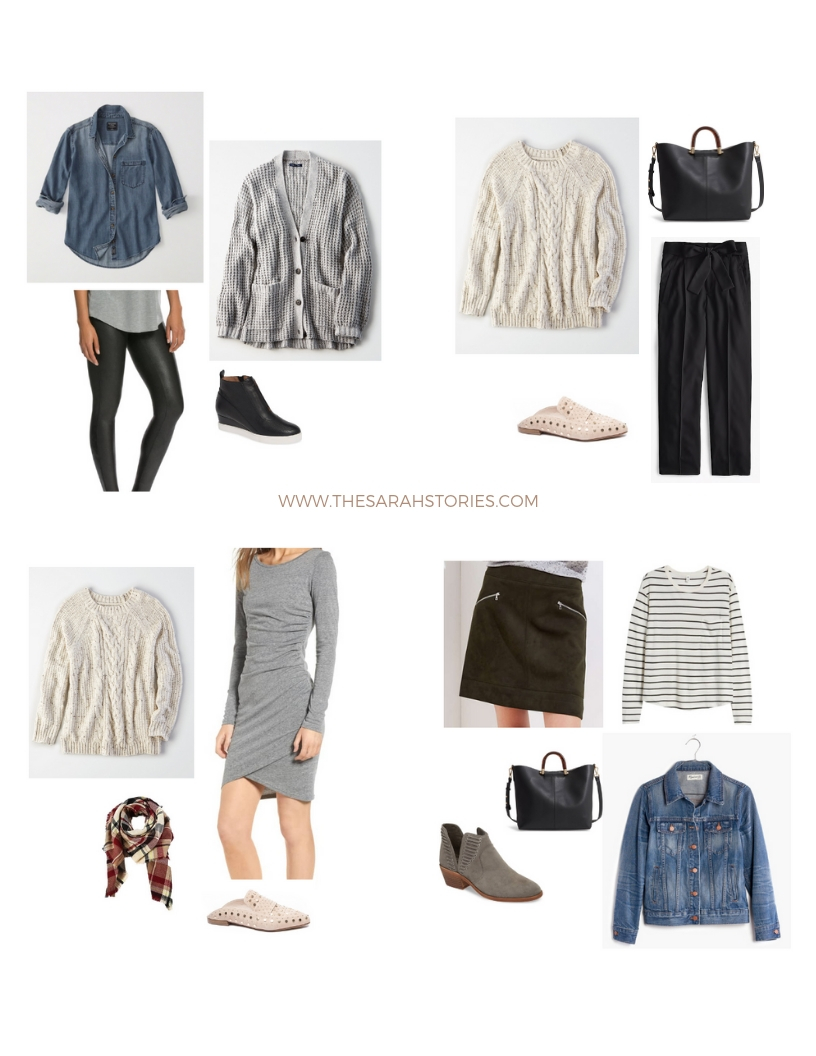 Stripe Tee: A stripe tee is one that I reach for more often than none. It provides a perfect print essential to mix with others or proves the main focus of your outfit. Style it casually with a pair of jeans, or dress it up under a moto jacket with faux leather leggings for a night out on the town. I own a few striped tees, but one of my favorites is the pocketed option shown. Definitely a layering favorite.
Denim Jacket: No matter the season, a denim jacket is a closet essential. It's the casual outerwear of choice and you'll find, more often than none, that you'll reach for it most days. There are so many choices out there – a classic dark wash, light wash, embellished, cropped, lined and oversized, to name a few. Choose one you love at first sight – guaranteed it will be a forever capsule must have.
Long sleeve dress: This dress made my Fall wishlist, and is currently on route to my closet. Dress it up with a blazer and studded mules for a cute wear to work outfit. Add a denim jacket and blanket scarf for cooler temperatures, or layer with a sweater and loafer mules for a dressy casual feel. It really is a versatile piece!
Black denim: Simply put, black denim is a must have for Fall. This staple can instantly take you from casual to chic, just by switching out your top and shoe choice. This pair is a favorite, as I love the distressed hem and flattering high waist. An essential on repeat, for sure.
Booties: Booties are the shoe of the season. To say I am obsessed with them is an understatement. These booties were the capsule choice based on the neutral colors offered. I love the woven detail, providing a bit of texture to your look. They are offered in a taupe and black option as well. Style them with an ankle skinny jean, a dress, skirt, and even faux leather leggings. This shoe is one you'll favorite quickly this season.
What are some of your key pieces for Fall? Did any of my capsule choices make yours this season? I would love to know! Comment below or find me on Insta! As always, thanks for stopping by!
SHOP THE POST