So you have the outfit, but want to kick it up a notch. Or maybe it just doesn't feel complete. That's where accessories come in, and if I could pick one part of fashion I love, they'd be it.  Jewelry, hats, scarves, handbags…all those little things that add to your look and really help define personality! Accessorizing adds to your style and defines who you are with the pieces chosen. This post outlines how I piece together my favorite amongst the accessory list : jewelry.
I'll preface my how-to and share I am one to wear an arm party. You'll often find several pieces on wrist. It's just me. But I understand it's not for everyone, and even I experience days where one piece of jewelry is enough. The points below share with you how I build my wrist norm.  A 3×3 stack meant to hold a primary focal point, texture, and meaning.
Decide what story you want to tell
The first thing I do when pulling accessories with my outfit is ask myself what I am wanting to portray. What you wear, jewelry in particular, can say a lot about who you are. Love bold statement pieces? You may possess an outgoing and vibrant personality. Enjoy stones? They share attributes of happiness, strength, and friendship. Do you mix metals or is your collection strictly silver? You may have a bit of edge, or traditional side to you.  Before you even go to your jewelry box, set your intention for the day. What are you feeling, and what part of that do you want to share? Maybe you have something on your mind, you're attending a special event, or need a positive reminder to get you thru the day. Whichever the case, the story sets the foundation.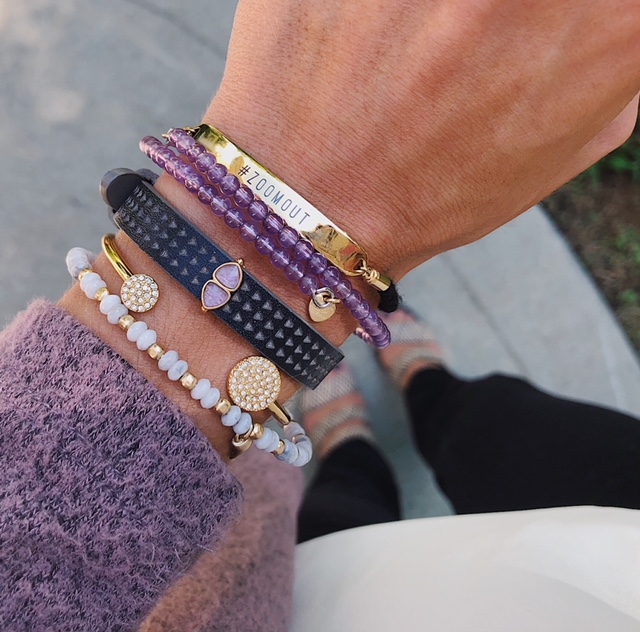 Focal point of Color: Happiness Inspo beaded wrap | Texture: Black perforated leather band
Personalization: Engravable pulley bracelet
1.  Choose a focal point
Choosing that focal point is entirely based on your intention. It can be based on color or representaion, or a combination of the two.
Color: You have a gorgeous Lilac cardigan you plan to wear to your sisters bridal shower. You've paired it with a black skinny jean and an aztec printed block heel. An initial match would be to find a similar band in lilac, with plan to add in a black element in your overall look. You've then pulled the lilac from your top and the black to pair with the pant.
Representation: Based on my intention I may choose a specific stone or charm for my focal point. Keep Collective has several gorgeous pieces to represent friendship, strength, love, happiness, etc. Maybe you are celebrating your wedding anniversary and love is on your mind. I may choose our rose quartz wellness stone, or hanging onto love charm to focalize. These pieces finalize your intention and set the tone for the stack.
Yes, as a designer I have access to all of these gorgeous pieces. But you may be saying, "I don't have any of these bands, charms, or stones mentioned." That's completely ok! Aside from giving you first line access, you can most definitely work with the pieces you have. You've chosen your accessories because you like something about them. It goes back to the idea that what you wear is a representation of who you are. When choosing that focal point, choose it based on why you love it, and the reason you want to where it. Does the color of it represent you? Does it hold sentimental value? I can guarantee it's the main guest at the party already.
 Focal point of Representation: Love wellness stone | Texture: Anda Intention bracelet
Personalization: Engravable mini bar and/or disc necklace
2. Add a bit of texture
Adding texture to a stack adds depth. Wearing three of the same aesthetic isn't always pleasing to the eye. It can give off a muted vibe. Once I have my focal point, I'll add a different type of aesthetic to the mix to bring in texture. If my focal point is leather based, I'll might add in a metal chain or mesh band for some edge. Or visa versa, bringing in a printed, embossed, or suede fabrication. Alternatively, I may add a few beaded pieces for shape. To sum it up, make sure to mix it up!
3. Dig a little deeper and Personalize
Personalization is just that, it's personal. Have you ever seen an engraved piece on someone, read it, and wonder a little more about the meaning behind it? What's special about the initials, date, mantra, or verse that she is wearing? It's part of her story and titles the chapters within it. The third and final piece of completion to my stack is a piece that digs a little deeper into the story I am wanting to tell. Based on the color, metal choice, & texture chosen I'll choose an engraved piece or accessory that represents who I am on a deeper level to tie it all together.
There you have it! A 3×3 method that is tried and true, one I utilize on a daily basis! But maybe you aren't one to wear jewelry on wrist. That's okay, too. You can piece together different accessories in the same process mentioned. Choose a statement earring as your focal point, pair it with your newest camo clutch and finalize it with an elegant initial necklace. Your accessories are serving their purpose, defining your style and the person you are.
Focal point: Statement Aiyana Fringe Earring | Texture: Camo clutch and/or Suede Triple wrap
Personalization: Engravable Disc or Covet Initial necklace
Focal point: Statement Aiyana Fringe Earring | Texture: Camo clutch | Personalization: Covet Initial Necklace
 If you'd like further jewelry design assistance, feel free to fill out my style survey here. I can send some inspirations your way, based on your style preference and story. I hope my accessorizing process helps in completing your personal style looks!  As always, thanks for stopping by!