Up until a few years ago, I was never one to sport the blazer. Even in the corporate world, the blazer isn't something I really even looked at. Growing up I watched the blazer complete my mom's look everyday – not that I am knocking my Mom's choice in fashion – but it was a static go-to. Navy, black, the occasional subtle houndstooth or plaid print; it always accompanied a skirt, neutral blouse or on Fridays, slacks. The shoulder pads up to her ears at least gave the monotone look some appeal. (again, not knockin my Mom. Workwear was pretty cut and dry in the 80s. Since then, I like to think my love for fashion has aided somewhat in her closet select.)
In the corporate world, I credit the lack of blazer interest to boredom, my age, and an undeveloped style. I was in my twenties, stepping into the corporate role with absolutely no understanding of workwear other than what I'd seen and grown up with.  I, of course, was excited to curate a closet that included the 9 to 5 dress, but exploring a piece I'd since marked redundant wasn't anything I wanted to entertain. Sadly, I painfully regret giving it the side eye.
I may have missed styling this gem back in the corporate world, but that doesn't mean this stay at home mom can't pick up a few (okay, maybe 5..er, 6) blazers and make up for all the opportunity missed way back when. Styling this piece goes beyond the neutral blouse or slacks. And most definitely steps outside the office. And tho they served my Mom a stylish purpose, shoulder pads are often now removable. Thank the Lord.
The blazer really is a solid staple piece – it now holds a forever spot in my capsule build from versatility, alone. Last Spring, I styled a white blazer – and while the white is a solid choice for Spring, I thought to flip the spectrum and style the black blazer this season! Yes, you'll see a few neutrals and skirts in the mix – but hopefully seeing ways to style will steer you clear of any likewise misconception.
---
Below, I've shared 10 ways to style the black blazer. I feature options from dressy to casual wearing this rolled sleeve blazer from H&M. If you'd like to recreate any look, I've linked items shown for a convenient shop.
jumpsuit (similar) | handbag | heels (similar)
midi skirt (similar) | cami (XS) | pumps (size down .5) | handbag
snake print dress (XS) | pumps (size down .5)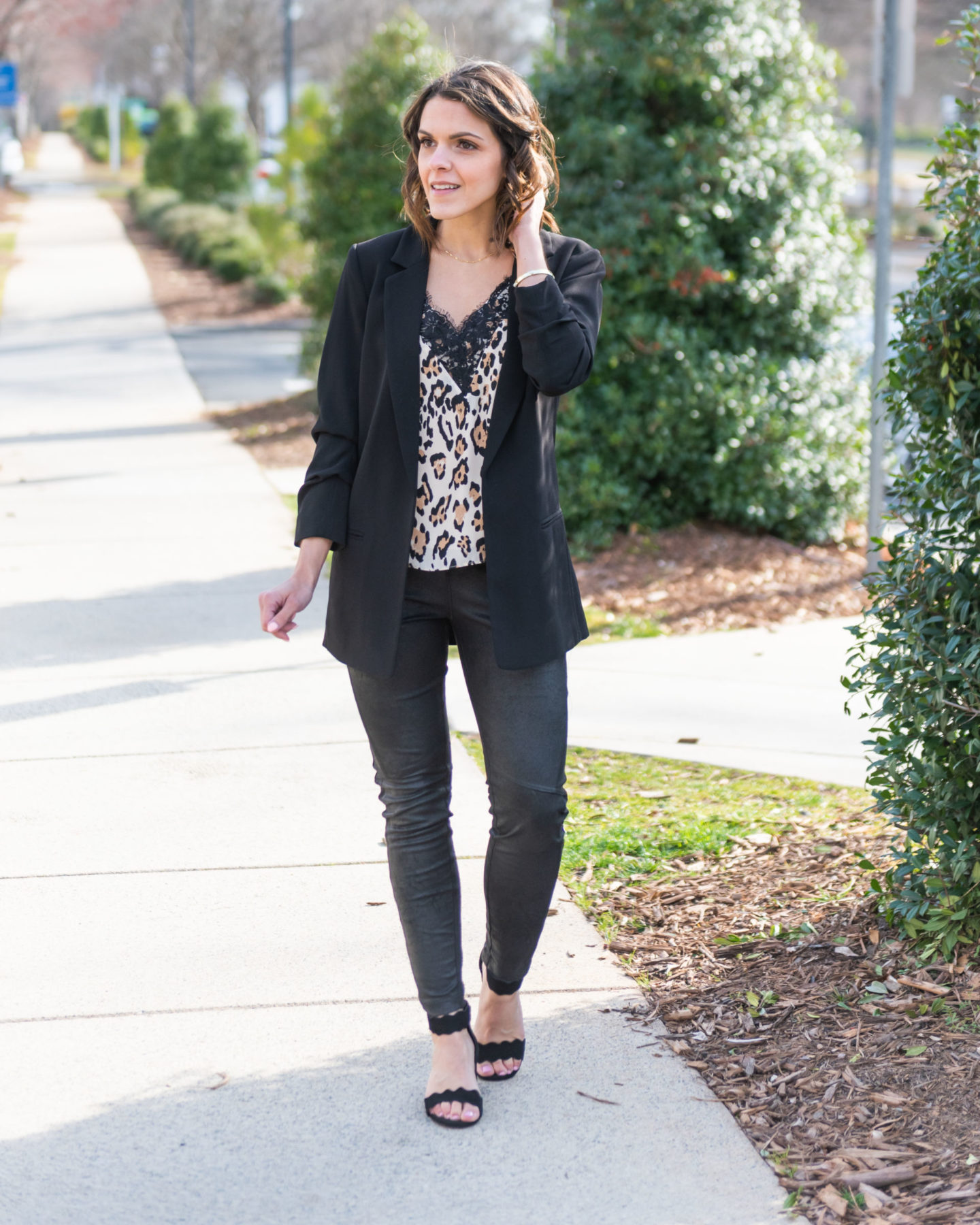 leopard cami (similar) | faux suede leggings (XXS) | heels (similar)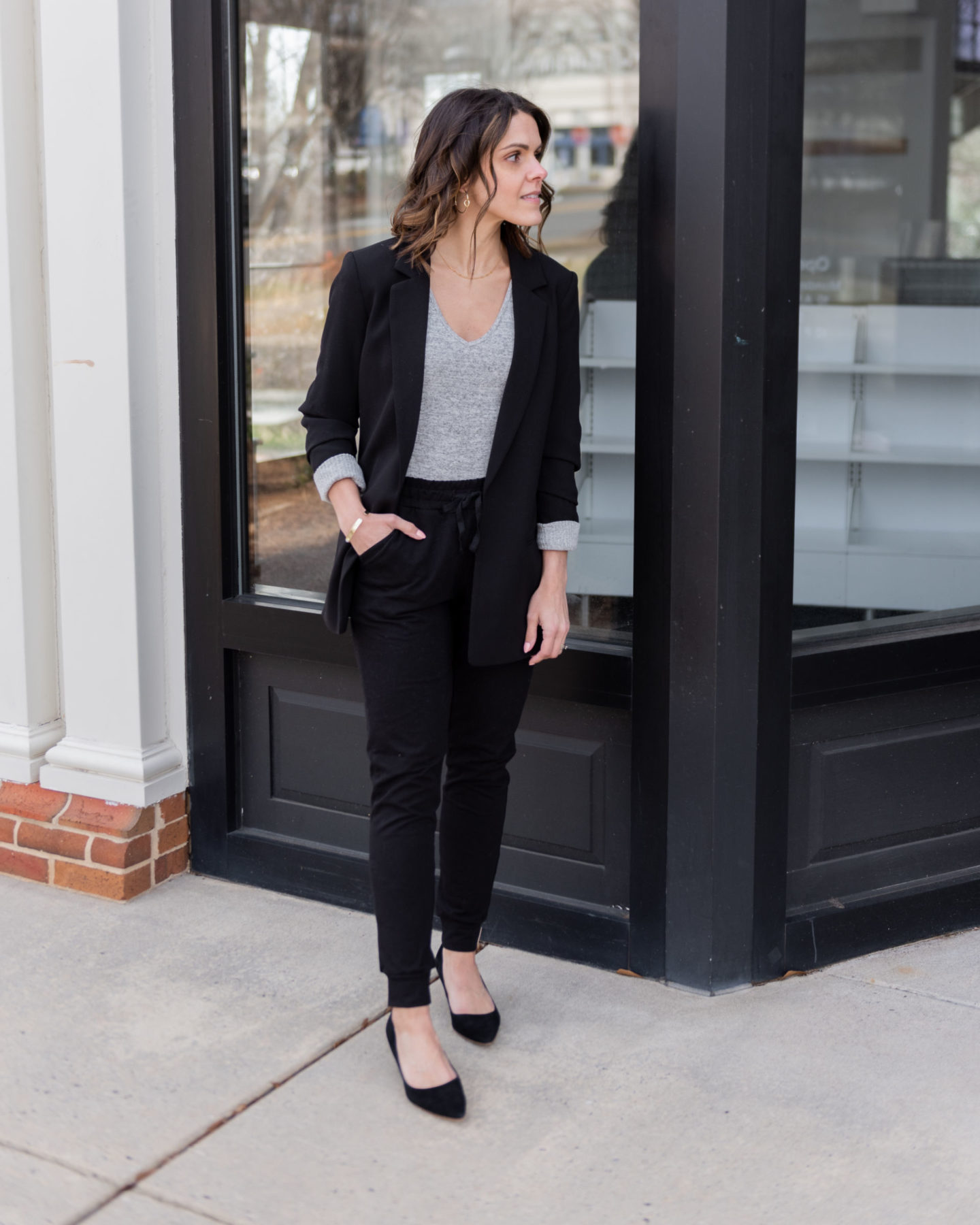 grey bodysuit (XS) | joggers (XS) | kitten heels (size down .5)
graphic tee (S) | camo leggings (similar) | kitten heels (size down .5)
pink popover (similar) | denim (TTS) | handbag | mules (size down .5)
white button down (XS) | denim (TTS) | leopard booties (TTS) | handbag
striped central shirt (XS) | denim (runs large, size down) | kitten heels (size down .5)
denim (runs large, size down) | sneakers (size down .5)
---
There you have it – 10 ways to style a black blazer. Have I swayed any likewise childhood opinion? Which style are you most opt to wear? Share in comments or DM me on Insta! As always, thanks for stopping by!
xoxo