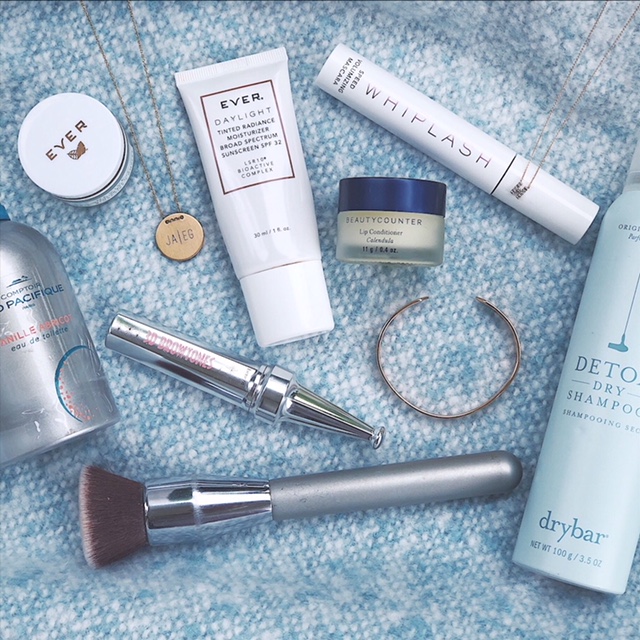 I am one to stick to routine. Ya'll know that. Or if you didn't, I am sure you'll quickly come to realize I am 99% type A. So when I find a product I love, I rarely stray from it. Wether it's beauty products, jewelry brands, skin care regimens, you name it; I am loyal.
More so, I am pretty picky when it comes to my every day beauty essentials, but with good reason. As I've gotten older, I've learned the value in a good skin care regimen, that quality proves longevity, and my everyday essentials that I use, in a sense, define a part of who I am. I love that my kids know what Mom smells like, and that I always wear my gold disc necklace. I used to not bother with higher priced products, or jewelry, but I don't mind spending and splurging a little more, knowing that they'll last longer and the pieces I wear appreciate in sentimental value over time.
With the market constantly changing, it's not out of my norm to try new products. I am often experimenting with new regimens and products to add to my staple list. All these products listed below, I've used for a while. They've all passed my personal (steep) test, and are a part of my everyday routine. So without further ado, here are my top everyday beauty essentials you'll find always within reach.
One| Two | Three | Four | Five | Six | Seven | Eight | Nine | Ten | Eleven | Twelve
1. Ode de Toilette Vanilla spray: Several years back I received a sample size of this spray from Birchbox and immediately fell in love. I haven't always been one to wear perfume, as I feel strong scents can be slightly overwhelming. The concentration of essence is significantly lower in an Ode de Toilette, so this type of scent fits well with preference. Patrick often tells me I smell like a vanilla cupcake; It's an inviting and memorable scent, which I love.
2. Keep Collective Engravable Gold disc Necklace: When Keep Collective launched this necklace engraving option, it didn't take long for me to decide on this sentiment. I am drawn to simplicity, and love that this piece provides a way to wear what matters most. I chose gold, as it has become the primary metal I wear, tho it's offered in a few other metal options. I chose a simple block font, noting the first and middle initials of my two littles and wear this piece daily.
3. Benefit Brow Definer: Brows are THE #1 thing I see and notice when meeting someone. I think they are such a crucial step in your makeup routine and can completely transform your look. Pencil thin brows or a scarcity of hair growth, imo is more obvious and a visual distraction. Back in high school I went a little overboard with pencil thin brows and have suffered the consequences. This tinted eyebrow gel contains tiny microfibers that adhere to skin & hairs, creating natural-looking fullness and definition. This subject is one I hope to provide more content on, as it's evident I could write an entire post on my brow musings.
4. R+F Redefine Face mask: Two years ago, I took the leap and tried out one of Rodan + Fields highly praised skin care regimens. Results reign true as I have seen a positive change in my skin's overall appearance and complexion. I wasn't too keen on the idea of a mask being THE cleansing product in the system – I had always enjoyed a good lather, sudsy rinse when washing my face. But trusted my consultant in her reasoning that an abundance of bubbles could do more harm to sensitive skin. This creamy, Kaolin clay-based cleansing mask dries quickly, drawing impurities from your pores without robbing your skin of essential moisture. Something my combination skin needs and happily welcomes.
5. EVER Skin Care Revive Eye Lift: Being of middle Eastern decent, I naturally have under eye dark circles. Ive had the hardest time finding a product to conceal and brighten the under eye area, while targeting all other anti-aging concerns. THIS does it all. I apply this every day, after cleansing and within a few minutes can see a drastic difference. It tightens, brightens, and hydrates, for a total eye revival.
6. Stella & Dot Covet Signature Necklace: Being with Keep, the company rewards their designers in abundance. This piece was earned a year ago during our Fall season collection launch, and I couldn't be more proud to display this mention of hard work. Their covet diamond collection is gorgeous, and of highest quality; Hand crafted genuine diamonds set in 14K White or Yellow Gold. This timeless pavé initial is perfect to wear every day to personalize your style, and definitely worth the investment.
7. Dry Bar Detox Dry Shampoo: So, I know this may not be an 'Everyday' essential, as I try to wash my hair at least every 2-3 days. If you are a Momma like me, a shower AND shampoo is a luxury that's not always accessible. Whoever invented this genius product must be living the high life, cause it is most day's saving grace. I have found this brand to be the most effective option to date and trust me when I say this, I've tried MANY. My hair has always been on the more oily side, with the first days clean naturally being the best. I'll add I work out most days and as embarrassing as it is to admit, am an avid sweater. So you can imagine what that does to my hair type on day two. Unlike other dry shampoo options, this sulfate free formula doesn't leave a white powdery residue. It provides an ample amount of volume, and the scent is amazing. Highly recommend this high end brand and all the other products in the line as well.
8. Everskin Daylight Tinted Moisturizer: I am not one to wear foundation. Ever. I have searched high and low for a good tinted moisturizer to do the minimal job of coverage desired. There are many on the market that have done the job, but not one of them have met all attributal requirements. ie: Moderate coverage, non drying, chemical free, long lasting, SPF, an anti-aging product formulation to name a few. Que another EVER skin care clap. I cannot say enough about this brand and the products. Yes, it's a sister brand to Keep & Stella, which gives reason as to why I tried the brand. But more so, its highly researched and clean formulated products are ones I'll be an advocate for, forEVER. This moisturizer has their patent LSR10 complex, scientifically formulated to reduce the top 10 visible signs of aging and truly marks off every other qualification.
9. Whiplash Mascara: I stumbled upon this 'add-on' a few months back in my monthly Ever order and am so glad I did. This mascara was built for versatility. You can turn it up for a false lash effect or swipe it light for everyday ease. It does not clump, or even flake off during the day. A definite daily essential on my minimal make up list.
10. Keep Collective Engravable Cuff: A classic and simple piece I find myself wearing daily. I have several cuffs in this style, all engraved with different phrases. Positive reminders, verses, memories and affirmations. Keep truly does give us the means to personalize our stories and offer versatile ways to share them.
11. Beauty Counter Lip Conditioner: I have always been one to apply something to my lips during my nightly bedtime routine. I've used chapsticks religiously for years to no avail because my lips were dry and cracking. This lip conditioner nourishes and protects the lips, while soothing and softening any chap. I am sure the mission behind Beauty Counter's line has something to do with why I love it so much, (amongst all their other clean, healthy formulated products they offer). It's assuring when you find a product that is not only environmentally safe but still produces the results you've hoped for. Even in something as a 'ready for bed' moisturized lip.
12. It Cosmetics Airbrush Buffing Foundation Brush #110: As stated, I am not one for foundation, so don't let the title of this brush fool you. This beauty tool does the trick in my minimal make up routine. Minimal meaning : moisturizer, concealer, setting powder, blush and mascara (on a good day)…told you, it's the basic of basics. A few years back I found that I was consistently buying the few brushes I had because of the bristles falling out. I decided to give Ulta's It brushes a try, and haven't replaced them since. I use this buffing brush when applying my setting powder and find it does the trick, flawlessly. I have a few others I use to apply shadow and bronzer on days this Momma wants a little sprucing up.
So now that I've listed a few of my everyday beauty essentials, what are the pieces and products you stick to? Can you agree that routine shares a little bit on what makes you, YOU? I'd love to learn of the products that do just that! Share with me in comments, or message me on Insta! Thank you for stopping by!