Growing up in the PNW, Summer was always the hottest in late July, early August. Here in the South, I've come to realize it's no different! Regardless of where you reside, Summer brings on the heat, making it easier to oblige to your kiddos requests to hit the pool. If Summer's scorchers haven't hit by now, it's the norm to go find the sun on vacay, am I right?! All these Summer vibes and the 90+ degree days have got this Momma looking for a way to fashionably cool off! If you read my Summer wishlist post, I am always on the hunt for good vacation attire and swimsuits are a top essential! For this month's Amazon prime picks and with one-piece swimsuits on a rising trend, I thought to order several and see what came about!
I was so shocked when I got the suits in the mail! Not only were they super affordable, but my size estimates proved fit and choices, fashionable! Below are six affordable swimsuit options for all your sunbathing needs. All from Amazon, all prime eligible, and ALL under $30!
I chose this for the print alone. Then saw the back strap detail and immediately added to cart. Such a flattering piece, and surprisingly super comfortable. I could easily wear this all day at the pool…tho the tan lines may be ones to talk about. 😉
Fit: Amazon states it runs small, tho I ordered my SM size and it fits perfectly.The string is adjustable, so you can tighten or loosen easily.
Price: $21.99
Support: Full coverage top with padded cupping
Backside Coverage: Full coverage
Flowerprint Off Shoulder One Piece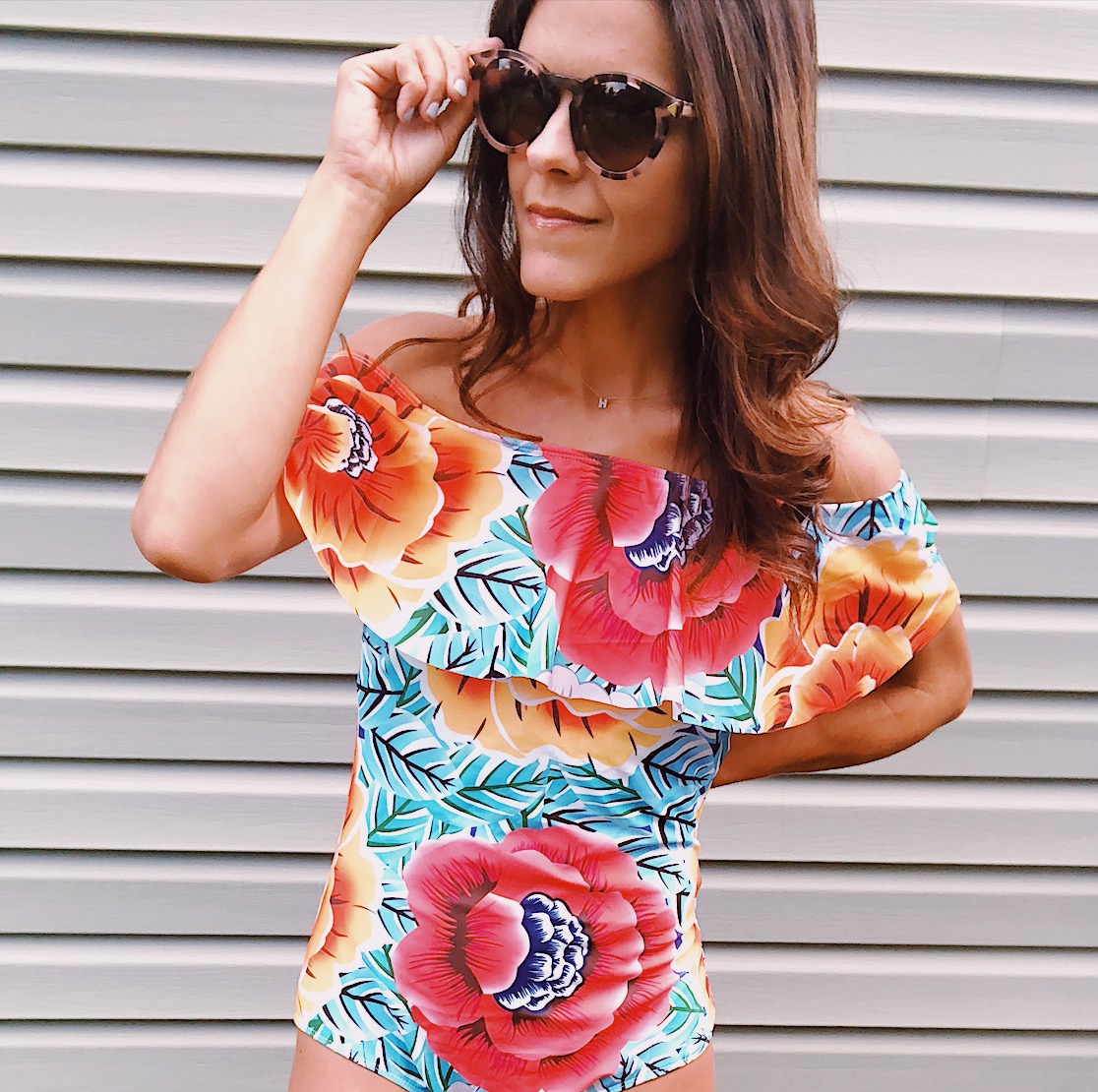 This is one of the suits I saw on Amazon that made me want to try others! Such a gorgeous print. Super flattering and very comfortable.
Fit: Fit TTS, I am in a small.
Price: $16.99
Support: Provides great support, as the elastic around the shoulder fits snug and doesn't fall. Comes with removable cupped padding.
Backside coverage: Full coverage
I am in LOVE with the print mixing on this suit. This cut out style of suit is so fun; kinda giving you the feeling of wearing a bikini but without the hassle of carrying around two pieces! This style is offered in several different color options as well.
Fit: Runs TTS, I am in a small. In honesty, I do love this suit for reasons stated above, but felt the fit overall was off. Moving around in a swim suit easily and comfortably is key, and this suit isn't as comfortable as it is cute, imo. It held excess fabric in the torso where it should be in the bum.
Price: $26.99
Support: Full chest coverage, with cupped padding. You can add greater support by tightening the halter strap around the neck, or even removing the strap for a bandeau option.
Backside coverage: Cheeky bum
Two piece Ruffle Shoulder Bikini – Patterned Navy
Now I know this isn't a one piece, but added it last minute for the cute ruffle coverage. When worn, it covers more of your midsection than a typical bikini would.
Fit: I laugh as I type this, but it honestly took me 5 minutes to figure out how to put this two piece on. All the ruffles got me frazzled. I had the strap of the bottoms around my neck…it was comical to say the least. Once I figured it out, I fell in love with the way it fit! Super flattering and comfortable! Fit is TTS, I am wearing a SM.
Price: $22.99
Support: Cupped padding with light support.
Backside coverage: Full coverage on bum. The string on top is adjustable around your waist, allowing for a tighter or looser fit depending on bum size.
Two piece Ruffle Shoulder Bikini – Coral
This is similar to the previous swimsuit; same brand with minor differences. I've seen this suit on several other bloggers, and now know why it's one to show. I love the coral color and striped print on bottom. Such a flattering piece that fits like designer without the price tag. Is offered in several other prints and colors to choose from. I really think this piece would look good on anyone!
Fit: Fit TTS, I am in a small.
Price: $25.99
Support: Good support with removable shoulder straps and cupped padding.
Backside coverage: Full coverage
One Shoulder Stripe One Piece
With the ruffle fiasco of the suit above, I was skeptical. Surprisingly, this piece is my favorite of all and kinda makes me feel expensive! Take me to my yacht, and bring me a margarita..this Momma is lookin' fancy! All feelings aside, this piece is super comfortable, flattering, and fits in all the right places.
Fit: Fit TTS, I am in a small.
Price: $19.76
Support: Full support all round
Backside Coverage: Full coverage
Now that you've seen some affordable AND fashionable sunbathing options, which is your fav? Hope you are now set to hit the pool or sunspot of choice in style! Shop my post below, along with some other poolside Amazon essentials! Thanks for stopping by!