If you're looking for quick style inspo, this post (and new series) is for you! While I love a detailed explanation of how to style a specific piece in closet, sometimes we just need the short answer. Am I right? This week I started a new series across social media – coining it #tsswithtss (Thirty Second Style with The Sarah Stories) While I still plan to elaborate and spotlight Spring style here on the blog, I thought condensed style sessions would equally serve helpful. Each thirty second clip spotlights a specific style or item in closet. I share associated styling tips and ways to wear it! Follow along and feel free to request via dm future style topics! This week I chose to spotlight loose jeans, wide leg trousers, puff sleeved tops, and an athletic dress.
---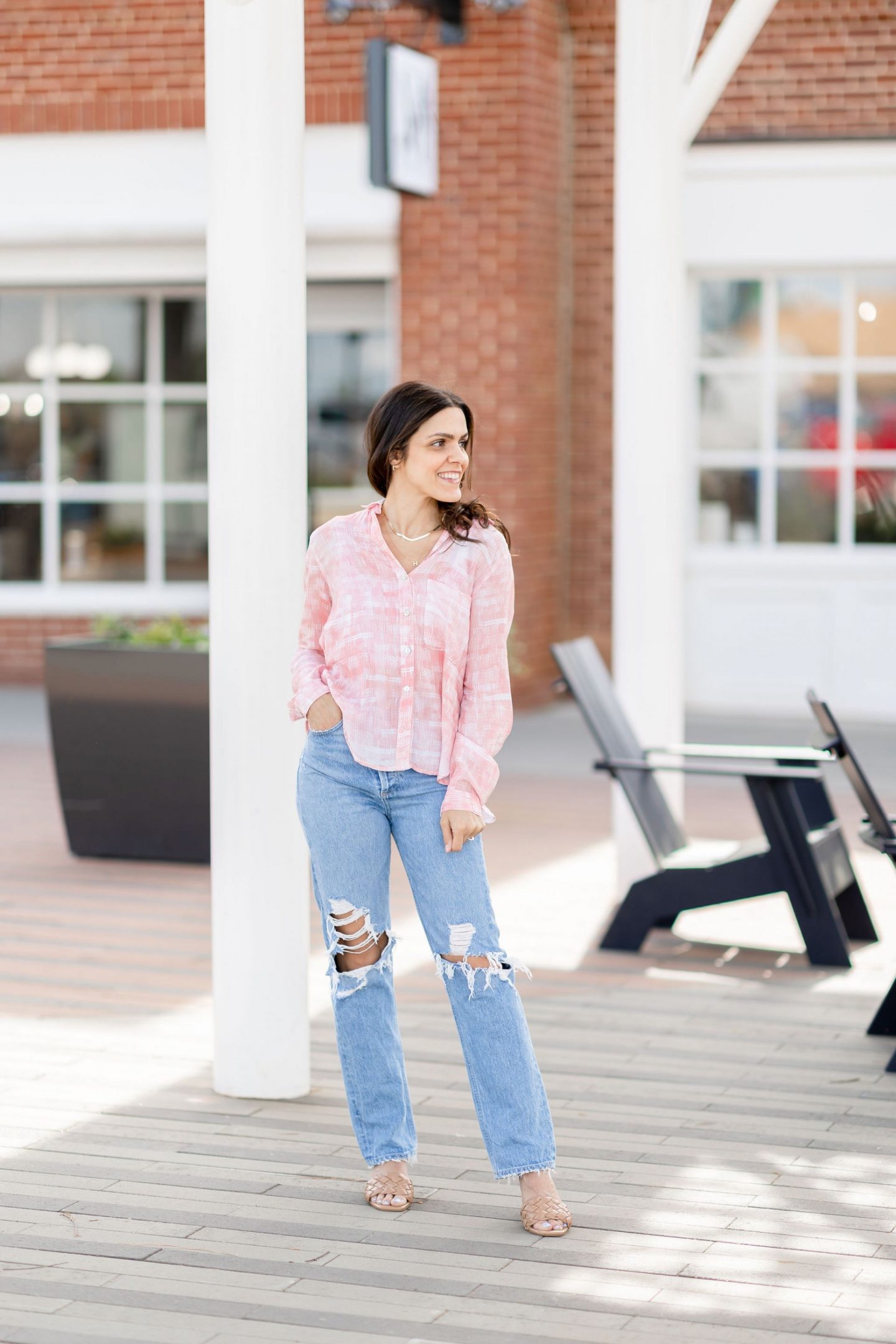 Choosing an oversized or long top leaves you lacking shape. So you want to balance your proportions. To create balance, you can select a tighter fitting tank, or tuck in a tailored top. Go casual with sneakers or dress them up with heeled sandals. Front tucking a shorter sweater also helps to define the waist.
This Mason pant is Reformation. If you remember, a looser bottom calls for balance up top. You can opt for a chic bodysuit or shorter blouse and keep shape. Complete your look with stylish pumps or heeled sandals. But trousers these days aren't just for the office. Dress them down with a denim jacket and sneakers, or meet in the middle by keeping it corporate up top in a blazer.
If you don't know by now, I am a sucker for puff sleeved tops. To create balance and shape I tucked this boxy top into my bottoms. You've already a little shape with this babydoll style, so you want to create balance elsewhere. Opt for straight leg cropped jeans and show a little skin in sandals. These types of tops hold a lot of volume in the arms, so remember to balance the fullness with fit.

I am sure you've seen this athletic dress in your scroll lately. It has adjustable straps, hidden shorts, and is beyond comfortable. Let's explore a few ways to wear it! You can casually layer with your favorite graphic tee and birkenstocks. opt for a button up and your favorite sneakers. Or get creative in heels and blazer for happy hour or date night. Or opt for a cardigan and slide sandals. Today, I'll keep casual as intended in a classic denim jacket.