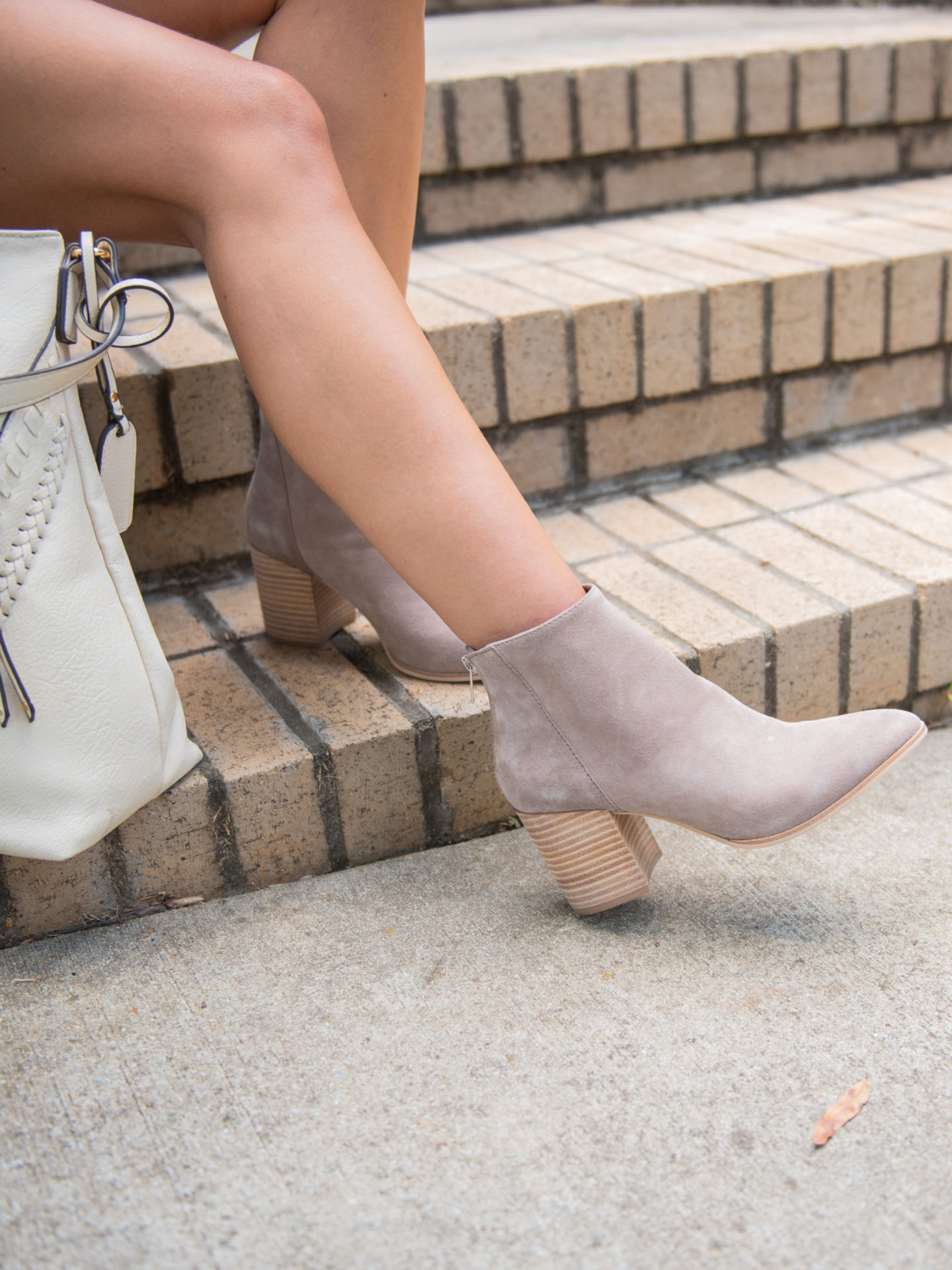 It may be August, but it's no question Fall's favorite fashion piece has shown up on retailers shelves. The bootie. If you didn't grab a pair in the #nsale, they'll be an influx of opportunity going forward. Trust me – taupe, cognac, black – suede, open-toed, perforated, textured – you now have your assortment at your fingertips.  Retailers insist on the rush from one season to the next and it leaves those who've grabbed next seasons shoe in a slight predicament. Who loves receiving new shoes and boxing them up top in closet until cooler temps hit? Thought so, me neither. My hope in today's post is to solve this dilemma – and convince there's no need to box those booties up! I'll be styling 5 ways to wear your newest booties now and tips for an easy transition into Fall.
I'll note the booties worn in all of these looks are the Steve Madden Jillian bootie. They fit TTS.
---
Pair with shorts: Probably my most favorite way to wear booties now. Just because your newest pair are close toed, it doesn't mean you cannot switch out your sandals for a chic look. You balance toe coverage below with a long sleeve top. I am in love with this detailed eyelet piece. Adds the perfect amount of femininity to your look. Both the top and denim shorts fit TTS.
---
Pair with skirt/dress: Pleated skirts are very in right now, as is animal print. Switching out your sandal or heel for a bootie kicks up the edge in the ensemble. I'll note that this pleated skirt is so versatile in itself (maybe another style session topic?) and is less than $15! Grab a similar animal print tee for less than $3 here or another snake printed option here.
Need a date night look? Pair your booties with a midi dress and you're set! I fell in love with this midi dress and the many ways it can be styled. Fits TTS.
---
Pair with denim: Yes, I understand wearing denim may be a bit hot right now, but as the temps cool down a bit, you'll have looks to layer on. I paired my booties with what I call 'Summer' denim – a cropped fit. This style of denim works really well with ankle booties, as it allows a spotlight on the shoe itself. I've balanced leg coverage with a short sleeved top. Denim and top both fit TTS.
As with the cropped denim, boyfriend denim is an optional look when paired with a bodysuit. You have the option to layer as I've done here with a lightweight camo cardigan in cooler temps. All pieces fit TTS.
cardigan | bodysuit | denim | crossbody
---
The key to transitioning well is to take pieces that you wear on a consistent basis in the next season and gradually incorporate them into the looks that you're wearing now. You'll see with each look today, I've taken Fall's go-to shoe and have paired them with items I have been known to style in Spring and Summer. Denim shorts, pleated skirts, and tank top bodysuits are all items I wear now. You'll find the closer you reach Fall, the balance will offset and you'll be incorporating more Fall pieces than Summer. Gradually adding next seasons regulars will make for a smooth seasonal shift.
Hopefully this styling session has helped provide a bit of style inspiration and helped bridge the styling gap. More importantly, you've now several looks to style your booties now. Happy styling!
xoxo