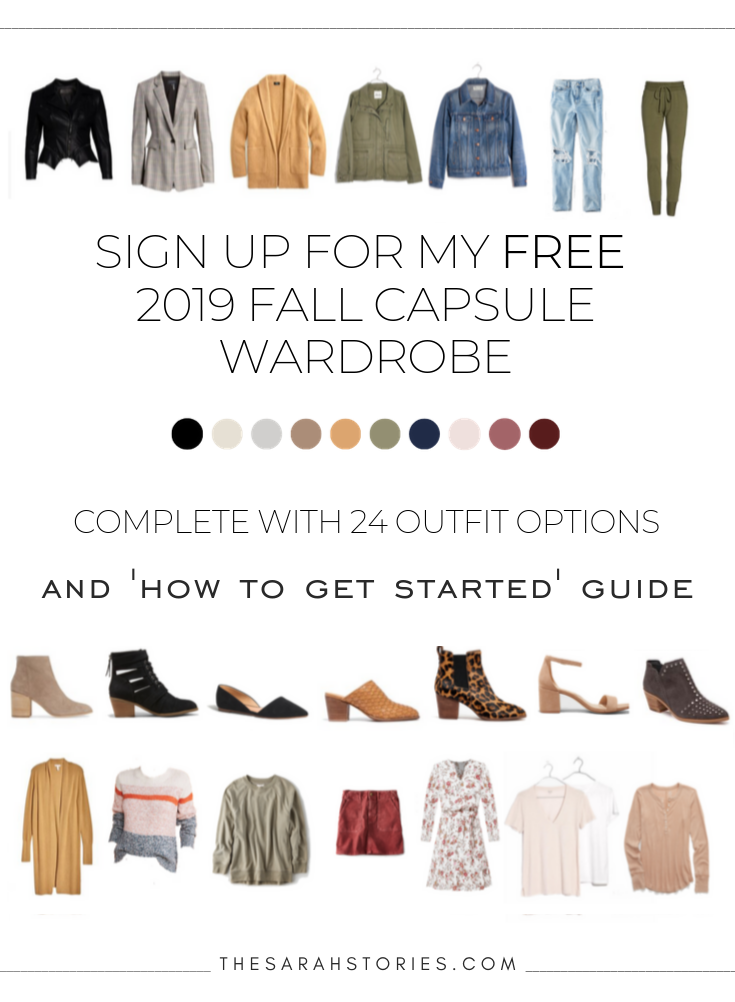 Fall is officially here! It's time to pull out those sweaters, booties, and fashionable coats! ..but wait, there's entirely too much pile up from last year. Your decade old denim no longer fits, and you simply have no idea how to minimize, let alone piece together looks for the season! Cue the capsule wardrobe build!
I've created my 2019 Fall Capsule wardrobe capsule and bonus PDF 'How to get started guide' to help! I've pieced together 47 items, and outfitted 24 looks using those chosen. My guide defines this fashion term, answers questions and outlines the steps needed to make a successful wardrobe capsule each season! My hope in sharing my capsule and guide is that you'll see the benefits of a minimal wardrobe, the versatility in each chosen piece, and ease any doubt in the ability to create your own!
Get the exclusive capsule and PDF by subscribing to The Sarah Stories email updates!
Subscribers receive TSS weekly in your inbox each week! Within you'll receive a recap of the week's blog posts, top favorited LiketoKnow.it photos, try ons, exclusive discount codes, offers from brands I work with and so much more! Sign up below and download your exclusive capsule & guide now!
If you are already subscribed to The Sarah Stories emails, you don't need to sign up again.  You should have already received yours.  If not, fill out the form below and look out for the email with a link to view and download!
See a few IRL outfits put together using the wardrobe capsule items!
Thank you so much for stopping by! May The Sarah stories be your source of encouragement each week to embrace your own, define your style and feel beautiful being your true selves!
xoxo