Happy Friday! It's here, it's here!! Fifteen ways to style Spanx Faux Leather leggings! If you've been following me on Instagram, I've flooded your feed with leggings looks! I just cannot get enough of them! For a few reading, you may be thinking – what the heck are faux leather leggings? My answer – the most magical, comfortable, stretchy – makin' you feel like a goddess – leggings one can own.
I will state, if it weren't for being 'influenced' by many and giving into the hype, I probably wouldn't have ever thought to try them out. Ya'll know I am a denim girl, thru and thru, but, I am so incredibly glad I gave these leggings a go. Putting together all of these looks has really shown me the versatility of this textured pant, and proven a solid wardrobe capsule piece.
As for fit, they do run small. They do, as the Spanx name is known for, suck you in. They hold a high waist, so unless you are wanting full tummy control, I'd say size up. I fit comfortably in a small. These are also offered in Petite. Being 5'2″, I am sure the Petite size would work, but the regular length works for me.  Aside from the solid black seen here, Spanx has several other textured and colored options to choose from. I've my eye on this moto style, to edge up my look ever so often.
Maybe you own a pair and already hold a special place in your heart for them, or maybe you've never bit the bullet on price and don't believe the hype. Whatever the case may be, I hope this post inspires you to utilize these favorites or give the style a try. For today's post, I'll be sharing 15 ways to style these Spanx Faux Leather leggings this season – from casual everyday looks to a date night show stopping ensemble. If price is what's stopping you (I know, these are on the higher end) I've made sure to include a few budget friendly optional dupes at end.
---
Per the norm, all of the outfits below include links and sizing details below the image.
Let's start with casual looks. All of these looks you can easily put on and go. Run errands, sit in the kids pick up line, meet up with your bestie for coffee – all something super casual, yet chic and put together. *note – if you're in need of an athleisure wear reboot, be sure to check out my recent favorites, here.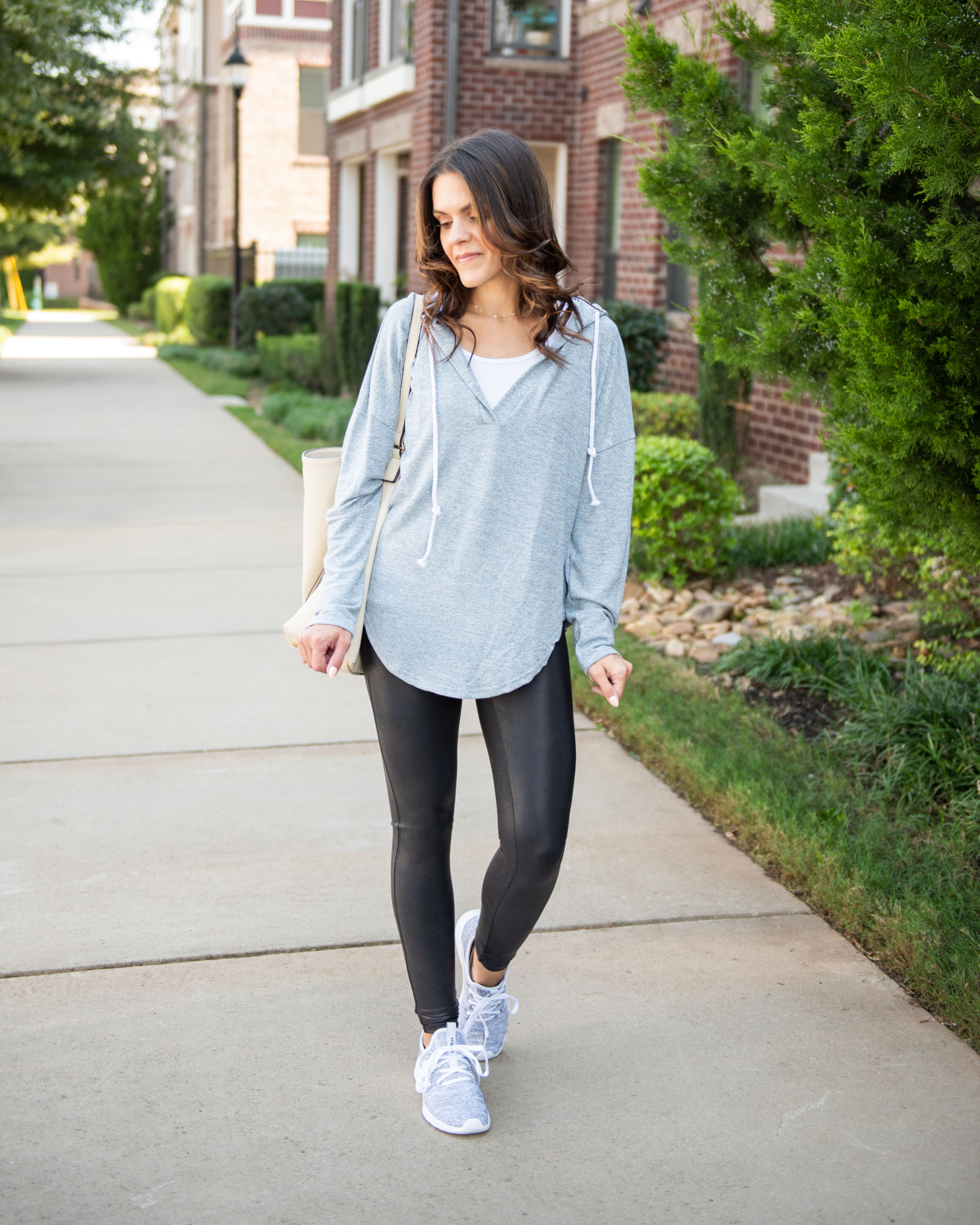 drawstring hoodie (S) | hobo bag | sneakers (TTS)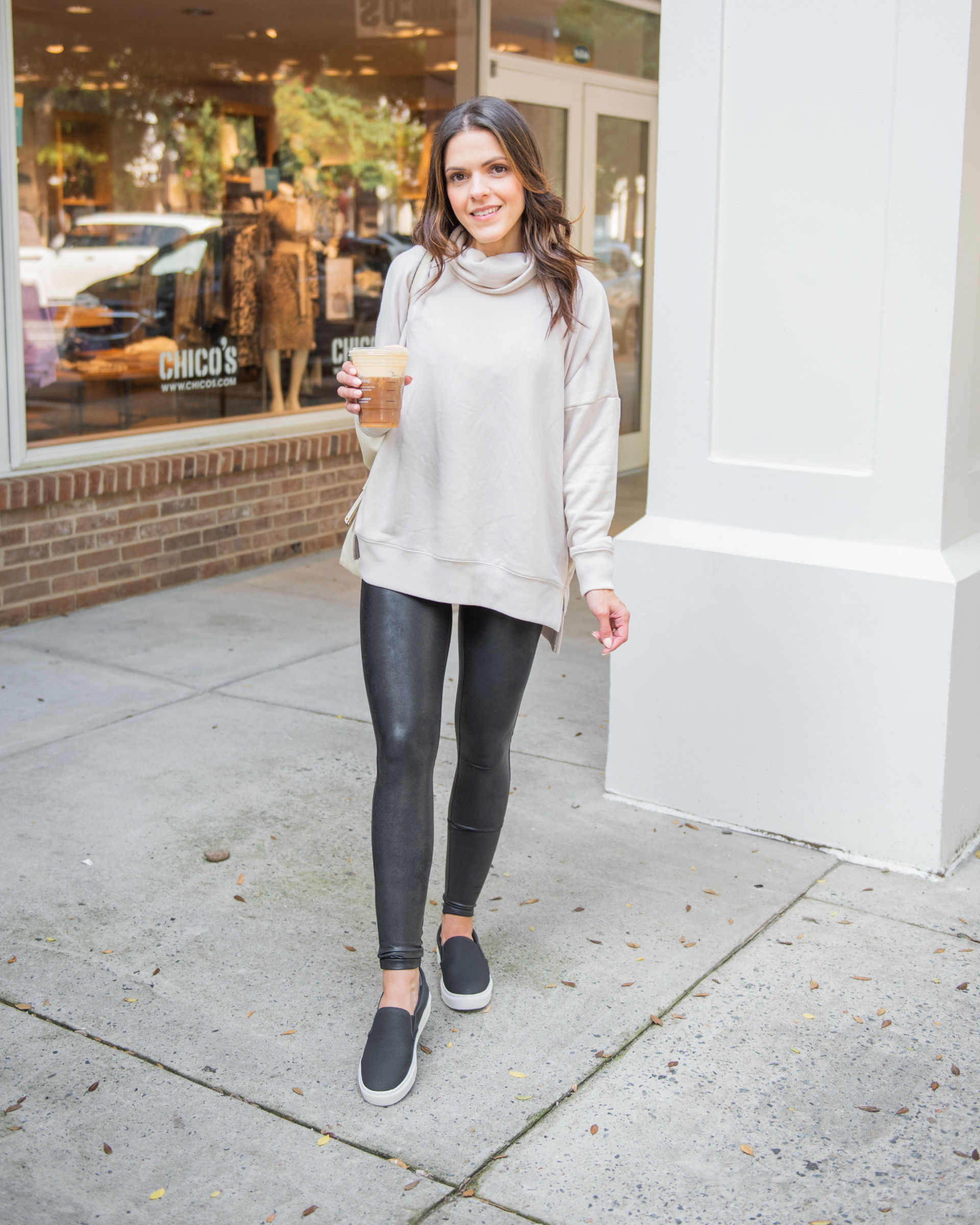 turtleneck sweatshirt (XS, oversized fit) | slides (size down .5)

jacket (S) | tunic (S) | Hunter boots (TTS)

blanket scarf | thermal (XS, runs large) | wedge sneakers (TTS)

striped tee (S) | cardigan (similar) | converse (TTS)

plaid flannel top (XS) | quilted vest (S) | wedge sneakers (TTS)
---
Next are everyday looks – These outfits could work for both everyday or for some, considered work appropriate. They also fit well in the 'work to weekend' category – they're perfect for a casual Friday in the office and can shift into weekend wear easily just by changing out your shoe or jacket. You'll also see a gradual shift from everyday into more dressier options as you scroll.
sweater blazer (XS) | graphic tee (M) | hobo bag | leopard print mules

striped tee (S) | utility jacket (XS) | crossbody | mules (similar)

denim jacket (similar) | cowl neck top (XS) | snakeskin mules (TTS)

cardigan (similar) | chambray button up (2) | leopard booties (TTS)
---
Next are looks I'd put together if going out for happy hour with the girls, date night, or a nice dinner.
tunic (similar) | bralette (TTS) | studded booties (TTS) | wrap bracelet
white collared shirt (PXS) | sweater blazer (XS) | wallet | booties (TTS)

turtleneck sweater (XS) | crossbody | booties (TTS)

sweater tunic (XS) | leopard scarf (similar) | OTK boots (follow chart on site for sizing)

leather jacket (S) | leopard blouse (XS) | crossbody | heels (TTS)
There you have it! Fifteen looks to style these favorites! From casual to dressy, you have more than a handful of looks to choose from! Which is more your style? I'd love to know! Feel free to comment or message me on the gram!
But wait, one more thing …
Let's talk dupes. I'm very aware Spanx leggings are pricey. In defense, I've had mine for over a year and they still look and feel brand new; the price reflects the quality. And I forced the style stop at 15, but could easily piece together looks with these favorites forever. They really are that versatile. All said, I understand that not everyone wants to or can afford the buy. Below I've linked a few dupe options that may fit more within budget. I've tried the Aerie Shine leggings, and whole heartedly agree these are the closest to the Spanx leggings you can get (and currently less than $33). I haven't tried the others linked, but based on reviews they compare well.

---
Until next time – thanks for stopping by!
xoxo