The more and more I shop Amazon fashion, the more I love it. That's quite a statement, knowing it can be hit or miss when it comes to Amazon shopping. I know I am not the only one who, at one time or another, has felt they are shopping blind. While the pandemic initially forced the online shop, Amazon has always been virtual. And unlike most retailers, strictly online. With the exception of Amazon wardrobe, it still leaves the experiment and try-before-buy completely out. We are forced to rely on reviews, customer images, and really – word of mouth. Cue the influencer in me to state I do my best to provide reviews and be a resource for those likewise looking to shop Amazon Spring fashion. But just like you, I too must pull inspiration somewhere and adhere to the trial and error.
I am sure the majority of you are here for the Spring fashion haul, which I'll get to in a few.. but I thought to share a little behind the scenes look on how I land upon these Amazon finds and compile most fashion hauls. (And provide you another tool in that style discovery belt of yours). Yes, I do my research .. I read reviews, I scroll and I click on a lot of recs the site has. But I also pull inspiration from likewise colleagues! I pull a lot of my inspiration directly from the liketoknow.it app. I search key words and favorite items I think would suit the content I am trying to share. I try to scroll past the trending items and instead, focus on finding pieces that fit my own style and yours alike. And while I contribute to the #founditonamazon hashtag itself, it really is a great source to search stylish finds from influencers and brands I love.
Yes, Amazon has a bit of a learning curve when it comes to fashion related shopping. But pulling inspiration from platforms and pages specifically designed to solve the struggle of online shopping gives us quite an advantage. While I've had my fare share of trial and error, utilizing these tools has helped land several stylish pieces this season. Today's post shares my latest Amazon Spring fashion haul. I'll also note – I've kept every one of these items. Am all for ridding that blind shop and dropping the Amazon name more often. How about you?
---
First off, this dress. Insert the swoon. If you're in need of a LWD for Spring or Summer, this one is a great option! I love the flutter sleeves, pockets, length, and that it's fully lined! Avail in several color options, this cute number fits tts. Pair it with cute  pearl strap sandals and a pretty rattan crossbody bag (also similar) and you'll be set!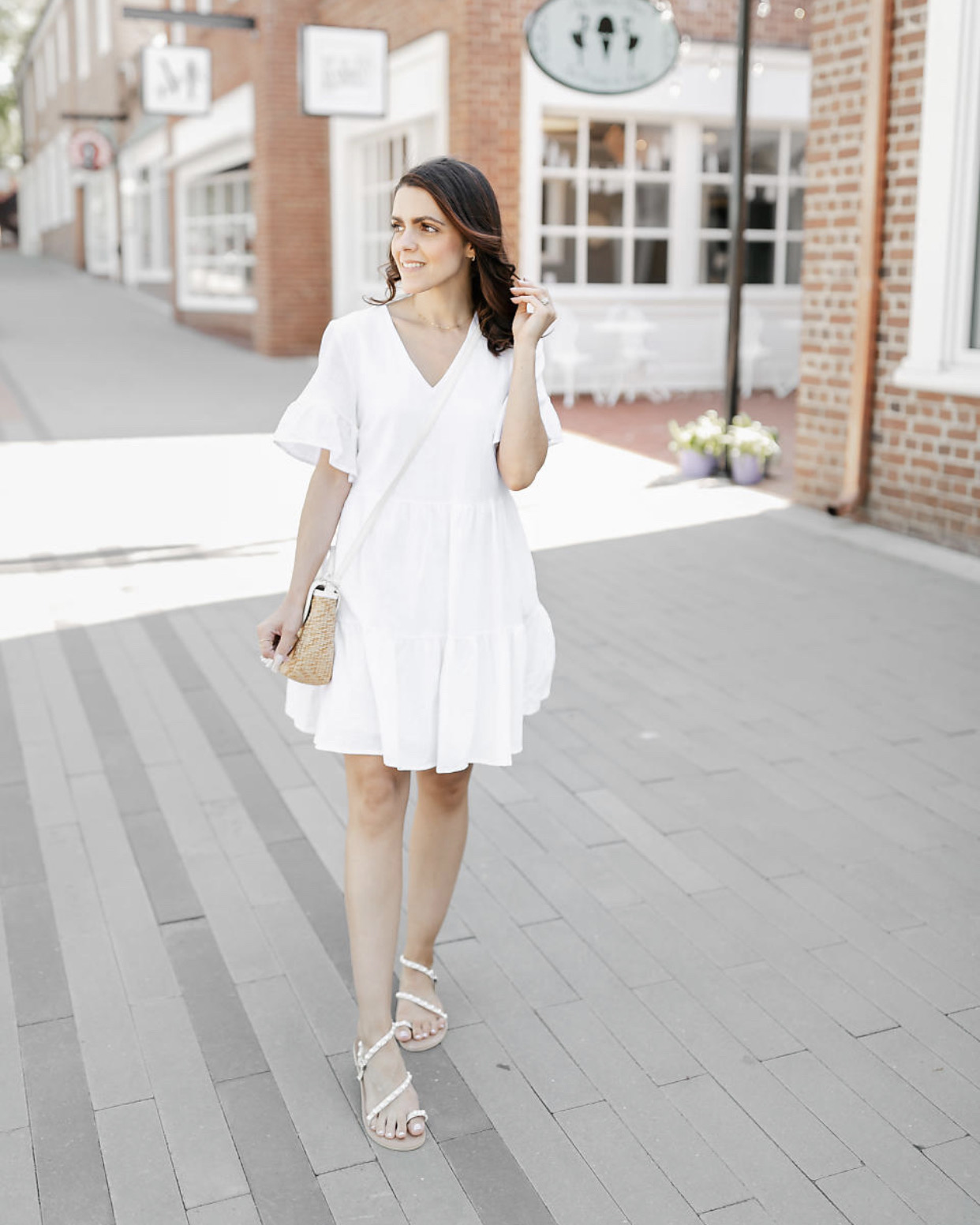 After ordering all of these items, it quickly dawned on me this haul consists of dresses, bags, and sandals. All three items I feel essential for warmer weather, don't you? Next up is the cutest maxi dress. At only 5'2″, it's quite difficult to find a good maxi where the dress isn't dragging on the ground. This length is perfect and with adjustable button straps, fits tts. Here in photo I paired the dress with a black crossbody, tho shortly after this photo shoot, this adorable crochet bag arrived on doorstep. I love it and it's currently on cue as my pool bag once that neighborhood pool opens! I finished the look with the cutest jelly pearl sandals. If in between sizes, size up.
Last up is one of my faves. I love a good romper and this one is no exception! Love the cute flutter cap sleeves and the back key hole. Avail in several colors and fits tts. This taupe crossbody is one I've looked at for a while and am so happy I added it to cart. It's extremely well made with the prettiest chevron embossed pocket detail. Turn it into a clutch or wear with strap. Also available in several colors and suitable for year round use!
Not pictured in this large Spring haul is a perfect cropped twist tee, woven slide sandals, and similar circle rattan bag. All fit tts and are great basics for the warmer months ahead. You can catch the close up of both saved to my Amazon highlight!
---
There you have it, my latest Spring Amazon haul! Hopefully this post brought insight on ways to shop and access all the Amazon style inspo your heart and closet needs! Thanks for stopping by!
xoxo
SHOP THE POST