It's taken me years to find my style and if I am being honest, the journey is ever constant. Just this season I've accepted I am not a minimalist by way of having a small wardrobe. If you've followed me a while, it's apparent I love clothes, style, and the expressive beauty that comes from it. Yes, capsule building is a large part of TSS, and I enjoy sharing the benefit of a selected, well thought out wardrobe. But one can still love parts of the minimalist term over it's entirety. I rather love the minimalist style – neutrals, simple, and classic are three words that fit into my style paradigm. Determining words to define my style has really been a catapult towards my own style discovery.

This all to say that I discovered Sezane several years back and with each collection they launch I am drawn to the classic Parisian simplicity. Each piece holds a feminine, timeless quality that aligns with my personal style. So naturally, season after season I've slowly added to my wardrobe. My closet now consists of Sezane pieces that are cohesive and relative. Having several pieces in current rotation, today's post outlines my favorite Sezane pieces for Fall. I've learned seasonal launches are often exclusive, so I've done my best to solely share core branded staples.

I will note that I've the opportunity to work with Sezane and receive a monthly credit to shop, but this post is in no way sponsored. I simply love this brand and felt inclined to share.
Outerwear
Will Jacket: This chore jacket is a Fall wishlist item I recently acquired. It's dreamy, warm, and holds a classic corduroy velvet collar that fits the Fall vibe in the best way. Sizing note: I've found all Sezane outerwear to run small. I took my true size in this jacket and while the body fits, I've found the wrists pretty snug. Depending on your desired fit, I'd consider sizing up; Especially if you like to accommodate for layers.

Scott Trench Coat: The Scott trench coat is a chic Parisian style wardrobe essential. I added this must have to my Spring wardrobe earlier this year and love that I can wear it from one season to the next. Their Khaki color leans more olive, compared to the popular camel.

Johnson Coat: A dreamy coat that will undoubtedly transition well from Fall to Winter. I acquired their exclusive plaid printed Johnson last Fall and the quality is unmatched. The piped pockets, back slit, double breasted fastening and tailored collar are a few of the details that set the Sezane Johnson coat apart from the rest.
Knits
Jacob Jumper: The fitted style of the Jacob jumper brings versatility to your kit of knits! You can dress it up or down for nearly any occasion. The options are endless for style. The high neckline that is then closed by a shoulder button down is a unique twist on a seasonal classic. Available in 5 gorgeous colors!

Lucas Jumper: This sweater is newly acquired this season and one I cannot seem to wear enough! It's unbelievably cozy and fits well within that 'chunky knit' category. It pairs well with jeans, trousers or even skirts and over dresses when styled well!
Sami Jumper: A ribbed crewneck so perfect I wish it came in more colors. I acquired the navy Sami in the Spring, along with their matching knit skirt. The pieces are sold separately, tho they both share exact merino wool and cotton fabrication. The button detail on the sleeves is a unique touch and elevates any look.

Leontine Jumper: The Leontine jumper was my very first purchase from Sezane and where I'll forever stake my root of love for Parisian style. I love this sweater so much I've it in two colors. Made of 100% organic cotton it's so soft and comfortable. I love to wear both casually with jeans, or over dresses.

Basil Cardigan: Fabrication note: As a caution to those sensitive to fabrics, several of Sezane's knits are comprised of wool and alpaca. The Basil cardigan is one of them. I've found it slightly itchy if I don't layer. Nonetheless, I love the slightly puffed sleeves, v-neck line and the classic neutrality of the piece itself.
Tops
Max shirt: While sorting through my closet in the Spring, I realized my white button down needed to be replaced. I sought out and went with Sezane's oversized take on a classic and couldn't be more happier. It has been worn countless times since then and I know it will prove useful this Fall.

Tomboy shirt: Holding a slightly more straight fit, Sezane's Tomboy shirt is a core staple you'll want in every color. The blue Tomboy has been in my closet for a few seasons now and holds an unmatched quality you look for when building a wardrobe.

Mariniere: Stripes are a classic print every girl needs in closet. I've seen a few versions of this striped top over the years. Their current Mariniere is gorgeous with buttons and ruffles around the neckline. The Gael is available in 6 gorgeous color ways, with camel on my Fall wishlist!

Chlo: A twist on a button down, the Chlo shirt is available in several fabrics and prints. The ruffle details and various textures make this a favorite amongst feminine style lovers.
Bottoms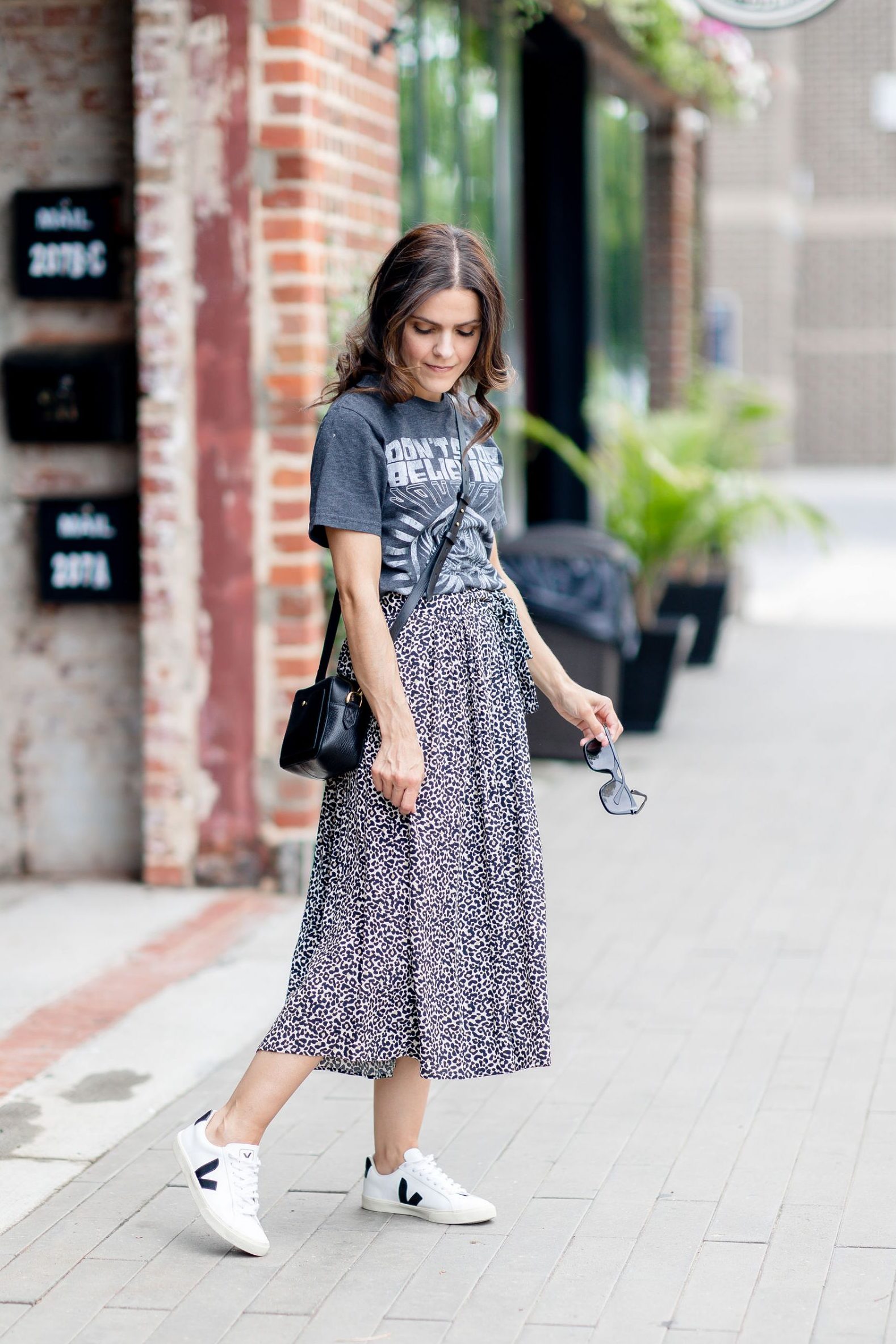 Loulou Trouser: A trouser lovers dream – a high waisted, straight and wide leg pant that is extremely flattering and extremely chic. Sizing note: I've found these to run large and long – nothing a tailor cannot fix, though. The coffee color thrives in Fall's color palette.

Austin Trouser: If you love a paperbag fit, you'll love the Austin trousers. The mottled grey trousers made last year's Fall capsule; They're extremely versatile and are a great alternative to denim.

Elie Skirt: If you've been around a while, you've seen this leopard print skirt a time or two. This midi-length printed skirt comes with a fabricated belt that you can choose to tie or wear without. The gathered waistband is elasticated and I find feels most comfortable when it sits just above my hips.
Naelle Skirt: I purposely purchased this skirt to pair it with the Sami jumper, tho love it separately just the same. It's fabricated of merino wool and cotton, so it holds the perfect amount of stretch and adheres to your curves, beautifully. It's available in several colors this season and would transition well into Winter when paired with boots!
Handbags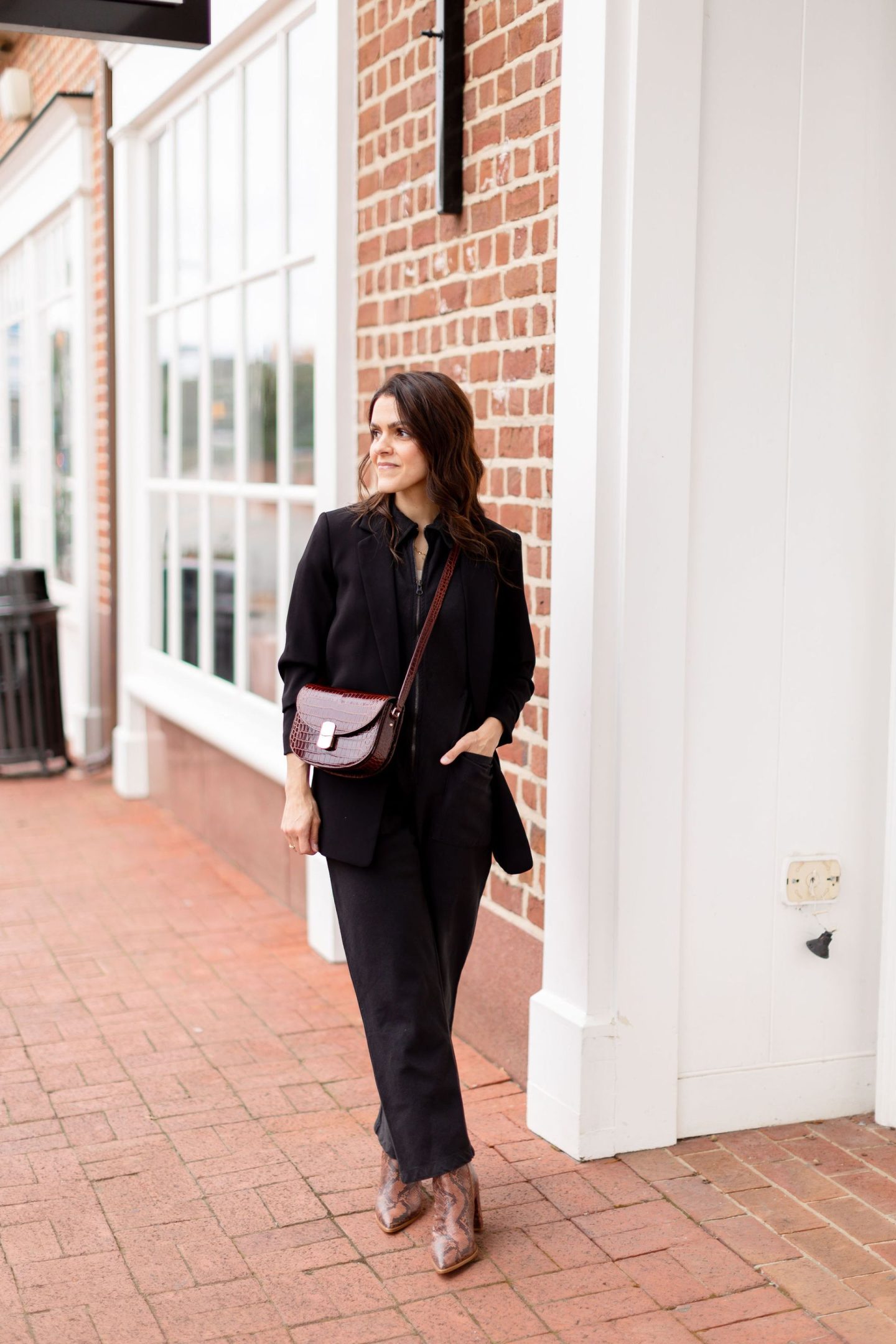 Farrow bag: Aside from their knits, the handbags from Sezane are equally impressive. Sezane's handbags hold a quality, fabrication, design, and craftsmanship unlike any other. The iconic Farrow bucket bag was one of the first leather pieces designed by Sezane's Parisian studio. It's timeless, versatile, and the one bag I will always have a place for in my wardrobe.

Claude bag: This half-moon-shaped classic handbag won't leave your shoulder this season. The Claude handbag features its signature clasp and comes in an array of colors. This chocolate crocodile Claude bag stands out from my usual neutrals and adds a touch of contrast and depth to my wardrobe.
---
While Sezane can be worn any time of year, there's something special about styling and wearing it during the Fall. I look forward to all the outfits to come! Every piece is versatile, classic, and fits my individual style perfectly. If you're looking for high-quality, timeless style, Sezane is likewise the brand for you.