I am always thinking, changing, and brainstorming ways to make this space a reliable style source. While I continue to provide all forms of outfit inspo – whether that be style boards, mirror snapshots, reels, and focused blog posts – I am always looking to further my content and level it up. Early 2022, I polled and learned many of you would love to see more of my day to day.

All said, I am so excited to start off this new series and share more of my daily fits with you. In the future, my hope is to add this form of inspo to a style catalog, where you can source and filter outfit ideas that suit the season, event, dress code, and closet you're working with! But until then, this series will add to the style stream.

I've been asked a few times where I get my own style inspiration from, and truth be told – a lot of the time, its from my own closet! I pull inspiration from what I've already worn and know I love. It involves a lot of repurposing – a good sign of a well rounded closet! My hope for this new series is to breakdown these looks further for you, and feature the benefit of repeating and rotating our most loved items.

So, what can you expect? You'll see more outfit breakdowns via Instagram reels and a recap at week's end, here. As stated, I pull a lot of past inspiration from the blog itself when getting ready each day. So naturally, some looks will be those you've seen before and some will be new!

I want to create a space for content I know you're searching for – the kind that's too good to only live for 24 hours in an Instagram Story, but not entirely long enough for your standard blog post. Once we've a few weeks under this style belt, I'll designate this series it's own spot on the blog for you to easily click and access. There you can expect short, clickable posts that feature my daily look — a simple snapshot or upload of what inspired my daily fit. These first few weeks tho, expect these 'what I wore' breakdowns every Friday.

---
This free people sweater is so comfortable. I love the length as it's perfect to front tuck into skinny jeans or self crop it further under your bra. It's lightweight and perfect for Spring. Added some cognac colored booties and a simple crossbody to complete the look.
I've worn this graphic sweatshirt and leggings combo a number of times. It's simple, chic and an easy fit for weekend errands. These trainers are some of my most comfortable sneakers I own.
If you caught my reel earlier this week, you saw a few ways to wear this coveted slip dress. It's extremely versatile and I know it will be on rotation this Spring.
I outlined why the trench coat is essential earlier this week and this has got to be one of my most favorite outfits, ever. It's edgy and so fun.
This turtleneck sweater has been worn a handful of times and I hope to get in a few more before temps start heating up! I front tucked it into my newest favorite black jeans and neutral mules.
I've always loved a dressed down casual fit, that combined with pastels for Spring make me so happy.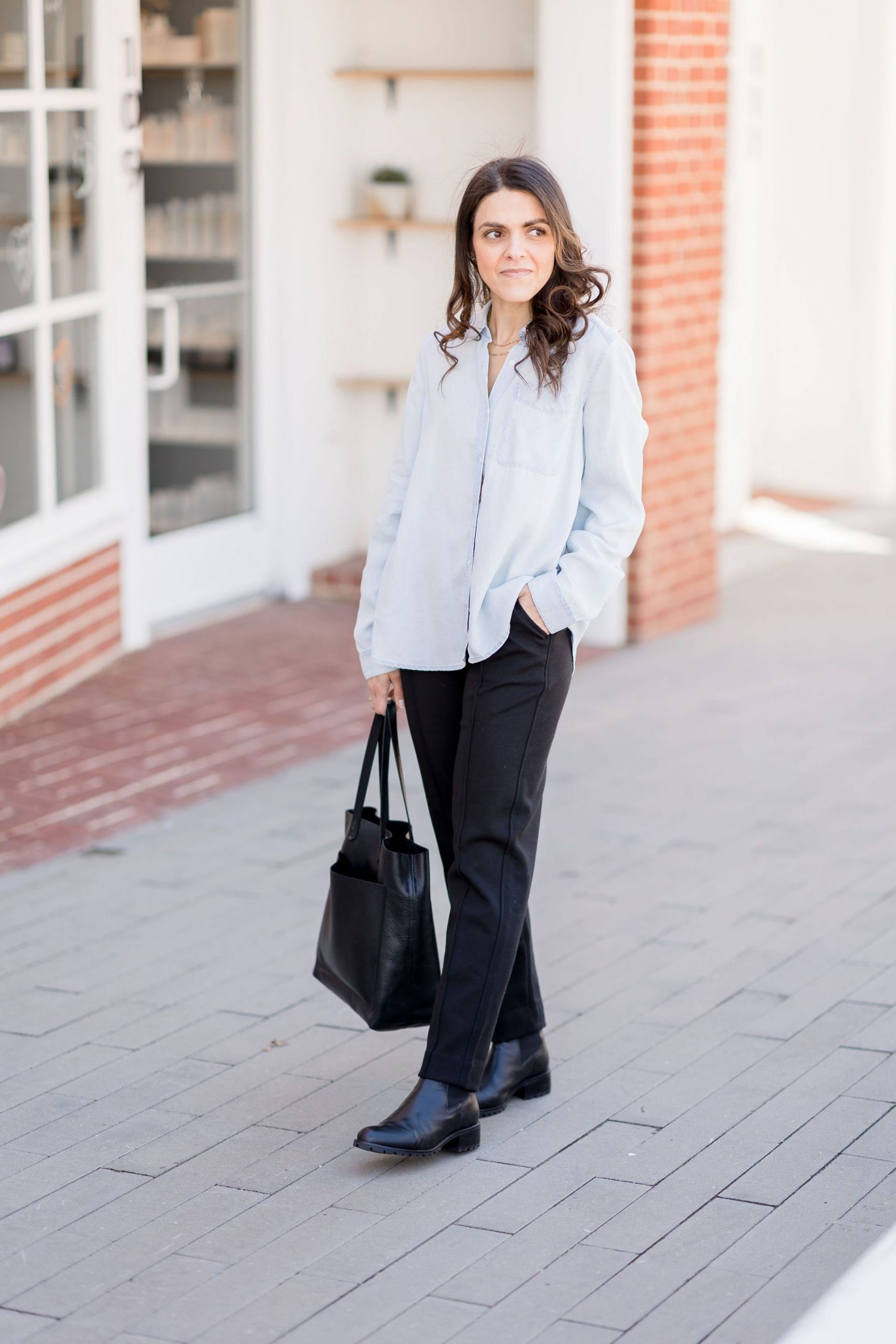 These Everyone dream pants are a new addition to my Spring wardrobe and are truly a dream. These have a tailored look, yet feel like sweatpants. Beyond comfortable and the perfect length.