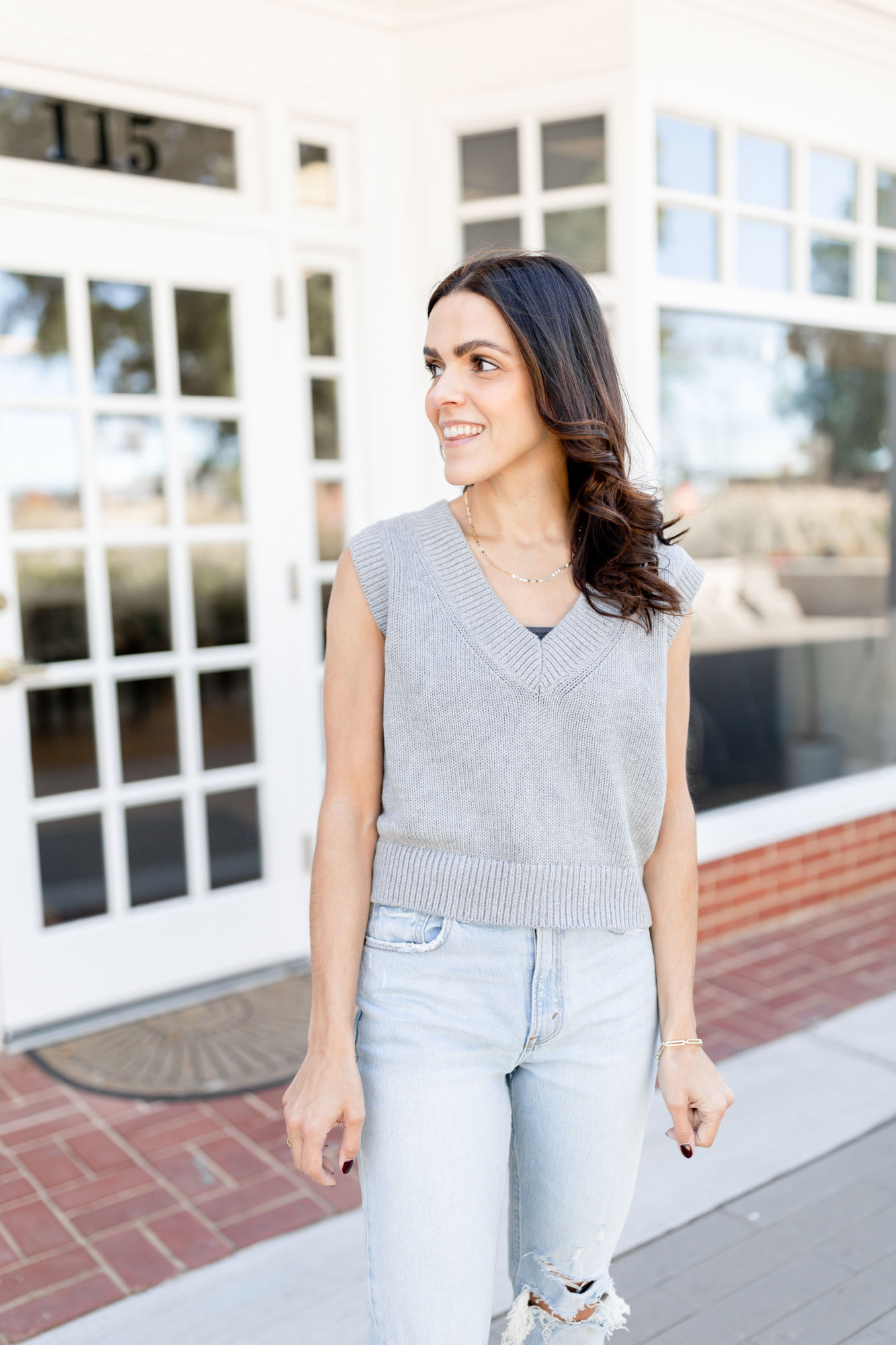 Hi friends! Welcome back to my weekly capsule edit. In this segment, I will show you how to style three items for an entire week's worth of outfits! This week I thought to theme our three picks on trending throwbacks. Faux leather joggers, the sweater vest, and 90s style jeans.
The more I scroll ig, the more I am struck with a blast from the past. Anyone else? I was never one to sport faux leather … let's be real, even at the budding age of 15, I was entirely too young. And even if I did get my hands on a pair of faux leather pants, getting them past my Mom would have been nearly impossible. I wasn't particularly fond of the sweater vest either. But if asked, I am sure my husband could tell you a few insightful tips on how he wore it best back in the day! Loose denim, however, was always on radar. Shopping trips almost always resulted in a fresh new denim addition.
There have been slight differences in their come back, but nonetheless, these three styles have returned and are more popular than ever. This week's picks stemmed from curiosity over anything. But if I were to place reason on this week's theme, it would be to provide you opportunity to see versatility in these trending throwbacks and nudge you off the fence, in a direction that fits your style best. You may look at this week and immediately know these aren't for you or you may step back and give them a bit more thought. Either way – you've now a source to help decide on items that you've likewise been curious about or have questioned if they're really worth all the hype.
---
faux leather joggers: Knowing my love for faux leather leggings, these were an easy sway. I found this particular pair at a local boutique, but as trends offer – you can find them just about anywhere. I love that they've taken what is typically categorized in athleisure and kicked it up a notch! Dress them down with a graphic tee and sneakers or up for a date night in heels.
sweater vest: oh man…truthfully, I struggled to give this recycled trend a try. I didn't like them back then, (for years I've given my husband the hardest time knowing he sported them back in the day), so why would I like them now? Well, I've now three in closet and think they're a fun fit! This week, you'll see two that I've styled on queue. Both are from Abercrombie. They're offered in a variety of color options and even when layering, feel they both fit tts.
90s jeans: These are nostalgic, bringing me back to middle school days of Doc Martens and plaid flannel shirts. I actually shared briefly about these a month or so back, and have been loving the optional change from my favorited skinnies. The fit of these is intended to be lose, and often mid rise. But ya'll know I am loyal to a high waisted jean, so I've compromised and found a pair to fit preference. The light wash pair you see styled this week features a full length leg, trendy criss-cross waistband detail, and frayed hem. Fit tts.
Below I've curated 7 looks for the week, using these three items. While these outfits are curated via style board, you can also additionally see and shop them IRL, here.
---
Monday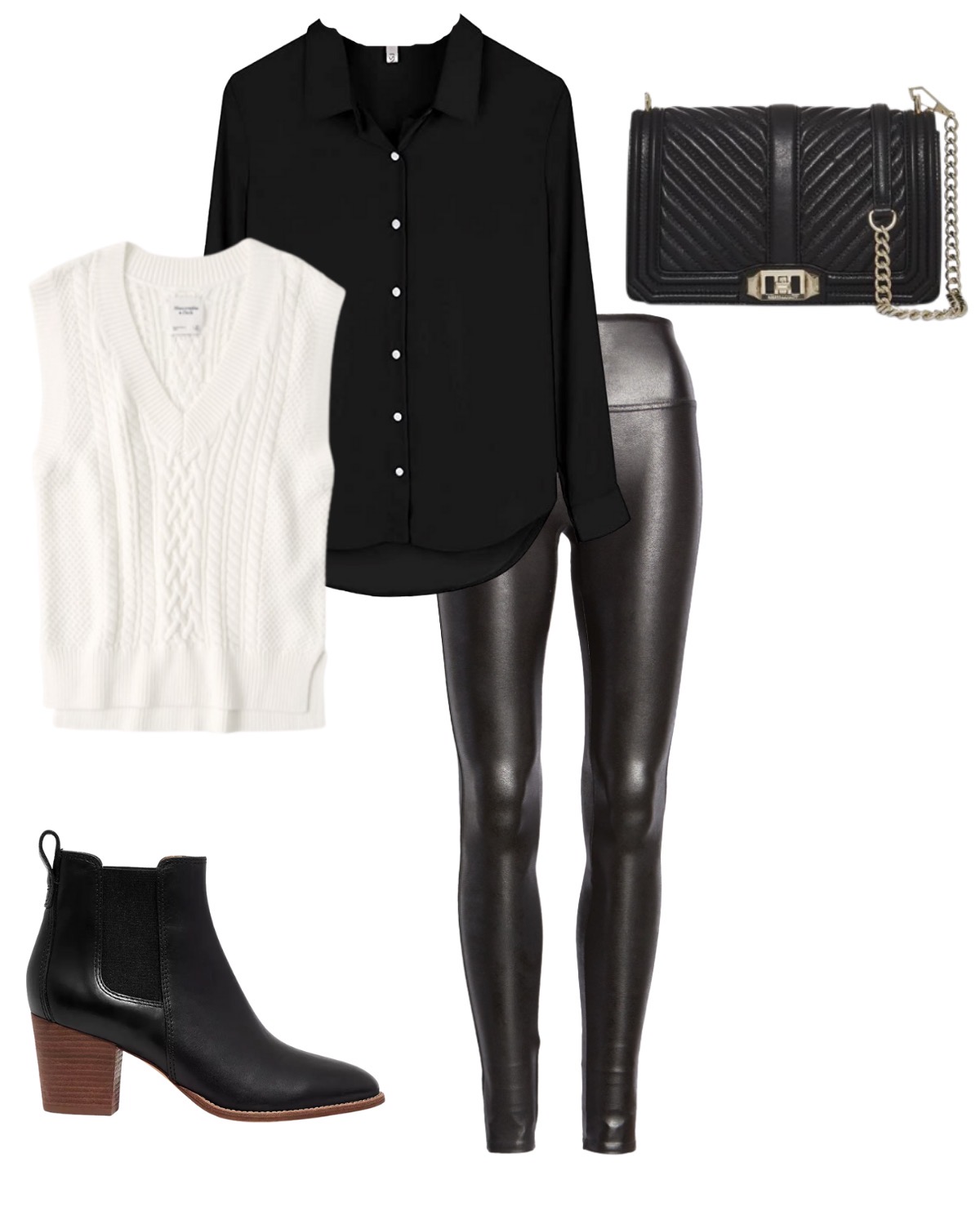 Tuesday
Wednesday
Thursday
Friday
Saturday
Sunday
---