Hi Friends! Last month I polled in stories if you'd be interested in cost comparison posts – much like this save vs splurge post I've set to share today! The response revealed quite a bit of interest, so here we are! Before I get started tho, I thought to give reason and properly introduce this new monthly blog addition.
While I've set out to be more mindful of the pieces I add to my closet this year, that certainly doesn't mean all of them need a high price tag. Yes, investing in timeless, versatile items is important in building a wardrobe. But my stance on building a balanced closet remains the same – Whether your closet consists of investment items or affordable 'spur of the moment' pieces, if they represent your lifestyle, personality, budget, and current figure – the retailer or designer name drop doesn't make one bit of difference. Cheers to finding that balance and having a choice in the build!
That said – Today's post starts a monthly save vs. splurge series! Each month I'll focus on a particular style I've seen presented at different price points. I may focus on an up and coming trend, closet basic, or outfit an entire look!
To start off our series, I thought to feature what I consider middle ground style. I outfitted a look with items I both splurged on and saved on. Let's get to it!
---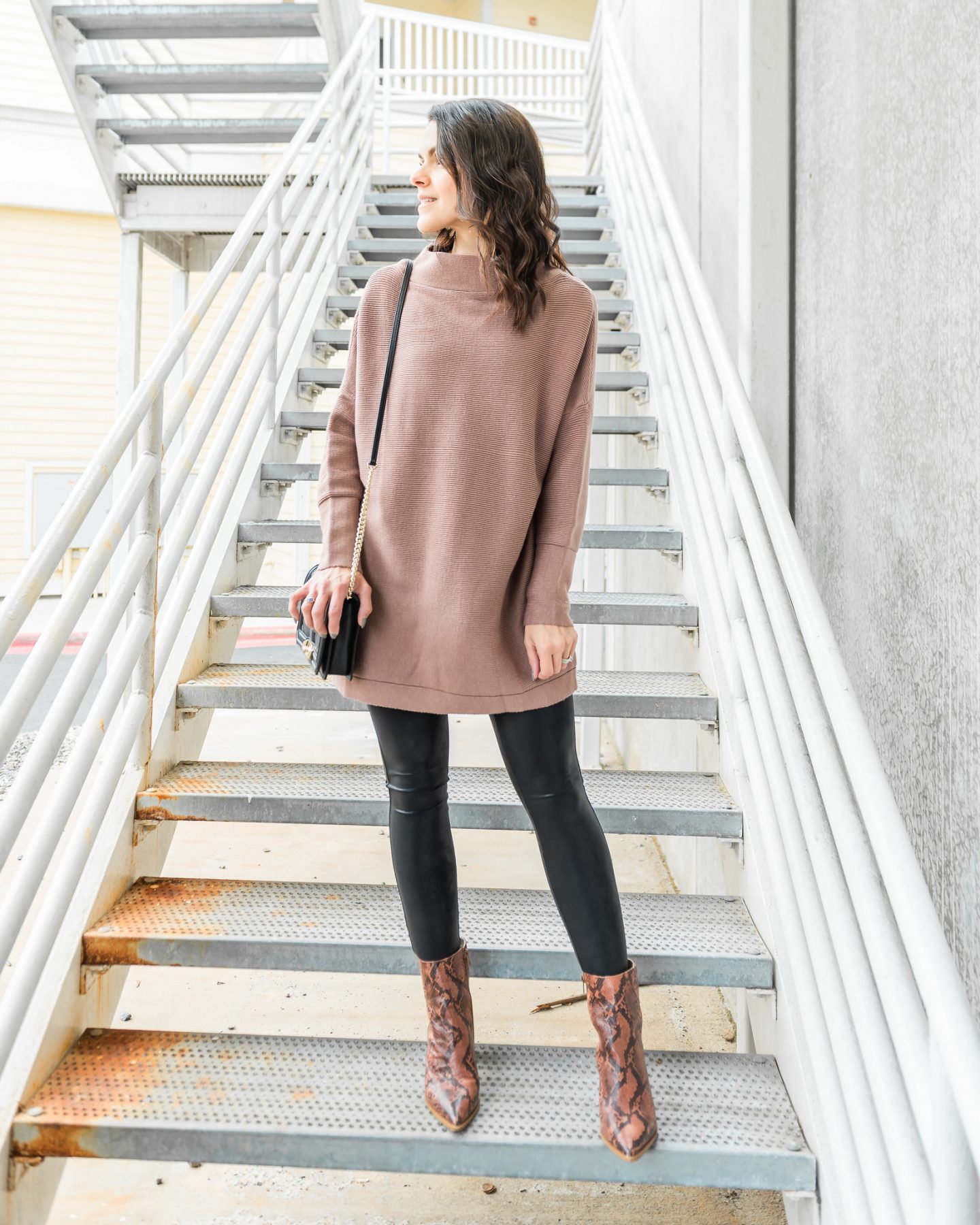 Tunic sweater // this oversized sweater tunic look is everywhere. It's completely understandable that Free People, a brand known for oversized, bohemian style would release their version. Not entirely sure if this style's popularity originated from the brand, but it did bring with it a steep tag that everyone (or most) are willing to pay. I, personally love the look and have no doubt the quality is exceptional.  But seeing the rise in popularity, I knew sooner or later a similar option would pop up at a lower price point. And sure enough – leave it to Amazon to shell out an alternative at half the cost. This find is thick, warm, very well made, and likewise available in a ton of colors.
Faux leather leggings // Ya'll have seen me style these Spanx leggings numerous ways. They've taken a permanent residency in all of my capsule builds and remain prevalent in my everyday style. I shared umpteen ways to style these favorites here on the blog and to say I love them is an understatement! Imo, they are worth every single penny and I've definitely gotten my money's worth wearing them as often as I do.
I will say, the price tag took some convincing at start. Spending nearly $100 for a pair of leggings raises an eyebrow or two. For anyone who hasn't given these a go, I completely understand the reason in searching for an alternative. So, I sought out to find a pair comparable. Many got the boot at start – stitching was off, they lacked sheen, or they were simply uncomfortable. One pair tho – the AE Offline crackle leggings are pretty darn close to the real deal and at half the cost.
Snake print boots // If you subscribe to my style Newsletter, these new favorites were a hot style tip topic in January. When it comes to footwear, color and print pack a huge aesthetic punch. A statement shoe can make your outfit appear more intentional and express your individual style! These ABLE Amber boots do just that. That said, I found a more affordable pair that still give you that bold statement you're looking for.
Crossbody shoulder bag // I've had this RM black chevron crossbody for well over two years. It was my first big accessory spend and one I use often. I love the gold chain and chic chevron embossed design. While it holds a more dressier style, I believe it can easily be worn with just about anything. I've found a similar, save option here!
---
There you have it – outfitted and optional Winter style! Whether you save or splurge on your Winter wardrobe, finding pieces you feel good in that represent your style is of most importance. Until next month – thanks for stopping by!
xoxo