I'll start off by saying trousers, slacks, dress pants – whichever way you'd like to term them – were once the basis of my daily style. Considered business appropriate, I ensured I had them in every color to suit my 9 to 5 corporate dress code. Once the decision to stay home was in play, I had free reign to resort to weekend wear, no matter the day of the week. The trousers I'd labeled strictly dressy were replaced with denim and leggings. The workwear attire went to the back of the closet, and casual moved front and center. Admittedly, I loved it.

While these replacements became the norm, I quickly realized the variety of what I considered casual became scarce. Sure, I could explore the variances of jean styles from skinny to straight, and pocketed to printed leggings, but a wardrobe can only go so far until it turns stagnant. All this to note, categorizing trousers so many years ago strictly dressy placed a hard limit on this newfound casual Mom style I was going for.

Fast forward a decade or so, and here I am topic'ing trousers, with little to no limit on their suit. They've always held vast versatility, but style trends have since then opened the door to wearing trousers casual and thus, acceptable. Why not utilize your weekday wear on the weekends and deem the trouser pant practical? Kinda wish I'd done it sooner.

Nonetheless, today's post spotlights the relaxed trouser – a style modernly popular – that suits both business and casual wear, alike. Seeing them styled casual initially piqued interest, and I knew adding a pair to my current closet would open doors in terms of variety. With focus on quality, I decided to invest in a good pair this past Spring. Dressy, casual, or a combination of both – today's post looks at a few ways I've worn the highly coveted Reformation Mason relaxed trouser pant. I've also included a ton of options available from Amazon to investment for those looking.
ways to style the relaxed trouser
go for sneakers // Accepting the trouser as a casual pant was a bit of a process. A simple switch of heels for sneakers made all the difference and likewise opened mind to other ways of wear. Combine two dressier elements – in this case, the blazer and trousers – with a certified casual sneaker and you've a comfortable, everyday fit.
grab a graphic tee // You've seen this fun style hack, right? Simply tuck a tee under your bra, or layering tank to created a cropped look. While the high waisted pleated trouser draws attention to the waist at start, the cropped tee helps to define it. This look is truthfully one I've repeated time and time again. The trousers have a way of making you feel instantly put together, with zero effort on your part.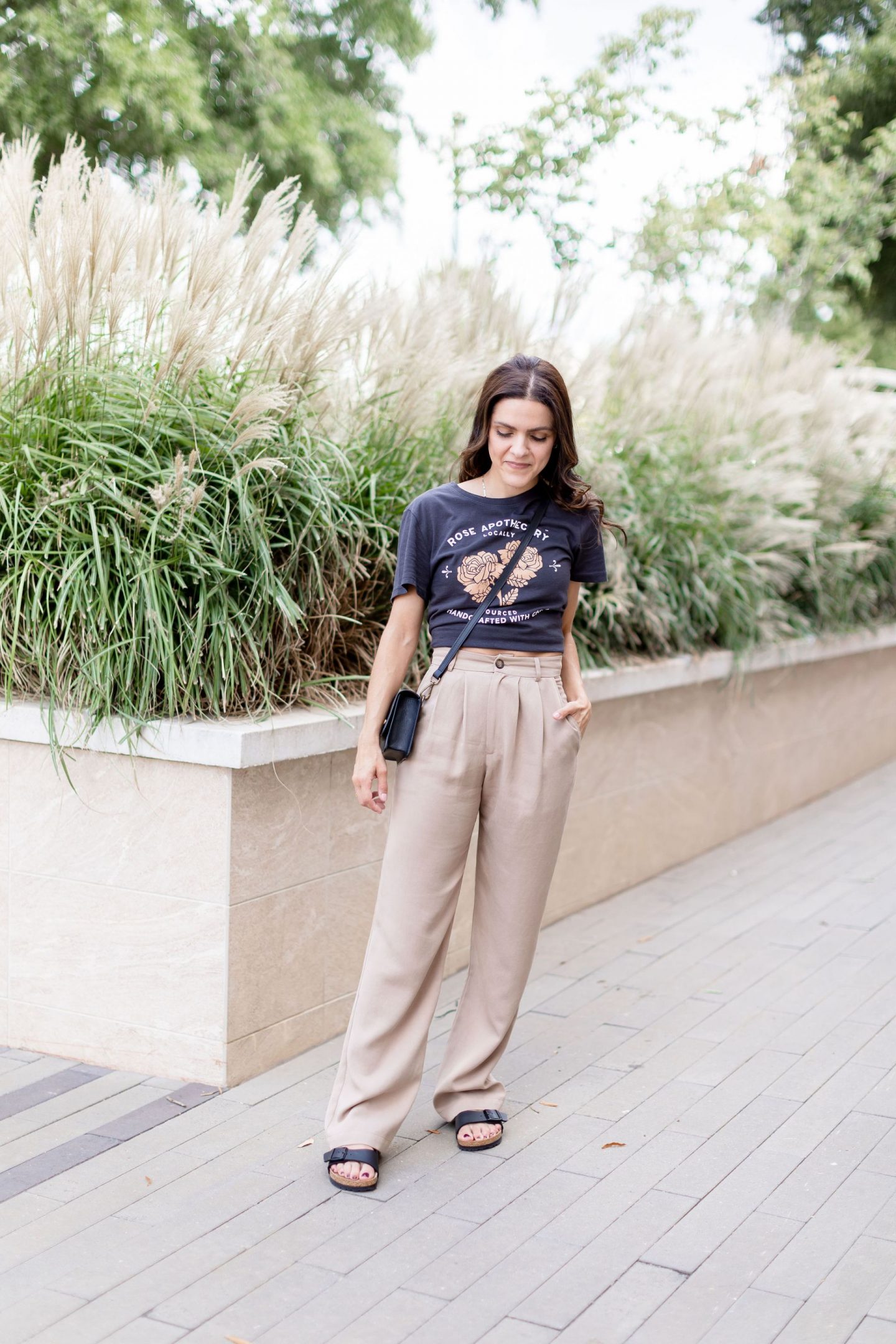 go dressy // Of course you can (and should) wear them as intended. While I love every fit listed in today's post, this outfit will always win in my book. Balance the loose bottoms with a fitted bodysuit and complete your look with heels and chic accessories.
opt for neutral basics // Nothing says basic like a muscle tee and sneakers. Accessorize with a dressier handbag and you've the perfect combo of casual meets chic.
bring in contrast // Now that I've ensured them part of my everyday wear, investing in another color was inevitable. Note that color of pant doesn't much make a difference. They can be styled the same and hold similar versatility when khaki, black, navy, or even a dark brown. Here I brought a little contrast in fabrication up on top and a printed mule on bottom.