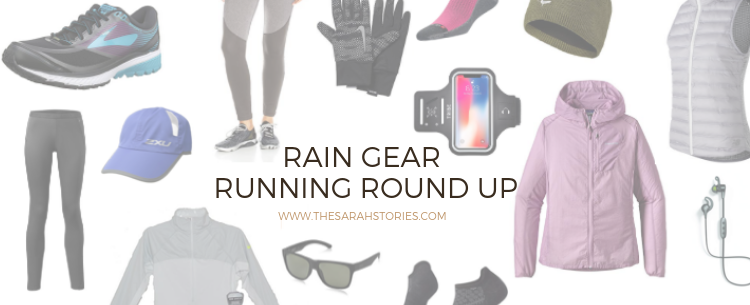 You know you are a runner when you enjoy running in the rain. There's nothing more exhilarating than letting go of the care of getting soaked, am I right? There's a point mid run when you start to feel the drizzle, and it gradually increases to that downpour. Your mind goes thru a quick pros and cons evaluation.  Let's be honest, the weather is voted out 99% of the time to a possible alter in those pace stats. No way are you messing with that PR! So you go for it, and dismiss the thought of making it another day sans hair wash. Oh it's so invigorating, isn't it?!
Even tho I am an all weather runner, and those unexpected showers occur often, it's nice to be prepared for when they do hit. Tho the endorphins ran high last week, I ended my morning run drenched. I clearly didn't get the memo of the downpour, but the soak was enough to initiate the seasonal rain gear shop. So I thought to share with ya'll a head to toe round up of the rain run essentials – pieces currently in cart and on my wishlist!  Shop and prep for whatever the weather has in store this season!
HEAD TO TOE RAIN GEAR ROUND UP
Any essentials make my list? A lot of these options shown above also make great gifts for the Fitness fanatic this season! Keep watch for an upcoming Holiday gift guide!