Ya'll!!! The Nordstrom Anniversary early access SALE is LIVE! Tho I may be smack dab in the middle of moving, under packing paper and emerged in moving boxes, nothing stops this girl from keeping her laptop close by and shopping the goods! I am sure I'll be shopping this sale more than once, as the sale is THAT good, but for now I've compiled a list of my top picks of my first go-round. I think these are versatile pieces that will easily transition into Fall, and save you the most without breaking the bank.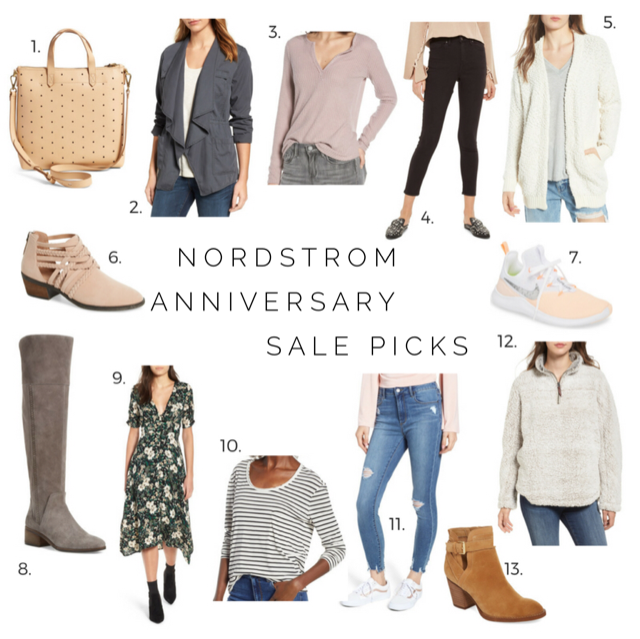 If you read my Nordstrom pre-game post, you can head back there now as all of those items from the early access catalog now have shoppable links. You can easily access any of the posts during the sale by going to my blog's navigation menu and clicking on "Shop", and scrolling down to "Nordstrom" where all my posts regarding the sale will also be linked. Remember, early access is available to Nordstrom card holders only. If you aren't a card holder, that's okay! You can browse, make your list, and plan to shop on the 20th when the sale is available to all. Note that items you see featured tend to go quick, so if you want something, add it to your cart and check out pronto! Without further ado, here are my top picks!
1. Madewell Mini Transport bag: I love how this piece isn't too big, and can be cross body or handheld. The perforated detail is super cute, too!
2. Draped Utility jacket: Such a cute transitional piece. Offered in 3 colors and I love the drawstring synch ability.
3. Thermal Henley Top: I love a thermal tee, and this one is a steal. It comes in camo, too!
4. TopShop High waist ankle grazer: I've wanted a good skinny black pant and with such good reviews am excited to try these!
5. Dreamers by Debut Nubby Cardigan: This piece looks SOOO soft and comfortable!
6. Braided Bootie: These scream Free People to me! I love the color, too!
7. Nike Running shoe: I am in LOVE with the color on these. Cannot wait to pop these on to run errands for an easy on the go look.
8. Vince Camuto over the knee boot: Um..hello?! No caption needed. These went immediately into cart.
9. Floral Midi dress: I've wanted a transitional piece for a while and this caught my eye. Worn with sandals, or booties, I can see this dress being worn often.
10. Scoop Neck long sleeved pocket Tee: You can never have too many long sleeved tops, and this one is less than $20!
11. Articles of Society skinny jean: I've had my eye on this brand for a while and was excited to see them on sale!
12. Wubby Fleece Pullover:  I guess this piece was a HUGE hit last year and since it's back, I have to try it out. Looks so comfy!
13. Sam Edelman Maurine bootie: These staple booties went into cart quick. Love the block heel and buckle detail.
There you have it! I've ordered and will share them in my stories this next week. I plan on scouring more of the athletic wear and kids department too, to possibly stock up and shop some pre-back to school picks. Stay tuned for a post next week for another round of favorites; this momma has to pace herself!
What are your picks? Did I miss anything? Share in comments or message me on Insta! Happy shopping!!