Well hello there! It's been a few weeks since I've last sat down to share. I took a few weeks off creating content here on the blog, but if you follow me on socials, you've seen the daily breakdown of January's outfits! I've had so much fun pulling inspiration from these monthly outfit planners, and hope to continue planning looks throughout 2023.

Having this type of planner has definitely helped steer direction on the day's fit, and I hope it's likewise helped you! It's saved me time, rid me of frustration, and cleared out this thought that 'I've nothing to wear'. I've really enjoyed the share and am excited to see where it takes us. As silly as it sounds, I've learned the act of getting dressed really does make a difference in your days mood, productivity, and overall confidence.

One thing to note – There have been days this past month where I pulled pieces off on the grid, that weren't technically part of the plan. Yes, there is value in a structured wardrobe, but unless you step outside the box, you'll never allow yourself that opportunity to discover more of your style. Maybe there are new February outfit trends you'd like to try, the weather's turned, or you've a new Spring coat arrived that you'd like to style. It's completely okay to change things up.

My hope in providing these planners is that you allow yourself that same leniency. These calendars are just a collection of ideas. Of course, I assign each look to a day, but there's no set stone of when these looks should be worn.

Lastly, by no means do I suggest grabbing all of these items pictured. The intent is to source these ideas to make the fit your own. You can utilize likewise pieces you've already in closet, or switch them out for something that suits your individual style. Of course, if you're needing to fill a void or are looking to add to your wardrobe, I've made sure to provide links for all.
---
February's plan | Amidst my casual everyday fits, I really enjoyed sharing Monday meeting workwear inspired looks, and Friday night date night fits each week in January. I've decided to do the same for February! I've also given myself free reign on those topic'd days and I've gone outside the structured wardrobe a little. I pieced together a few trending styles and explored new textures and color for Spring! All said, Monday's and Friday's are your go-to source for workwear and more dressier fits.

Other days suit my casual style and were built with a set list of basics. I didn't limit myself as much as I typically would with a capsule, tho I tried to outfit the items multiple ways to get a sense of their versatility.
You can view the entire calendar of February outfits at a glance, but if you keep scrolling each individual look is available for you to pin, save, click and shop the products directly. I've also listed the products below, tho if they're no longer available, you can find alternatives when clicking on each image. I hope you enjoy this style guide as I've loved creating it!
layers: puffer vest | olive trench | brown coatigan | graphic sweatshirt | fishbone blazer | black blazer | black hooded sweatshirt | tan blazer | blue overcoat | utility jacket | cropped grey hooded sweatshirt | khaki trench | beige coatigan | denim jacket
sweaters: turtleneck tank | striped turtleneck | beige mock neck | mint cropped crewneck | pink crewneck

bodysuits + tanks: black shirt bodysuit | white highneck tank | pink satin bodysuit | black turtleneck bodysuit | black corset bodysuit |

tops: white blouse | beige long sleeve tee | striped long sleeve tee | white silk button up | white cotton button up | satin button up | white tee | graphic tee
bottoms: light wash straight jean | black legging | grey straight jean | maroon jogger | coffee trouser | white jean | wide leg jean | light wash skinny jean | washed black paperbag jean | plaid pant | dark wash straight jean | faux leather short
skirts + dresses: black sweater dress | tan leather skirt | leopard midi skirt | smocked printed midi dress
shoes: lace up lug boot | ultra mini Uggs | knee high black boot | white mule | New Balance sneaker | black strap sandal | black mule | taupe block heel mule | black babies | trainer sneaker | brown lug boot | taupe pump | beige western boot | black boot | black pump | black riding boot | Veja sneaker | open toed mule | black kitten heel boot

accessories: black camera bag | black quilted tote | black flap shoulder bag | black clutch | taupe flap shoulder bag | woven crossbody | pink crossbody | white midisac | black chevron crossbody | black satchel | olive tote | black belt bag | black woven tote | brown crossbody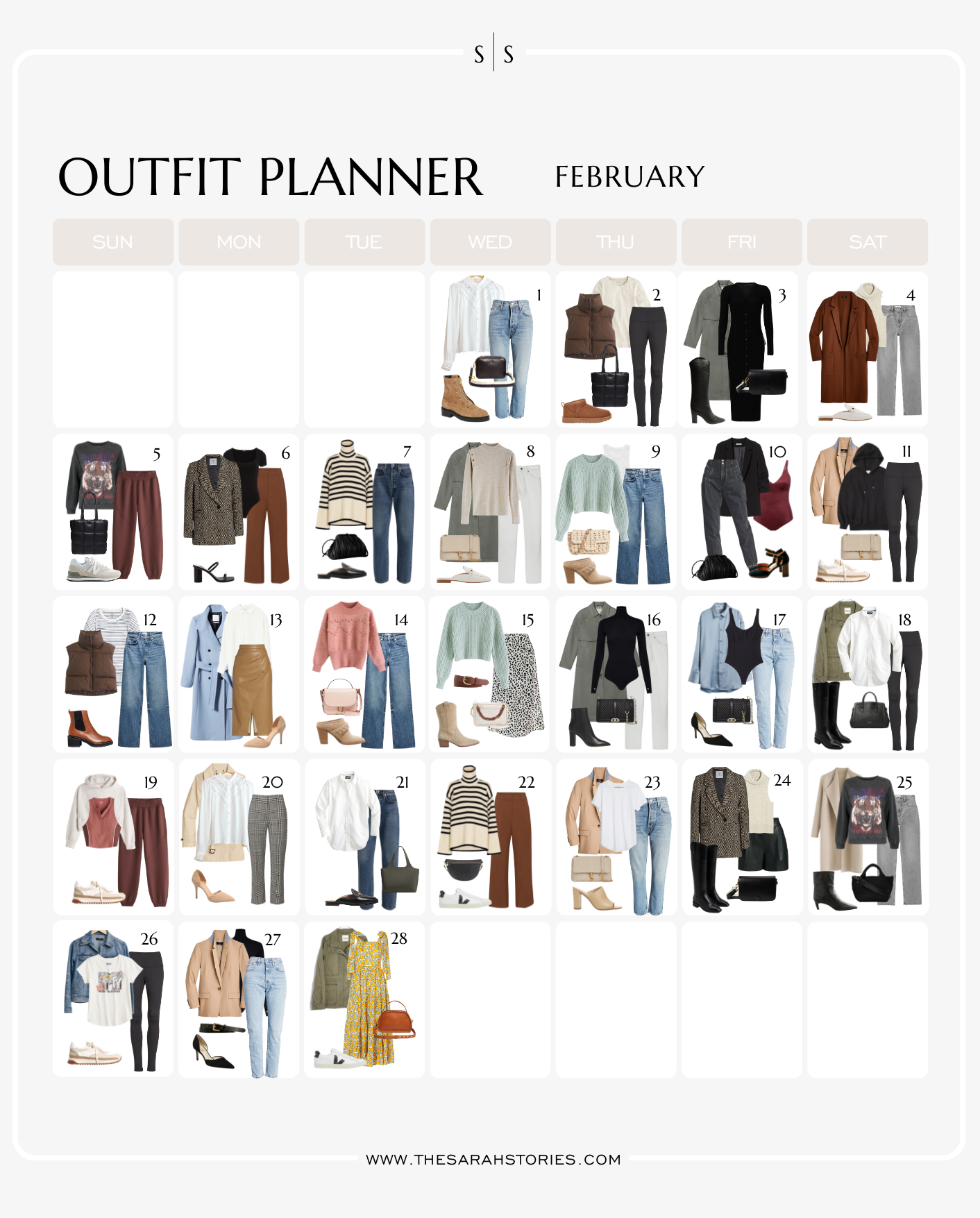 February outfits