Happy Wednesday, babes! Last month I shared a new workwear series here on the blog. As promised, am back again this month with more workwear favorites! This month, I thought to concentrate my search on 'work to weekend' looks. I sought to find pieces that serve a dual purpose — worn both in an office environment and casually on weekend. I am all for the smart shop — and tho workwear has it's limitations, your '9 to 5' dress does not have to be separate from Saturday's apparel. Finding transitional pieces to combine the two make for a well rounded wardrobe.
I took a trip to LOFT yesterday and as expected, the newest arrivals fall beautifully into this well rounding category. I found several pieces equally appropriate for work and play. You can catch the full try on saved to my workwear highlight on my Instagram. And per usual have included all outfits below with sizing details for easy shopping!
As a reminder – this post is the second in the workwear series, and you'll be able to access all other workwear related posts here. Additionally, every time I do a try on, I upload individual links to the designated retailers page. Under each stock image, I include details on sizing worn during the most recent try on and any thoughts worth noting. The items shown today coincide with the LOFT W2W try on shown below.
One more tidbit to note – as in last month's workwear try on, I made sure to bring along my favorite low block heels for the try on.  A shoe I think classy, versatile and very affordable. I've included the heels and mules worn in the try on below in the "shop the post" widget.
*all items are linked under the photo with sizing details*
top – XSP (TTS) | pant – 0R (run large in waist), also avail in petite, plus & tall
top – SP (TTS) | pant – XXSP (run large)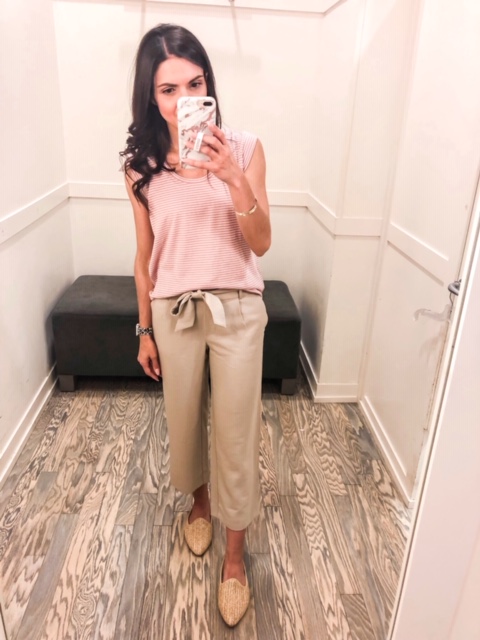 tee – XS (TTS) | pant – XXSP (run large)
jacket – S (TTS), also avail in petite & plus | sweater -XS (TTS), also avail in petite | short – XS (TTS)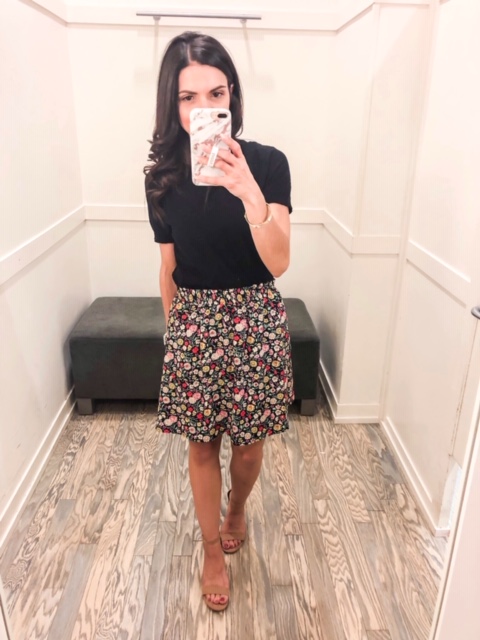 sweater -XS (TTS)| skirt -XS (TTS), also avail in petite & tall
tee – XS (TTS) | denim – 25R (TTS), also avail in petite & plus
sweater -XS (runs long)
blouse – XS (TTS), also avail in petite & plus
top – SP (TTS) | denim – 25R (TTS), also avail in petite & plus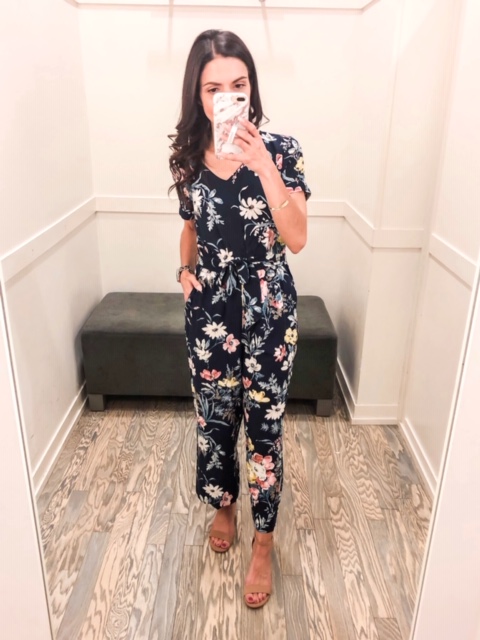 jumpsuit – 00 (TTS), also avail in petite & plus
dress – 0 (TTS), also avail in petite & plus
---
SHOP THE POST