I was never one for high boots. Maybe its because I've assigned OTK boots a persona. Julia Robert's character in Pretty Woman comes to mind. This trend tho is everywhere, and I've quickly learned these boots don't always have to accompany mini skirts and fishnet stockings. I can hear Miss Vivian's reaction now to my close minded ways .. "Big mistake, [Sarah] .. BIG! I finally bit the bullet and gave them a go .. and I have to say, they are every bit of amazing as they say! Having tried my share of knee high/OTK boots this season, I thought I'd share three of my favorites! I made sure to include three neutral pairs to cover all my convincing bases.
These Vince Camuto boots are worth every penny. Had they not been discounted during the #nsale, I most likely wouldn't have purchased and tried them out. (just being honest!) Having worn them on numerous occasions, I would now gladly pay full price. I love the low heel height, and they are uber comfortable.  Available in 3 neutral colors, I've contemplated grabbing the taupe color as well!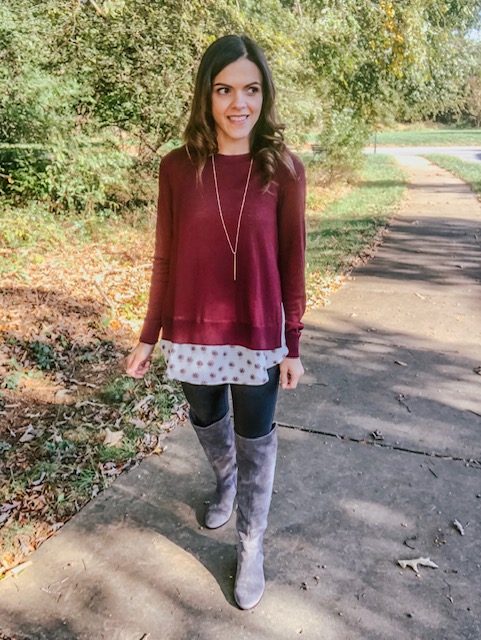 Mixed media top | Faux leather leggings | Boots |Necklace
Poncho sweater (oos – similar) | leggings | Boots
Parka | Scarf (old – similar) | Jeans | Boots
Scarf (old – similar, similar) | Bodysuit | Romper (old – similar) | Boots | Clutch (old – similar)
These black OTK boots are as incredible as every blogger states they are! A lot of the struggle mentioned with this style of boot is that they fall down easily. These ones stay put! That and they are hassle free – you can wear them the entire day without any discomfort! Available in three neutral colors, the perfect boot for Fall.
A good camel color knee high boot is such a great investment. Here's why – they go with everything! Pair it with a cute dress, jeans, black skinny .. you get the idea. I am unsure these exact ones shown are still available, as I grabbed them on clearance this past month. I've made sure to link several other (and very similar) options worth the look.
Sweater (exact color oos – avail in other color option here) | Faux fur Vest
| Black denim | Boots (oos – similar, similar)
Sweater | Jeans | Boots (oos – similar, similar) | Necklace
You may not see fishnets and half shirts part of my attire, but you can bet knee high and OTK boots have unmistakably claimed their closet space! You should give em a go too! I've listed several others on my closet wishlist to choose from! As in true Vivian fashion – "Excuse me.. I have to go shopping now!"
Happy shopping, babes!