*This post has been updated to reflect items available for the 2019 Holiday season

Happy Thursday, babes! With Christmas quickly approaching it's inevitable that I'am shelling out gift guides left and right, but this one today is probably my favorite recipient to shop for, cause it's for your bestie! 👯‍♀️ I've pieced together a general gift guide for her, and today's guide can be an extension of that, plus some! Our besties are like family and we know them inside and out. We all know the perfect gift when we see it, cause our reaction always involves us saying, "this is so her". So I've dug a bit deeper and have found what I think cater towards her interests and say a lot about the bestie she is! Scroll down for a list of ideas that include apparel, home decor, accessories, gadgets, and more — you'll definitely find something that she'll love and speaks to you both!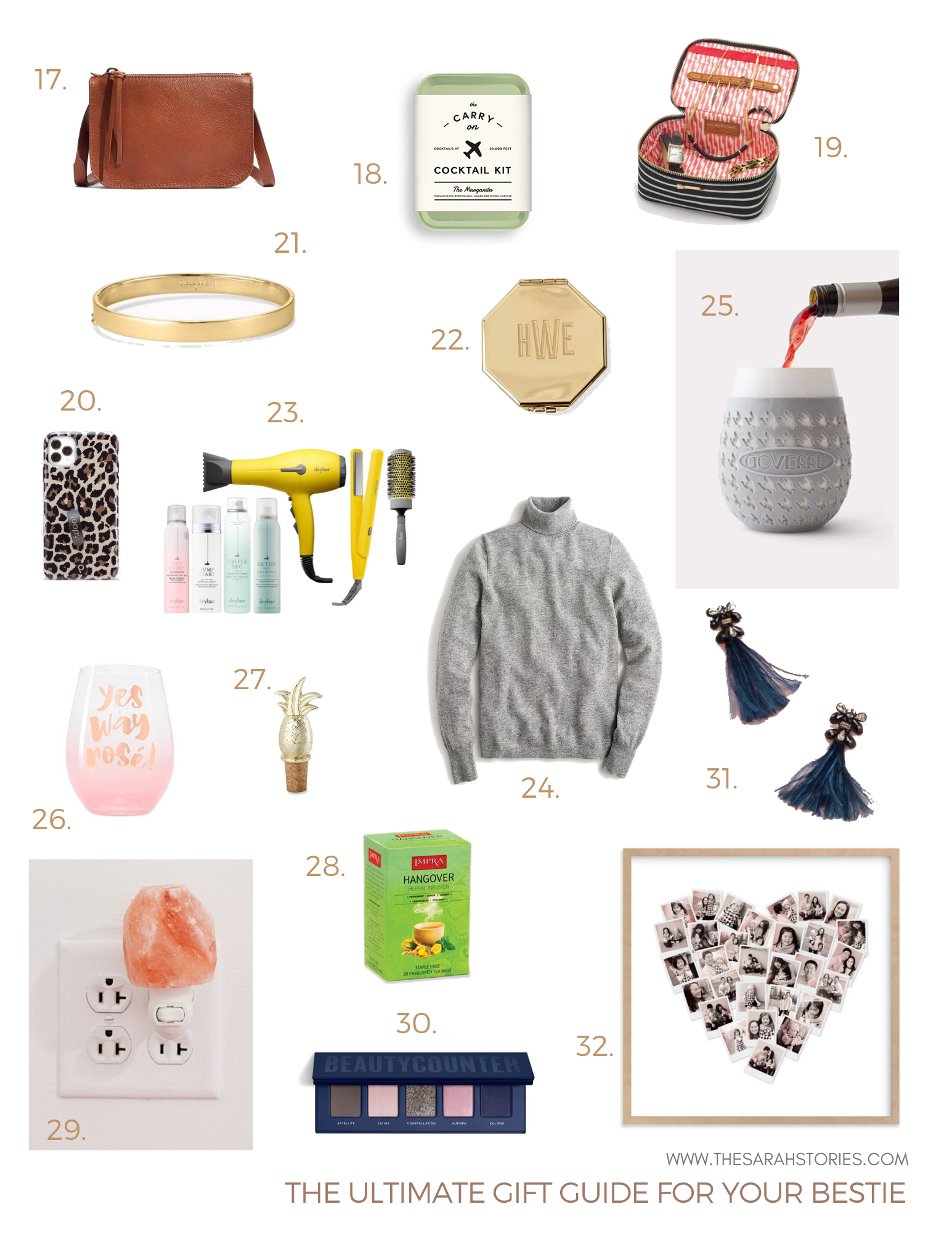 one | two | three | four | five | six | seven | eight | nine | ten | eleven | twelve | thirteen | fourteen | fifteen | sixteen | seventeen | eighteen | nineteen | twenty | twenty one | twenty two | twenty three | twenty four | twenty five | twenty six | twenty seven | twenty eight | twenty nine | thirty | thirty one | thirty two
1. The Magnolia Story – Surely you and your bestie share in the Chip and Joanna obsession. C'mon – serious relationship goals, interior home decor goals, and life goals am I right? And what woman doesn't peruse the Magnolia collection at Target wishing every.single.thing teleported into your own living space? If she's crazed for shiplap, and loves making her home her own, treat your bestie to the secrets of Gaine success with their newest release.  She'll read about the couple's first fixer upper, how they've raised their children, and about the highs and lows of being an entrepreneurial couple.
2. 'Mama' necklace – if the two of you share in the parenting realm, this sweet sentiment is sure to make her smile. I recently purchased this beauty for myself and haven't taken it off since. Remind her of the gift she's been titled with, that it's cherished amongst family and friends, alike.
3. Engravable clutch – Your sassy, fashionista bestie will surely love this personable snakeskin clutch. Available in both cream and black, gift her an accessory sure to make her latest look.
4. Anthropologie candles – There are many candles out there, but these are by far my most favorite to gift. I am in love with this fresh scent 'Volcano'. Made up of ectropical fruits, sugared oranges, lemons and limes, and redolent with lightly exotic mountain greens your homebody bestie will thank you.
5. These homesick candles are equally a thoughtful option across the miles. With scents most closely tied to memories, these state-themed candles tie them to geography. These hand-poured, soy wax candles were formulated with input from locals in individual states. So each state chosen holds a different state scent profile. Personally, my best girlfriends reside in WA state. I'd love to fill my home with the scent of soft rain, steeped Earl Grey tea, cedar and patchouli. Gift her one to surface the memories made together, wherever you reside.
6. Ring holders – Is she constantly changing out her jewelry, with rings on daily cue? These pretty holders are the perfect way to display her jewels and add a playful touch to a nightstand or dresser!
7. Subscription box – If she's the one who knows all the latest in products and trends, gifting her a subscription box (or two) may satisfy that craving for all things new, without the price tag. Many companies put together themed sample boxes to try out the newest finds. Gift her one catered towards her interests – beauty samples, styling services, perfume clubs skim the surface of options.  Several offer ability to gift once or in monthly increments. A few of my favorites include FabFitFun, Stitch Fix, BirchBox, and Scent bird.
8 – 9. Coffee lover gifts – Some of my most favorite pastimes with my bestie are grabbing coffee together to catch up. Treat her to this mantra mug, cause we all know it speaks the truth! And these adorable socks could fill the mug nicely, a theme she's sure to love.
10. Tori Burch Crossbody phone case – my bestie actually sent me a link to this. We both saw the ad scroll our IG feed and immediately added it to our need list. A modern and fashionable gal needs someplace to put her phone; A more stylish option than the back pocket, don't you think?
11. Pajamas – You can't go wrong with getting your BFF some new pjs, like this Dreamy cotton pajama set from J.Crew. Ultra soft and oh-s0-cozy, she'll appreciate having sleepwear to change into after those long work days. Monogram them for a thoughtful touch. Reviewers on J.Crew say this pj set is so soft and comfy. 90% of them recommend it!
For under $30, you can snag this cozy set in one of five different colors. This set comes in black floral, grey, green, black and red. For a full round up of other cozy pj options, check out my Ultimate Pajama round up!
12 – 15. Other cozy gifts – These UGG slippers can easily be paired with the pajamas. Slip her feet into this ultra plush pair and she'll love you forever. Have her cozy up with the softest blanket, perfect for movie watching and coveted napping!
Is your bestie an accessory lover? A blanket scarf is the seasonal accessory! (you could even share with her ways to style it! Catch my tutorial here). Or gift versatility with this fun interchangeable pom beanie.
16. Binge watching kit – Yes, sharing a night out on the town with your bestie can make for some great memories, but a night in watching friends re-runs can render laughs and food for the soul just the same. This Bing-Watching Beauty Kit by Pinch Provisions makes a girl's night in look like a spa on the sofa. From fuzzy socks to snack clips she's equipped for the stay put.
17. Belt bag – If she enjoys the nightlife, concerts, and festivals alike, she'll love this handsfree belt bag to store all her days (or night's) essentials in. The zipper pocket can fit her smart phone, chapstick, lotion, keys, and other miscellany. Belt bag, fanny pack – call it what you will – it's sure to prove stylish and purposeful.
18. Carry on cocktail kit – is  your bestie traveling soon? One must bring the essentials, am I right? This TSA compliant handy carry on is equipped with ingredients to make 2 Margarita cocktails mid-flight. Not a Margarita gal? Choose from several other kits from this retailer sure to lighten spirits at high altitudes.
19. Jewelry travel bag – Nothing worse than packing your jewelry for vacation to find out it's a tangled mess when you get there. Hours spent with a safety pin, and a whole lot of patience weren't on the day's schedule. If your BFF loves to travel, but finds it difficult to store her accessories without frustration, she absolutely needs this travel bag.  It's large enough to hold a ton of accessories, and the bag is top notch in quality. She can store her earrings, necklaces, bracelets, all in the compartmentalized sections – worry free upon arrival.
20. Phone case – Your feisty bestie will love this leopard print case. If only you could cage her quick texting ability and strong selfie game! Use code 'sarahstories10' for 10% off your purchase!
21. Engravable bracelet – available in rose gold, silver, or gold this personalized piece will become your best friend's everyday accessory. Engrave intitials, dates, your BFF mantra, or positive affirmations to honor friendship and all she holds close.
22. Customized compact mirror – Does the camera on her phone serve dual purpose and function as a mirror on most days? Gift your minimalist BFF the real deal and personalize this sleek little hexagonal compact for touchups on the go.
23. The Ultimate Frizz-Free Blow dry & Styling set – I hate to admit, but I haven't always used dry shampoo. (I know..a little shameful here in my 30s) Add in a few pregnancies, sweaty workout sessions, and LIFE in general – seems like hair washing and care get's put on the back burner. To spruce me up when time is of essence, I've been using DryBar's detox dry shampoo to absorb oil, and extend my wash for another day (or two). My most favorite second-day hair product comes in Styling gift set, along with their Triple Sec spray, Blow out Serum, Hot Toddy Heat protectant and styling tools! Your BFF will love this, considering your shared obsession with this most genius product (how did we get by before?!) and low maintenance love.
24. Monogrammed sweater – I've been eyeing a luxurious cashmere sweater for a while and think this would be the sweetest gift.  Monogram it for a personalized touch!
25 – 27. Portable stemless wine glass – Created by two moms, this option for wine-on-the go is perfect for wine lovers! Your best friend can pour half a bottle of wine into this bad boy, and take it to baseball games, backyard bbqs … even sneak it into a movie theater!
This wine glass is stemless and made of durable, dishwasher-safe white glass with a secure, drink-through lid. With a slipless grip sleeve this 'adult sippy cup' will be put to use, happily.
Other witty gifts to consider for the wine lover are here and here.
28. Hangover tea – Who's bestie is notorious for livin' it up the night before, but suffers consequences the morning-after? Make the AM a little more tolerable with this $25 hangover tea. This unique tea blend of ginger, lemon and peppermint will help alleviate the root cause and symptoms of hangovers.
29. Salt lamp night light – For the holistic BFF, I've got you covered. Salt lamp lights are said to clean the air in your home, soothe allergies, boost your mood and help you sleep. She'll love this pretty and health promoting tool. Other natural remedy gifts I've found well received are here and here.
30 – 31. Starlight Eye shadow palette – Is she planning a big new years bash? Or maybe she loves the nightlife? Really, what gal doesn't love a little glam in her life? This 5 – shadow palette consists of matte, satin, and shimmer shades, certain to show stop. Complete her look with these fun and flirty feather earrings to liven up any Holiday party.
32. Framed art from Minted – There's nothing more personal than gifting her own framed memories. Capture the two of you, family members, children and moments in frame. Minted has thousands of ideas to gift personally from framed art prints, personalized stationary, and calendars. And if designing your own isn't for you, you can choose from the work of several independent artists around the world featured on site.
---
There you have it, ladies – the ultimate gift guide for your bestie! Hopefully you'll find something she loves this Holiday season! If you're in need of other ideas, you can find all of my other gift guides here! Check back weekly until Christmas for a new gift guide! As always, thanks for stopping by!