Seems like every time I start drafting a Friday Five post, I am always stating that it's been a while. And here I am again stating the obvious. To ease any pressure I put on myself, I've planned to incorporate this Friday tradition once a month, rather than each week. (looking back, it's apparent I made the shift last month, having only written one Friday Five in 2019 😆) Ya'll know I am a planner, and am constantly brainstorming and adding to the content bin.  Ever so often, I need to step back and remember that I cannot do it all. There's only so much I can take on before I burn myself out, or my balance is off.
That all said, I still want to this Friday post to incorporate a few lists that have been stored in that brain bin.  So, today's post is a catch up – I thought to put all my eggs in one basket and share a few 'fives' on mind, and double up with an Instagram Round up for you! So – let's get to it, shall we?
5 on my mind:
1. Many of you know, I am a pilot's wife. With it, comes many trips away from home and the double onset of parental duties. The past year or so, Patrick's schedule here at home has increased, and I've taken full advantage of it. I love having my best friend here with me during the day and the overall feeling of our family complete when we are all together. Even if it's the everyday norm. We are gearing up for a long trip out next month. I hate it. I've grown accustomed to him being here and hate the thought of his absence. Him out as often as he was brought an onset of independence and self discovery, tho it was never easy. Praying this trip won't be as hard as I've imagined it to be, and flies by quickly.
2. If you've been following me in stories, you know cupid brought me a Nespresso maker! Man, have I been loving the cup it brews! I plan on sharing the prep soon!
3. Productivity is at an all time high here on thesarahstories.com. I love seeing the growth from consistency and dedication. I started this blog knowing it would be an escape, with which it has proven as such. More so, I feel I've been given a gift, something to call my own. It's invigorating! I've invested in several classes this year to further establish my knowledge in the blogging world and am so excited to see all that's in store.
4. I just hid 5 boxes the mailman left at the doorstep in hopes that Patrick or the kids wont see them. My online shopping may have been on the extreme lately with the seasonal transition. I love Fall, but Spring attire is front and center, just teasing the stylists eye! Note to self – resist temptation – or at least develop a harsh line between needs and wants! (that is until Summer roles around 😆)
5. For my birthday, Patrick said – "why don't you take a trip to see your girlfriends this Spring?" Heck yes! I am so excited to spend a few days in WA come April. Booking my flight this week!
5 recent purchases:
1. I'd been on a hunt for a really good black bootie. And these are it! I love the low heel, and how they look with ankle jeans. These fit TTS.
2. Charlotte Tilbury Pillow Talk blush palette – this was a bit of a splurge, tho well worth the investment. I've seen this shade on many bloggers in various tutorials and it looks amazing on all skin tones. There's something about the application (swirl around and pop in the middle) that is fun and adds a bit of excitement to my everyday make up routine.
3. Ya'll guessed it – these camo cropped jeggings. May or may not have worn them 3 times last week … love the versatility of this trend turned staple. You can read 3 ways to style these favorites here.
4. My obsession for leopard runs deep, and I had to pick up this hooded sweatshirt. So soft, perfect length and very cozy. It also adds a bit of fun to my everyday #momiform. I sized up to a S for an oversized look.
5. I love a good peplum tee, and this one does not disappoint. Looks super cute with skinny jeans, and I cannot wait to wear it with denim shorts once the Spring decides to stay around! Also avail in white!
5 wishlist items:
1. We the Free People Catalina Top – I've seen this top on discount for a few weeks, but my heart's desire for the pink shade cannot be met – my size is OOS. You can bet it's on birdseye watch!
2. Treasure and Bond Espadrille wedges – I've dreamt about these since last season. I've even envisioned styling them so many ways I've lost count. They've been in my cart for entirely too long!
3. Linen Jogger pants – Couldn't get my hands on these quick enough last Summer. So cute dressed up or down with espadrilles (see..envisioning continued) or sandals this Spring!
4. A new crossbody bag – I am so indecisive when it comes to bags. Seems whenever I see a bag I love, the price tag diminishes any option for purchase.  The buy turned investment is a hard one to swallow. This one continues to make my list – I am going to grab it one of these days!
5. Been eyeing these new sunnies – they are on sale for less than $50!
5 top sellers:
1. I am so happy ya'll loved my most recent Amazon haul! This fringe tweed dress has been the most sought after piece this month! Such a great dress to wear year round!
2. Seems as if ya'll love a good cardigan as much as I do! This Shawl Pocket open cardigan has been a favorite! It doesn't surprise me tho, not many can resist a cozy cardigan with pockets! Avail in 3 colors, and so versatile!
3. Daily Ritual Long Sleeve Tunic – aka, the best Amazon find to date! Perfect length, stretchy, available in 10+ colors, this is by far a favorite this month.
4. With Spring right around the corner, white denim is on closet cue! Many of you have already started shopping for Spring and knew this seasonal staple would be an instant hit! I'll state that AE denim, in general, has been a consistent top seller. I am sure the consistency in sizing and guaranteed perfect fit is a leading factor.
5. Tarte Shape Tape Concealer – I told ya'll it's made top lists more than once! Makes dark circles and blemishes disappear like magic! A continuing favorite on my Best of Beauty Buys!
5 weekend sales:
(find all others here)
1. Abercrombie  – 30% Off $150+ | 15% Off $100 + Free Shipping On Orders Over $75 with code 11960 – Check out my favs here.
2. American Eagle – B1G1 all jeans & joggers + buy more save more: $30 OFF $100+ | $20 OFF $80+ | $10 OFF $50+ with code SALEUP
3. DSW – $10 off $49 | $20 off $99 | $60 off $199 with code REFRESH
4. Goodnight Macaroon – 50% off site wide with code SPRINGBREAK
5. J.Çrew – 30% off your purchase or 40% off when you spend $200+ with code GOFORIT
These Friday Five top sellers & sales lists are a great segway into the Instagram round up below. As in all round ups, all of the outfits below include links and sizing details.  You can also 'shop the post' every six (or so) images from the scroll widgets.
tee (TTS – S) | chambray button up (similar) | moto jeggings (TTS – 4R, also avail in extra short, short & long) |
suede booties (TTS)
Tee (similar) | bralette (TTS – S) | olive shirt (TTS – S) | denim (4R, also avail in short & long) |
booties (TTS) | necklace
Camo jacket (similar) | striped tunic (TTS – S)  | denim (TTS – 4R, also avail in short & long) | mules (TTS)
flounce sweater (TTS – XS, also avail in petite)| denim (TTS – 25R, also avail in curvy, petite, plus, & tall)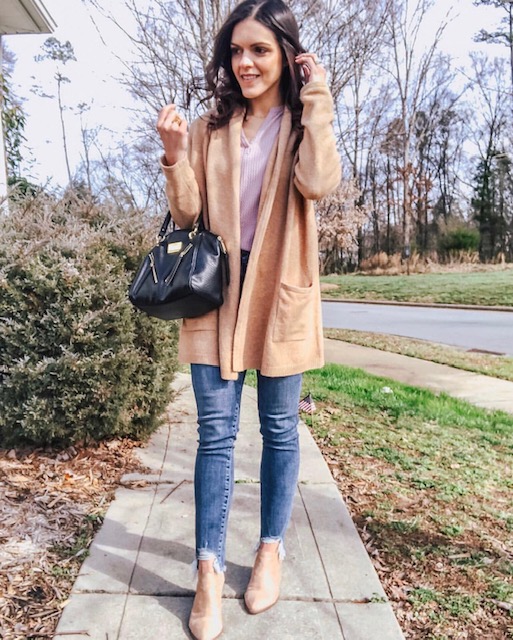 cardigan (TTS – XS, also avail in plus) | denim (size down one – 26S) | mules (TTS)
sweater (TTS – S) | denim (TTS – 27) | necklace | earrings
---
---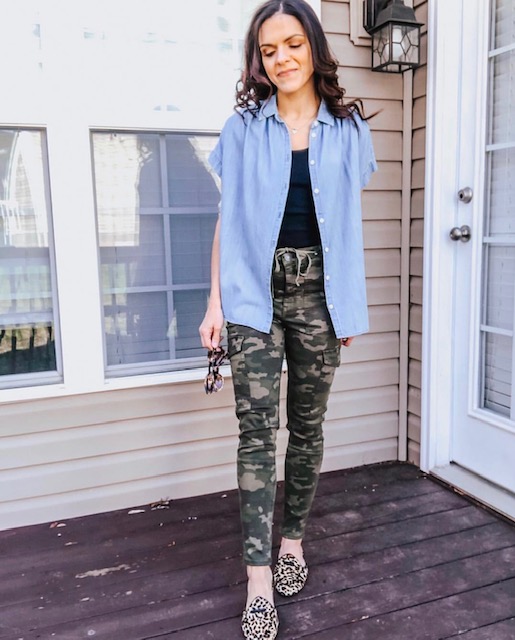 chambray top (TTS – S) | bodysuit (TTS – 2) | camo jeggings (TTS – 4R) | leopard mules (similar) | sunglasses
leopard tee (TTS – S) | cardigan (similar) | denim (size down, 24)
hooded cardigan (TTS – XS) | tee (TTS – S) | denim (TTS – 4R, also avail in short & long) | slides (TTS)
leopard top (TTS – XS) | denim (TTS – 25R) | booties (TTS)
cardigan (similar) | tee (TTS – S) | pant (TTS – S) | booties (TTS)
chenille sweater (oversized – S) | tunic (TTS – S) | faux leather leggings (size up – S) | booties (TTS)
---
---
There ya'll have it! I hope you've enjoyed my Friday Fives lists and Instagram Round up all in one! Wishing all of you a happy Friday and last week of February! As always, thanks for stopping by!