I am a planner and completely type A. New ideas pop into my head (usually late in the evening) and there's something about it, where my mind switches to a one track go-mode. If I cannot write it down, or out, I make a list. I love lists, of all kinds. Categorized, alphabetized, color coded .. it can be a little excessive. But that's me, and something I find to be somewhat of a good character attribute when looking at the whole grand scheme of things. I promise there's a point to my writings here … it's 2am, and well, I'm on that narrow path.
With my love of lists and all the ideas I've managed to generate in the morning hours, I am hoping this post to be the first of what I'll call my 'Friday Five'. Lists of five things I am loving, five current sale finds, five Mom hacks, five books I am reading, five wardrobe wishlist items, 5 of this, 5 of that … the lists go on. Why five? Because its a whitty and fun and if it involves assigning a day to a number, this organized list lover is all for it.
For the first Friday five, I'll be sharing my current top 5 favorites! Of course there's reason behind it all – so let's get to it!
One thing I've noticed about myself is I tend to label MANY things as a favorite. Oh these jeans are my new fav… you have to try my favorite snack, and oh look, my favorite movie is on!! Taking a step back, they really are things that I am loving right now. My favorite sleeveless dress may end up hanging in the closet next month once the weather catches up to the current season. My taste buds may get overly tired of the same snack and reruns can become redundant. You get the idea.
As my children have grown up, I have recognized that the answers to the question 'what is your favorite fill in the blank?' change often. Pink may be the color of the week in Ellie's closet, and Jonah's love for Nutella may be short or long lived. It's only up until my parenting years have I put two and two together and realized I am the same way. I label it a favorite because it's what I am most excited about that week, month, or even moment. My idea of a favorite is not always absolute, because it's constantly changing. Changing our favs is a valid realization we are learning and experiencing new things, opening up our minds and broadening perspective on all subjects. Whether that be our food palette, fashion sense, entertainment… Labeling favorites reassures me that I am doing that thing we all tell ourselves to do – live in the moment.  I'll continue my favorite finding and list making if life's joys are found in the process of it all.
THAT ALL SAID, and without further ado, below are five noteworthy, list topping favorites I am most excited about right now. I am telling ya, you'll find this Momma dancing, swooning, roof raising, and high-fiving (pun intended) over all of them .. and  I cannot wait for you to try them out for yourselves! Hopefully they'll top your lists, too!
1. STARBUCKS CONFETTI COOKIE | Pretty sure this is seasonal, and wont stay in their desert case past October, but for realz Y'all. You HAVE to try it. It's a fluffy vanilla sugar cookie, half dipped in a white chocolatey coating and dusted with crunchy sugar sprinkles. The key to the best bite is grabbing part of the glaze covered portion and the other together. Your bite is not overly sweet, and so soft it melts in your mouth. Pair it with your fav hot cocoa or latte, and you have the ultimate desert combo. And a satisfied sweet tooth at best. Good thing my son shares in my love for all things sweet. I may or may not do a little dance when he asks to have one. Cause ya'll know that Mom gets a bite (or three … Okay, we share it). I'd feel pretty guilty eating the cookie in it's entirety. Not to say I haven't; Just mentioning the calorie content is as high as you'd think it may be. Push that bit aside tho .. it's heavenly and very cheat day worthy. Cookie crazed, sugar lovers – Go get one, stat.
2. BEACHBODY ON DEMAND – SEAN T'S INSANE FOCUS WEEK | Back in June, I drafted a post outlining a Mom's guide to at-home workouts, and in it I wanted to cover several online fitness streaming platforms, BeachBody being one of them. I hadn't ever tried it out, and since I wanted to state opinion in my post, I gave it a go. A full review of my experience should be up soon, but let me tell you – this Sean T guy will kick your bootie, and I am loving every minute of it. Taking directly from description on site, it's a 7 day, total body program, developed by Sean T to motivate you and dig deeper than you ever thought possible. I've always set a personal high bar when it comes to fitness. And this program meets it tenfold. It's so good, I've done it twice in the past month. I can confidently check my workout off each day, in all my sweaty glory.  Tho strict, Sean T coaches you in a relatable way, and repeatedly tells you to 'dig deep' –  something this Momma takes to heart. At home or in the gym, I work out for the release and have been known to get pretty emotional when in the heat of it all. If you have access to BB and hold high reqs on what you consider a 'good' workout, Sean T 's Insane Week will meet your match and deliver.
3. ABERCROMBIE HIGH RISE SUPER SKINNY JEANS | I'll preface my favorites listing here and state that up until this past Summer, I hadn't shopped from Abercrombie in years. I had always thought they catered towards the 20s crowd and body type. Pleasantly surprised, I really think they've refocused their marketing and their style collections are geared towards a more diverse consumer. I'll take it, especially having found this jean gem.
If you know me, I love jeans. Always have, and always will. This is one fetish that can be fed on a consistent basis with the vast amount of styles and washes offered. So, naturally you can guess I've tried many and to save embarrassment, we won't discuss my closet count. I've always favored a more relaxed fit, but thought I'd give these a try and oh, am I so glad I did. Ya'll..these fit like a glove. This jean gives just the right amount of stretch for comfort, but stays it's shape. You aren't feeling the constant need to do what I call the 'jean jig'; the little shimmy we all do to put our pants into place after a few hours of wear. And not to worry, Edward Scissorhands is no where near the product belt on this one. They have the perfect amount of distressing. They fit TTS, and offer a flattering fit for all body types. It said something when I ransacked my closet last week, thinking I had lost them… remembering it was laundry day, they quickly took a top spot on my favorites list.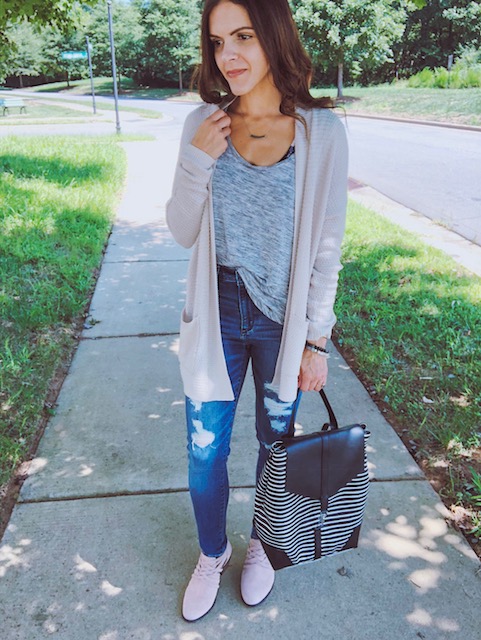 4. BEAUTY COUNTER SHEER LIPSTICK IN LILY | I know there are A LOT of lipsticks out there. If not for the product, try this one on for the mere brand name. Beauty Counter's standards are set high, and they've done their homework. Their ingredients are sourced with a higher standard of safety and quality. You can trust their 'never list', excluding harmful ingredients otherwise found in the majority of beauty products on the market. It's safer, healthier beauty … and I am ALL for it.
Wanting a bit of color to my minimal makeup routine, I gave their lipstick a go. Ya'll, it does the trick. It's exactly what it claims to be – The ultimate everyday lipstick. It's smooth, (goes on like butter!), ultra-moisturizing and is avail in 12 different colors! I followed my consultant's rec on color and 'Lily' has proven the perfect pink on my skin tone. The color is 'buildable' allowing you to layer for a more dramatic look, or suit the need to moisturize with a subtle pop of color. I'll add it proved a saving grace a few weeks ago on the emotional back-to-school roller coaster. Quite the pick up, it's amazing what a little lipstick can do.
5. THIS AFFIRMATION | 'Courage over Comfort' | Keep recently launched their Fall collection and with it they have introduced exclusively the ability to engrave on leather. Having seen this affirmation on another designer's wrist, I immediately ordered it for myself. I often become fearful with any onset of change, and this past Summer held a lot of it. Choosing to be courageous over my immediate resort to comfort always proves positive. This statement fits in well this time of year, with kids back to school and all the newness our family is currently emerged in.  Getting out of our comfort zones is not only courageous, but it ignites change.. kinda a full circle affirmation, don't you think?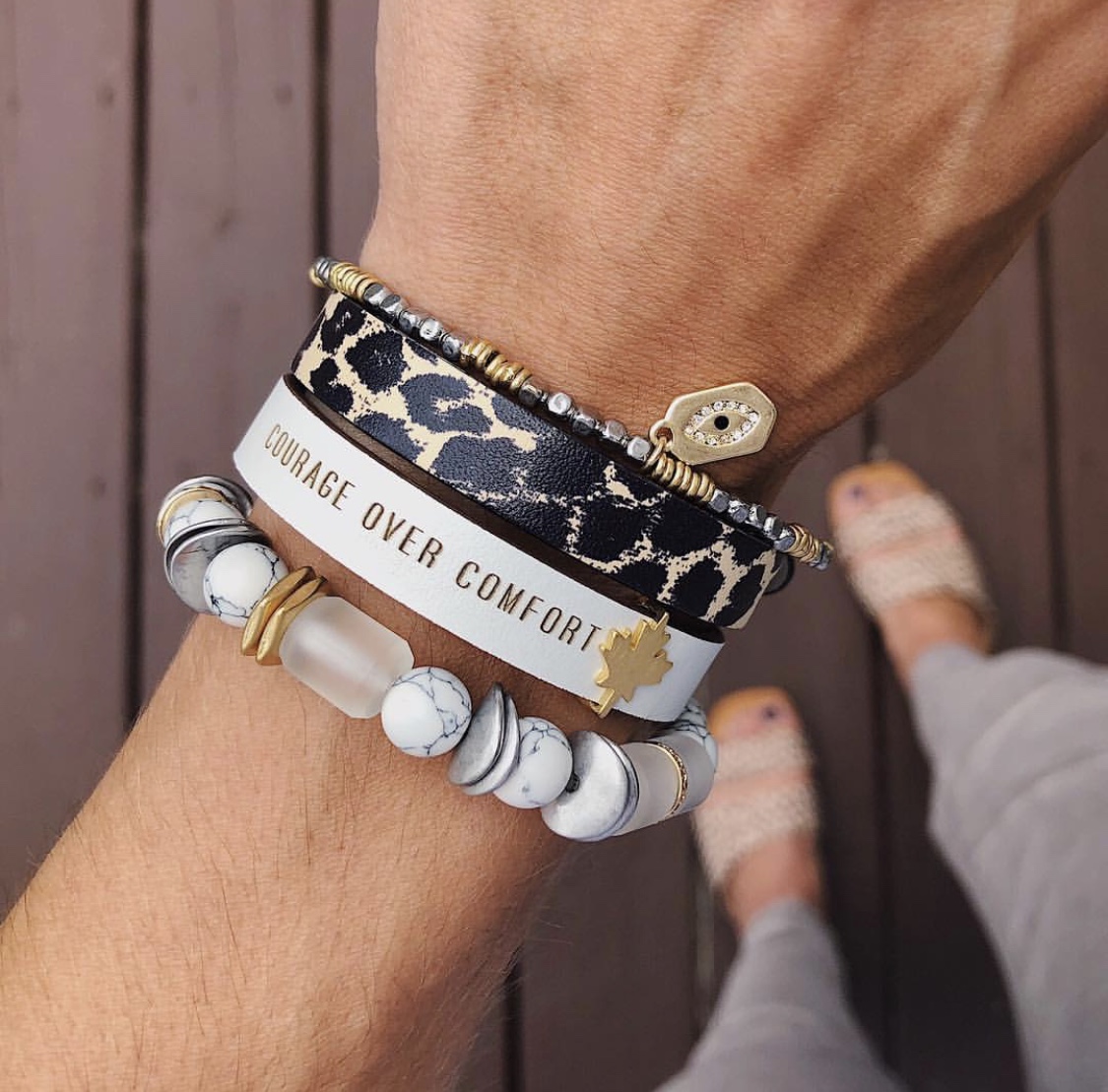 There you have it! Five of my favorite things right now! I look forward to sharing these lists of whatever suits my fancy on Fridays! As always, thanks for stopping by!
[shopr_shopthepost collection="fridayfive1″ size="medium" title="Shop the post"]