Happy Friday, friends! It's about that time again to share a Friday Five list! Tho new to the blogging world, I like to think I've had a fashionable sense for quite some time. Yes, there were style choices in my earlier years I question this day and age. I look back on my teen self and say, "what was I thinking?" The block heeled stretch arch platforms, side fastened overalls, hyper color tees, and mary jane doc martins were on trend. So I'll give some credit to my interest in the craze. Today I am sharing 5 current Fall Fashion trends this season – ones I'll add, I am loving and happily indulging in. Hopefully in 10 yrs time I wont be questioning my mid-30s fashion choice.  Even if I do, it's all about living in the moment, right? #yolo
1. CAMO | Camo is everywhere this season! We're not talking about the camo you see during deer hunting season, tho I'll add that I did see a lot of it growing up with my huntsman of a father! (love you, daddy). We're talking camo chic. This style of camo is chic and casual, a combo this stylish Momma dreams of! I have quite a few pieces in closet already, however these wedges are on list, along with these joggers and this sweatshirt. Browsing several retailers you'll quickly notice the camouflage trend..not so hidden, right?
Moto Jegging | Camo Tee | Sandal | Handbag
[shopr_shopthepost collection="camo"]
2. LEOPARD | I'll admit I haven't always enjoyed this loud print. I used to think it was too much, and why would anyone in their right mind wear such a busy statement? Oh how times and adulthood have changed my close minded thoughts. To say I am now obsessed may be an understatement. This trend is all about making a statement. And is quickly becoming a Fall staple, having seen it in past seasons. I love how it can be worn, and accepted in so many ways. Pair it with a subtle chambray, add the print as an accent, or even mix it with other prints like florals and stripes! The accumulation of leopard in my closet is at an increasing rapid rate, with no plans to slow down. Some pieces I am rawr-ing over (cracking myself up over here with my puns) include this blanket scarf and classic cardigan.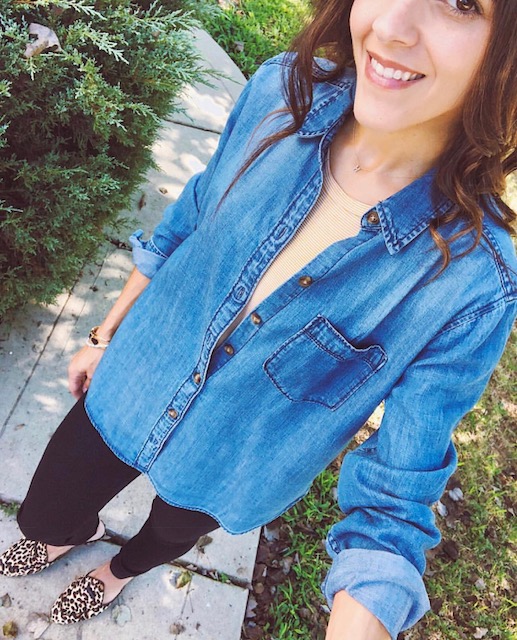 Leopard Mule | Black Skinny | Chambray shirt | Bodysuit
[shopr_shopthepost collection="leopard"]
3. SOCK BOOTIES | Booties have always been a seasonal Fall staple, but I have seen this sock style more prominent on retailer sites. I think the style may be structured for versatility; offering it's wear with a wider range of clothing. It can almost be considered a transitional shoe. Wear it with an ankle jean or cropped pant now, and style it with a classic trouser in cooler months. I own this pair and can say the stretch around the ankle is uber comfortable.
4. FAUX LEATHER LEGGINGS | Another trend I used to face palm and smh at. I've seen so many bloggers style this new craze well, and they've convinced me to give it a go. A versatile pant that can take you from day to night in a minute flat! Is it bad these camo faux leather leggings are on my wishlist? I'd hit two trends in one!
5. MOTO MADNESS | This motorcycle style, commonly referred to as the 'Moto trend' is by far popular. Sassy and sporty you'll find this style on jackets, leggings, jeans, and even shoes. Zippers, cross stitches and hatches on clothing has never looked so good. I have a few moto styled pieces on wishlist, these leggings being one of them. Temper them with a ruffled top or cuddly soft knit — ready, set, moto!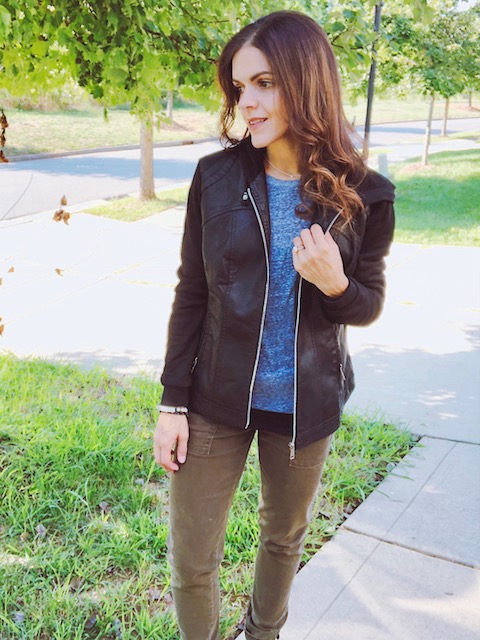 Moto Jacket | T-shirt | Cargo skinny pant 
[shopr_shopthepost collection="moto"]
For those not into the current favs of the season, you can always count on trends turned seasonal staples. I'll elaborate. That statement you hear ever so often, "that was Sooo last season" fits right into the definition of trend. I consider several pieces in my closet to be trends turned seasonal staples; items you see come back year after year. With the arrival of Fall you are bound to see booties, plaid, cable knits, and leggings come into play. All styles begin as a trend and can prove or reject their spot on the seasonal staple list over time. Sticking with these seasonal staples is smarter on budget and proves your purchase more cost effective. But it is fun to risk a little and ride the wave of trending fashion, don't you think?
How about you? Which of the 5 on list are you loving? Comment here or DM me on Insta, I'd love to know if these trending styles are in your closet line up! Thanks for stopping by for my Friday Five!