Officially deeming today 'graphic tee Tuesday'! Okay, maybe not universally, but here on TSS? Yes! … chatting all about graphic tees and ways to style them in today's post! I feel the graphic tee has been around for years – band tees you picked up while at your favorite concert moons ago, logo tees you sported in middle school, and stretching the category further – 'novelty' tees with witty, empowering, humorous, or obnoxious words or phrases printed on it have circled back as widely popular. So you have those old tees lying around or you've picked up a few trending favorites, but you aren't too sure how to style it. I've got ya covered.
Today's post shares 4 easy ways to style a graphic tee. I've taken three of my personal favorites (linked below) to show variety in color and style, tho you can easily replace them with your own. You can also catch my fun IGTV video for a quick run thru of ways shown with one graphic tee. The 4 ways mentioned are rooted with pieces you most likely have in your closet, making it a simple and easy approach to style discovery.

'Tis the Season' tee | Fall favorites tee | 'Strong is beautiful' tee
Pair it with a blazer:
This could quite possibly be one of my favorite ways to style a graphic tee. There's something about the mix of casual and dressy that makes it an instant 'yes'. Pair your graphic tee with a casual sweater cardigan or dress up your look by pairing it with a printed, or solid colored blazer. All pieces shown here fit TTS.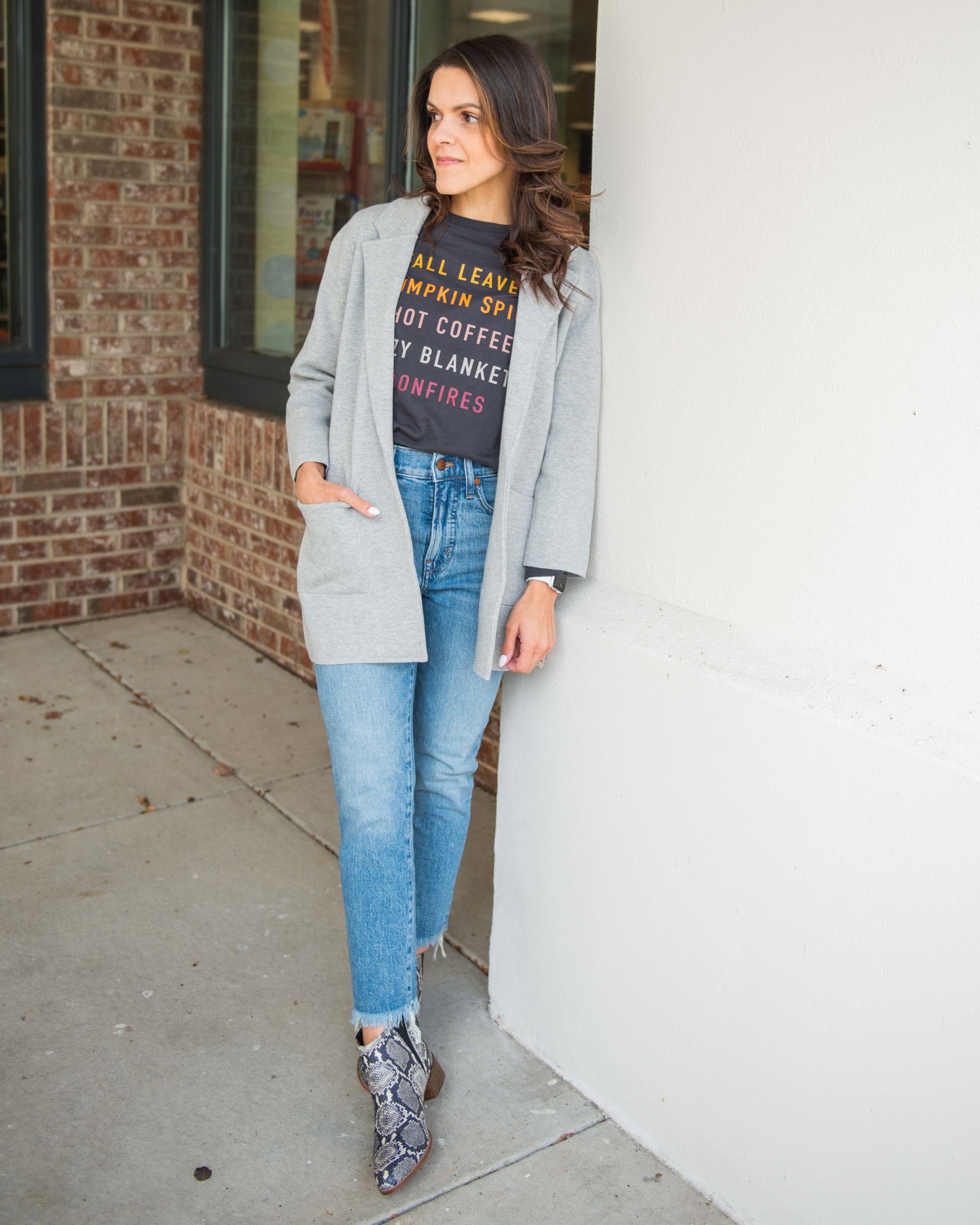 plaid blazer | Mom jean | mules | navy blazer | charcoal denim | booties | sweater blazer |
denim | snakeskin booties

Layer with a button up:
You can't go wrong with a classic chambray top. It's a solid go-to in my book! And tho a graphic tee is technically considered a 'print', don't let that deter you from pattern play. Have some fun mixing and layering your prints! Layer that graphic tee up with a seasonal plaid for variety! To tangent that thought – plaid pairs well with anything and a graphic tee is no different! Scroll down to see how I layered with a seasonal plaid cape!

chambray shirt | hobo bag | joggers | slides | plaid button up (similar) | charcoal denim | cape | booties

Partner it with a skirt:
Who said a skirt had to be dressy? With all three looks below I utilized the casual vibe of the graphic tee and dressed the skirts down. I completed the midi skirt look with some cute wedged sneakers and the corduroy skirt with my favorite snake skin booties. Switch out your dressier blouse from the workday and opt in your graphic tee for an edgy happy hour look. All pieces shown fit TTS.
midi skirt | wedge sneakers | hobo bag | corduroy skirt | snakeskin booties | leather jacket | crossbody | houndstooth skirt | pumps

Leggings for the win:
You can bet I included my most favorite Spanx Faux leather leggings in this list, tho any solid color legging would render fashionable! Create a casual look with your sweater blazer (mentioned above) or edge up your look for happy hour with studded booties and a leather jacket. All pieces run TTS.
sweater blazer | hobo bag | mules | leather jacket | crossbody | studded booties

There you have it – four ways to style your graphic tee! Of all the looks, which is your favorite? Comment below of dm me on Instagram! As always, thanks for stopping by!
xoxo