With Spring break right around the corner I know many are gearing up for vacations and getaways. What I wouldn't give for a bit of sun and relaxation on the beach right now! Heck, even just a dry day to pull out all the Spring attire hanging in closet would be amazing! Tho Winter has seemingly over stayed its welcome, you can bet I've on que all that's needed to pack your bags and escape to a tropical paradise. For this month's Amazon haul, I rounded up several vacation inspired attire – everything from swim suits, cover ups, dresses and accessories! All of the try on's outfits are rounded up below with links and sizing details below the photos! You can also catch the full try on in my Instagram story Amazon highlight!
---
cover up (OS) | bikini (TTS – S)| hat (adjustable) | sandal (size up .5)
This swimsuit coverup is gorgeous! I love the detail and the fringe tassels on bottom. This one size coverup is lightweight and fits like a poncho. It's available in 12 different colors.  And who can resist a cute sunhat? This UPF50+ hat will help shade those rays. It's adjustable with a cinch tie on the underside to adjust size. It's available in 12 different shades, with this one being the khaki color.
Bikini (TTS – S)
I love a highwaisted suit. I feel highwaisted suits are flattering on many body types!  The pineapple printed option is so cute and definitely screams tropical vacation. This suit fits TTS, and is available in 6 color/print combinations. The top is adorable with the ruffle detail! It comes with adjustable straps for fit and removable padding in the chest.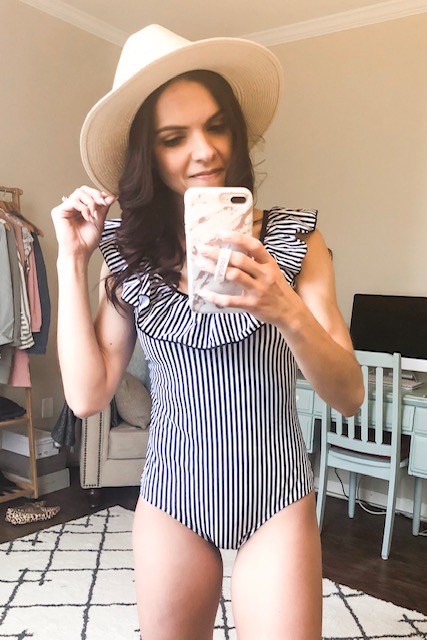 Suit (TTS – S) | Hat (adjustable)
This is the cutest ruffled swim suit! Fits TTS, with the ruffles continuing in the back. I feel it's fitting enough to even pull the shoulder straps down for an off the shoulder look, or wear as pictured. Very flattering and well made.
Bikini (TTS – S)
I love mixing prints, especially the look of floral and stripes put together! This top is adjustable with string in back. It fits TTS, and is available in 6 color/print options. I love the ruched detail on the hips and chest as well! Very flattering and definitely a keeper!
Monokini (TTS – S)
I love this solid monokini for the ruffles alone. It ties in the back to adjust for a comfortable fit. I do feel this swim suit may be more flattering on someone larger chested, or holds more visible cleavage. Overall tho, this suit is very comfortable and affordable! Available in 4 different colors, it fits TTS.
Sundress (TTS – XS) | Rattan circle bag | Espadrilles (size down .5)
Looking for a lightweight sundress? This is an adorable option! I love the cutout detail in the front. It also ties in the back, with a low back opening. You could easily put this on over a swim suit for a quick transition to dinner, or dress it up as I have here with espadrilles. And this bag? It's the perfect size to hold your vacay essentials. It's solid circular frame is something different and fun!
Dress (TTS – XS) | Denim jacket (TTS – S) | Espadrilles (size down .5)
This swing dress is definitely a keeper. It's available in 23 different shades/prints, fits TTS, and has pockets! Dressed up or down, this really is a great basic to pack in your suitcase!
---
Which ones are destined to come along with you on vacay? To see some of my other Amazon fashion finds you can check out February's Spring haul or head to my Amazon page!
SHOP THE POST

*The Sarah Stories is a part of one or more affiliate marketing networks.  As an Amazon affiliate, I earn from qualifying purchases. All opinions of items are my own.