Ya'll. The sale of all sales is almost here. The Nordstrom Anniversary sale is the biggest and best fashion sale of the year and one I look forward to every Summer! Ya'll I plan for this. We're talking budget, pen and paper list, strategy set, paper chain link countdown (ok..maybe not that extreme, but you get the point) .. this sale is serious business! I am so excited for today's post, as I'll be sharing all info and details of the 2020 Nordstrom Anniversary Sale.
What's the hype, you ask?
Every year Nordstrom releases their newest Fall items and marks them down for a limited time. I am not talking the older items that have been on site, I mean brand NEW items for Fall.
More so, the brands Nordstrom carry can be on the high end, and for a gal on budget, I unfortunately don't shop as consistently here as I do other retailers. I am a big sale shopper, so when I can find AG jeans, PAIGE denim, Hunter Boots, UGGs, Barefoot Dreams, Charlotte Tilbury, etc at discounted prices I'm much more eager to purchase. And with discounts on more affordable Nordstrom brands – Socialite, Caslon, Leith, Articles of Society, BP, to name a few – the sale's in the bag (quite literally). This sale is THE sale of all sales because it discounts every department, releases BRAND NEW pieces and gives many the opportunity to shop premium brands up to 70% off.  It's one-of-a-kind awesome, right?! Let me share a bit more about it and answer some frequent questions below!
---
WHEN IS THE NORDSTROM ANNIVERSARY SALE 2020?
Nordstrom's Anniversary Sale usually happens every July, tho adapting to the unique impacts of COVID-19, they took a little extra time to ensure our comfort and safety. This year, the Anniversary Sale will run August 13th – 30th.
Early Access to shop the sale is available this year based on your Nordstrom cardholder status. To shop early access, you must be a Nordstrom card holder. Being a cardmember definitely has its perks – granted early access convinces my vote! You also get Nordstrom Reward Notes to shop with after building up your points (2 or 3 points per $1 spent – receive a $20 Note every 1,000 points to spend on anything!) Be sure to apply HERE by August 4th to be eligible for early access. If you don't know what level you are at, just log into your Nordstrom account and it will tell you!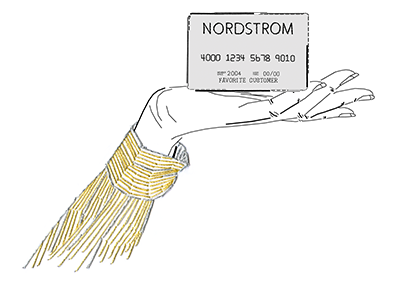 July 24th: Online preview of sale items opens to all!

August 4th: Icon early access
August 7th: Ambassador early access
August 10th: Influencer early access
August 13th: Insider early access
August 19th: The Anniversary sale is open to everyone!

August 31st: The sale has ended and items return to their normal retail price.
HOW DO I SHOP THE SALE?
While shopping in-store is a considerable option, it can be hectic and messy to maneuver thru. Y'all know online shopping is my preferred method, and I highly recommend it in this case. Nordstrom offers free shipping, and if you must have your pretties that day, you can purchase online and choose 'in store pick up', if available at your store.
I'll note – many loyal shoppers await this sale each year. It's very popular, and items WILL go quickly. Last year (and every year, really) popular items went out like hotcakes. If you like an item, buy it. If you are unsure of sizing – purchase both sizes, just in case they sell out.
BEST SHOPPING TIPS?
The sale can be an overwhelming, but going in with strategy can ease the experience. First make a list of all you are shopping for. This sale provides outstanding savings on the most exciting new Fall merchandise, along with plenty of items for Summer. Tho still in the dead of Summer, this sale reels in shoppers with a Fall fashion urgency. Narrow down all the essentials you'd like for Fall: boots, hats, coats, & denim. Prioritize them and shop those first. From experience, cardigans and boots hop off the shelves the quickest. Remember, prices go back up August 31st, so shop early for best selection.
This sale really is the onset and first glance of Fall trends – one of the reasons for it's popularity. It provides consumers the very first opportunity to grab new pieces for next season at discount. I've shared a few trending items below that caught my eye. But if I were to offer any advice regarding your shop, I'd say to stick to the classics. You don't need the sneakers, name brand sweaters, or snakeprint hoodie that will inevitably show up at other more affordable retailers in the coming weeks. By all means, if you want the trends and can afford it – you do you, girl. The key is to shop smart.
WHAT WILL YOU BE COVERING?
I love a good bargain, but I am also the type of person who is willing to spend a bit more on pieces I know will last. I'll invest in pieces that are versatile and transition well from one season to the next. This sale is one of the few that I shop, knowing the discounts offered will save me 100s on items doubled in value.
In preparation for this sale, I asked in Instagram stories what items you are shopping for. With this sale as big as it is, and as I've done in past sale coverage, I plan on covering items specific to your shop. Per responses, I'll be covering shoes, outerwear, denim, and accessories!
You'll see and hear a lot of featured sale content here on the blog and other social channels! With links to all, I'll be sharing early access top picks, personal buys and inventory updates over the course of the entire sale! You'll be able to access all 3 scheduled #nsale posts by going to my blog's navigation menu and clicking on the "Nordstrom Anniversary Sale" tab. Tho item widgets are no longer available, feel free to browse some of last years blog posts here, and here to get a feel for my Nordstrom Sale way of run!
---
These items below are ones that caught my eye at first glance and I jotted down onto my 'maybe' list. I will NOT be purchasing all of these items. These are just those that stood out and I've saved on wishlist. I didn't touch on beauty, home, or gift options – those will all be included in my next NSALE post. Once we're closer to Insider early access,  I'll share categorized early access picks in depth. To view each item on site, just tap or click each below!
Early access to the SALE goes live next Tuesday for Icon card members. As of right now, the links above when clicked aren't cart accessible. You can still, however, click on them and wishlist them! You can also bookmark this post and come back when you've access to shop! Any of my first look favorites make your must have list?!
---
With the sale less than 2 weeks away there's much anticipation and excitement! Even in the blogging world, the pressure to share is extremely high. I'll do my best to source an easy (and fun) Nordstrom Anniversary sale experience! If you ever have any questions or need help with pieces you're looking for, I am always happy to help! Feel free to comment on any of my Nordstrom Anniversary Sale blog posts, Instagram and Facebook posts, DM me, or email me at sarah@thesarahstories.com!
xoxo