Happy Friday, ya'll! I know you may still be up to your knees in candy, but it's officially November, making it prime gift giving time! Today's post starts off our Gift Guide series for the Holiday season! Now thru Christmas (with the exception of Black Friday) you'll see a new gift guide every Friday here on the blog. Each week I will topic gifts for a specific recipient. If I shared a similar guide last year – that guide will be revamped with active links to shop! So essentially, you can guarantee a plethora of gift ideas for all those on list! I've also created a 'Holiday' tab on the top menu to easily access all Holiday content this season!
Note – if you aren't already subscribed to my weekly Newsletter you'll want to subscribe pronto. I, too, like to play Santa and have a few exclusive gifts & guides planned for my subscribers this season! You won't want to miss it!
Let's start with the ladies in your life – Moms, aunts, sisters, in-laws, besties – a little broad in category, right? We've all different styles, favorites, personalities .. not to worry, I've covered gifts for every kind of her today!
Does she love all the 'girly' things? Velvet bow hair scrunchies or a jewelry roll might do the trick. Is she a trend setter? How about that pair of Faux leather leggings she's had her eye on, an iconic bold red lip, or fashionable leopard clutch to style. Is she always revved up for her next workout? The sporty gal in your life would love a fitness journal to write down those goals, or a new yoga mat to replace her seasoned one. Is she jet setting on vacay soon? Gift her a collapsible water bottle, or comfy sweats to ease any airport woes! Let's not forget the boss babes – wireless headphones, fashionable blue light lens glasses or inspirational pens top my list, and I am sure her's likewise! Lastly, we all love to receive cozy gifts, right? A silk pillowcase and soft pajamas will ensure all the comfort!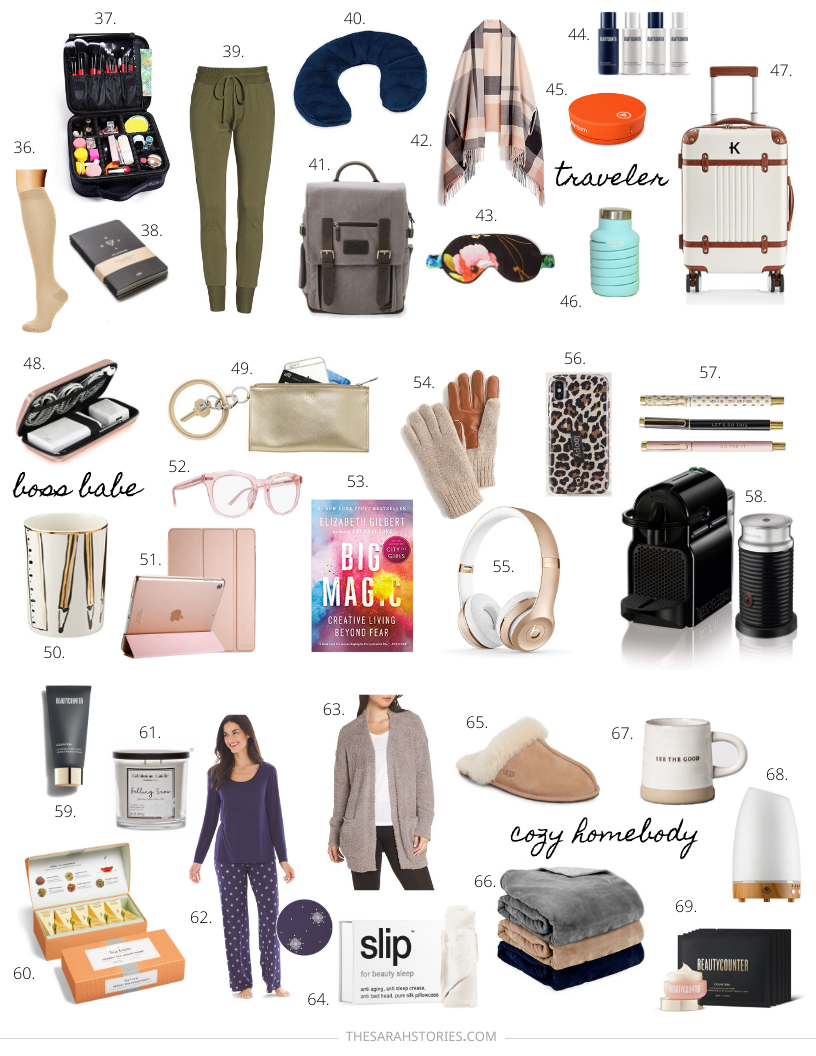 Hopefully these ideas will help find gifts for every kind of lady on your list this year! For more ideas for HER, you can check out my revamped gift guide from last year here! Until next week! Happy gift giving!