If you've been here a while, you've seen my personal style evolve. I've learned the value of an invested closet and confirmed my love for feminine and classic pieces. I do, however, feel the need to credit style trends and all they entail towards that personal discovery. While this site has niched down and sources the minimalist's closet, I am not entirely sure I would have landed here had I not given mind to all that's trending. Yes, there is value in a structured wardrobe, but unless you step outside the box, you'll never allow yourself that opportunity to discover more of your style.

So for those creative stylists wondering what's on the trend docket for Spring, I've got you. Today I am sharing with you a list of 2023 Spring style trends; what to expect and all to consider (or pass on) for Spring 2023. I've also shared a few options available that I've bookmarked.

While some things are sure to change and pop up as the season progresses, it's evident trends are here and ready to be worn. Several of these styles listed below have already landed on my FYP and proven to be everywhere.

Despite it's nature of popularity, it's good to remember that trends come and go. You don't have to like them, nor do you have to try them, but awareness does play a part one way or another. The more you know, the more opportunity you've to decide whether or not it's right for you.
My approach each season is to establish a permanent set of essentials to build on and then add a few trendy pieces into the mix to spark creativity and feel current. Remember, style is relative. It's more about how the pieces make you feel over anything that is considered in or out.
1. Detailed denim
Getty Images
While I love the skinny jean, I haven't ever been particularly against the recent shift to looser, more relaxed straight leg styles. All the buzz led me to Agolde brand denim and their Riley high rise straight jeans — a pair that now out ranks most. For those likewise enjoying this relaxed vibe, good news is the baggy, looser styled denim is projected to stay.

Denim is classic, so there's no harm in sticking to those basic Mom jeans, or 501s. However, variety in silhouettes, fabrication, and wash hit the runway and are expected to take over. Think wide legs, creased flares, two toned or light washes, pooling, long paneled skirts, and pocketed jumpsuits.
2. low rise waists
Despite its supposed sabbatical for Spring and Summer, my love for a high waist will forever live, and remain on queue. Friends, word is the beloved Y2K low-slung waist is back in fashion. Not only will you see it in denim, predictions are that low rise waists will populate suiting, shorts, and even skirts.
Getty Images
3. floor length skirts
Getty Images | British Vogue
I passed hard on last years return of the mini skirt. Yes, they can be flattering but they're far from practical. Fashion is cyclical tho, and while it may have taken a few years to return, longer lengths are expected for Spring. Thank the heavens. The maxi has been revived in all its versatile glory. Expect a vast amount of styles and textures to choose from, including leather, sequins, denim, and knitted fabrics, to suit your own aesthetic.
4. oversized everything
Just as it's taken over denim, baggy and oversized styles have been a big trend for a few years now. Oversized blazers and trouser pants seem to be a common combo. My love, however, for a balanced look trumps the trend. Pairing oversized blazers with more fitted bottoms (seen here), and styling wide leg trousers with simple tanks (seen here) registers the try in my book. All said, expect oversized blazers, trousers, wide leg pants, pockets, and even large handbags to remain in the spotlight this season and next.
5. underwear as outerwear
I feel this trend is one that I feel fluctuates in popularity because of modest Mom's like myself. Either that, or I haven't quite come to terms with underwear being the exceptional norm. You'll see fit and flare dresses with a fitted bodice, corset and bra style tops, slip dresses with silky like fabrics, and camisoles; These all exude the femininity of lingerie and a romanticized version of underwear. Corset bodysuits, and bodice style dresses are the farthest I think I'll go in this category. I am, however, not against the thought of fitting a long line bralette under a blazer, and pairing it with high waisted trousers. We'll see.
Getty Images
6. sheer layering
Getty Images | WWD
While sheer layering can be styled with other pieces in closet, combining this with our topic'd underwear may be the modest compromise. Expect sheer jackets, dresses, skirts, and tanks tops over bras. This trend is playful and a clever ode to layering.
7. Utilitarian wear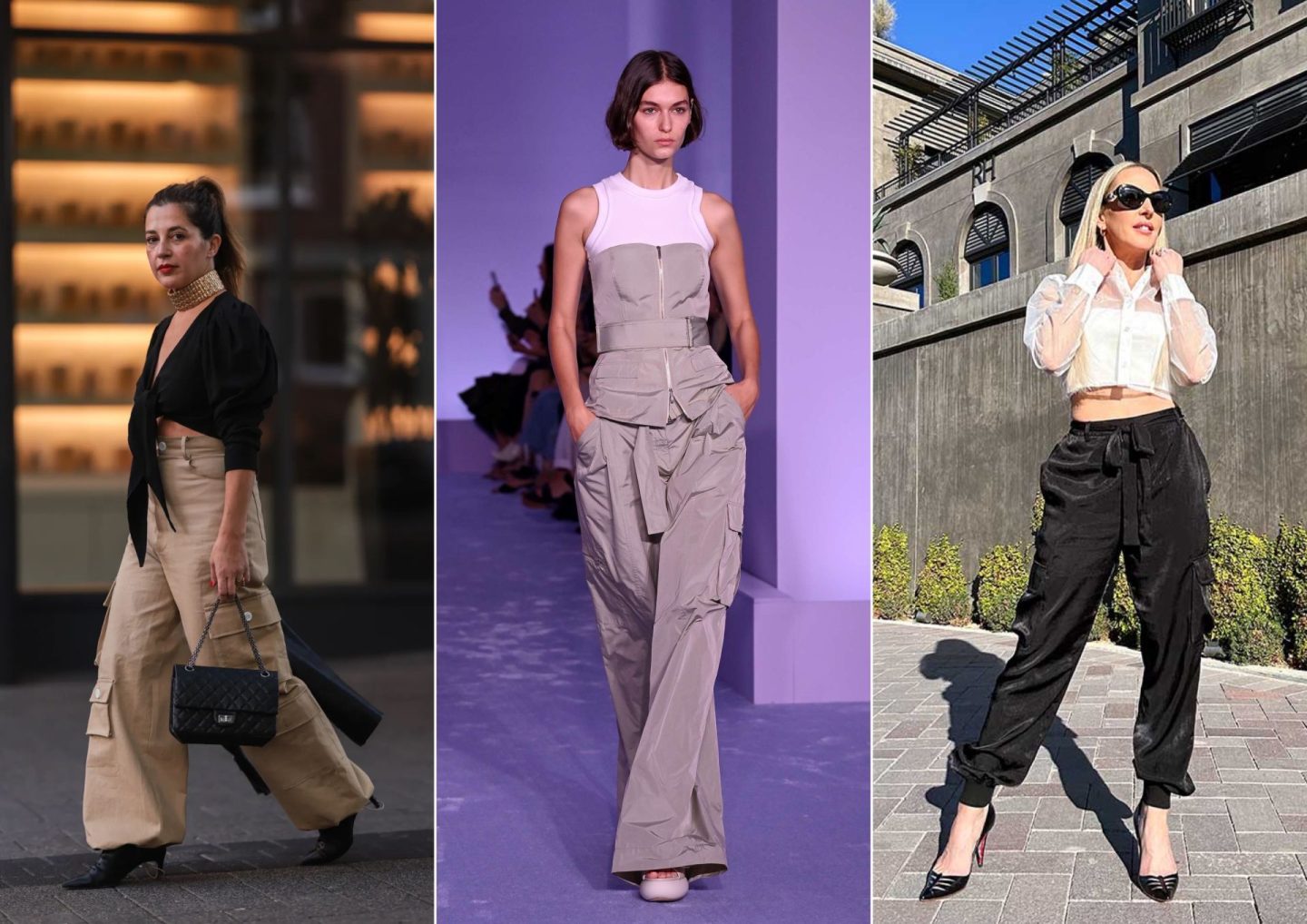 Getty Images | Glamour + gains
Not to worry, our excitement for anything that has pockets will remain valid this Spring. Utilitarian wear will be in, setting the stage for the return of the cargo pant. This style heavily populated my closet back in the day, so I've little objection here. Cargo pants are comfortable, a great alternative to denim and extremely versatile (which is more than we can say about others on list here). This time around tho, instead of the shapeless low-rise pant, we'll see more tailored silhouettes, varied pocket placements, elevated fabrics, and colors outside that neutral khaki and olive realm.

Tapping into this utilitarian style, you'll see sweatpants, joggers, jumpsuits, skirts, jackets, and even shackets pocketed and thus popular.
8. leather
Vogue | Getty Images
I haven't always been one to wear leather. I fear wearing too much will exceed that level of edge I am willing to go. More so, leather pieces can be quite the investment, so leather additions have been gradual and styling is still relatively new to me. Nonetheless, leather jackets, in every style, will be on trend this Spring. For a minimalist capsule wardrobe, a leather jacket serves as a solid building block and is definitely something to consider if your style suits it. Likewise skirts, pants, and leggings will rise in popularity.
9. menswear
WWD | Vogue
Street Style Review | Net Porter
Menswear has been on trend for years, likely because these pieces – blazers, loafers, vests, trousers, button up shirts – are considered classic and timeless. While oversized pieces will remain, I feel a shift towards more tailored menswear suiting will come into play this Spring. There will be more emphasis on sustainability and acknowledging the value of the classics. We can return to wearing suiting that fits and that we know will last us for years to come.

Thinking further, how we are wearing menswear, whether tailored or oversized has become a trend in itself. Wearing them outside the office as casual has become a creative twist. Personally, the mix of dressy and casual is one of my favorite ways to step outside the box in terms of style. It's fun, creative, and brings in difference. I love styling these classics everyday casual with sneakers (seen here) or loungewear, but do try to stick to styling them separately to ensure a balanced fit.

10. colors and prints
While I feel color and prints in fashion are relative, there are a few big style trends projected for Spring. Cobalt blue, acid green, sunshine yellow, lavender and candy floss pink are all hues to keep an eye on. Heart motifs, metallics, florals (I know, groundbreaking), and strong bold stripes will also make way to the streets.

11. accessories
This style trend category is a broad one, but a few I've taken note of are heavily-embellished evening bags, larger handbags (think totes, sling, and buckets), shoulder draped earrings, and cuffs.

12. shoes
sneakers: Cleaner, sleeker sneakers are here, which makes me happy. I love a clean, crisp white shoe over the dirtier, more distressed fashion sneakers we've seen I past seasons. Athletic Nike sneakers and high top sneakers are in, while the large chunky platform looking dad sneakers are slowly fading out. I've no objections to their exit.

loafers: Lug sole loafers are one of the trends I've seen come into play, hard. While I am not particularly fond of the thicker sole shoe, their return is very 90s nostalgic. I've seen them paired with everything from trousers, to jeans, and even knee high socks. I like the look of the loafer, but the style often rubs on my ankles and bandaids then become an accessory. All considered, the loafer mule is my compromise.

ballet flats: Ballet flats returned popular last year, and although I do love the flat shoe option, I feel the round toe isn't flattering on me. Being short, I prefer a shoe that elongates my legs rather than appearing stout. Nonetheless, if you love ballet flats, investing in a high quality pair is something to consider. Flats, in my opinion, are a timeless shoe that despite it being trendy, have the ability to be reworked modern in any season.
strap sandals: I briefly saw this type of sandal emerge last Summer, paired with menswear suiting and more dressier pieces. I love the femininity and romantic element they bring. I hope to incorporate this style similar, once temps warm up a little.